Last Updated on February 18, 2022 by Share My Kitchen
If I need to describe Kavarma in just one sentence, it will be: a traditional comfort dish, that's easy, healthy, flavorful, and delicious. Kavarma is one of the most popular Bulgarian dishes, a must-try, and a brilliant example of traditional Bulgarian cuisine.
What are the main ingredients for a traditional kavarma?
It's a combination of fresh and flavorful vegetables and pork meat, although you can make it with chicken or a mix of meats as well. Like most well-liked dished, the recipe for Kavarma has many variations, among which are the substitution of leeks with onions, with or without carrots and mushrooms, topped with egg or not, and so on.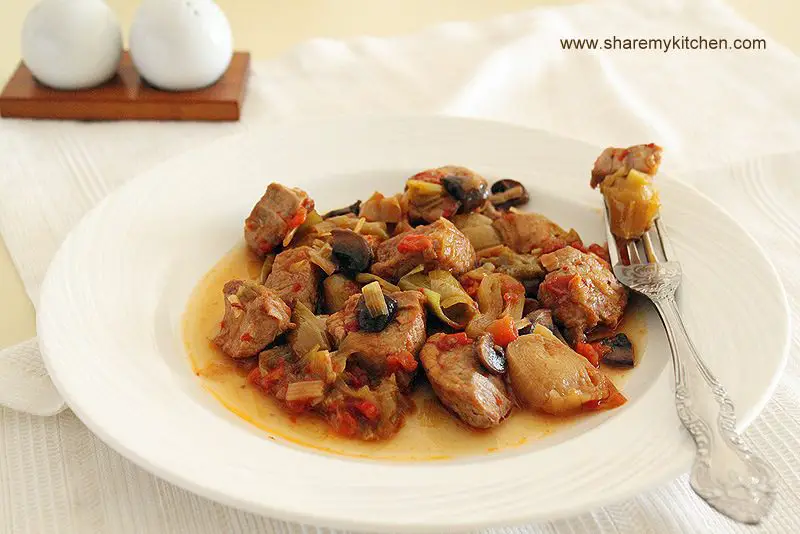 How is Kavarma Prepared?
It's prepared like a stew, in a clay pot (could be substituted with cast iron casserole), and it is a typical slow cooked comfort dish. It's made throughout the year, but it's particularly popular during the colder months of the year.
Best Homemade Recipe
Serves: 4
Preparation time: 25 minutes
Cooking time: 3-4 hours
Ingredients 
650 – 700g (1.5 lbs) pork cubed (leg or even better fillet)
1 small onion – diced
4 leek stems, cut into thick rings (around 1,5 cm)
4-5 medium-sized mushrooms, sliced 2 medium-sized carrots,
sliced 1 sweet (green or red) pepper,
diced 2 medium-sized tomatoes,
peeled & finely chopped
½ cup white wine
 ½ cup sunflower oil (or any other vegetable oil) ½ tsp cumin ½ tsp oregano 1-2 bay leaves
salt and pepper to taste
When possible we always use fresh tomatoes, but it can be substituted with the same amount of canned tomatoes or 2 tbsp tomato puree, diluted in water.
We avoid using cooking wine and prefer real, good-quality wine instead.
Instructions For The Best Kavarma
Combine the spices (cumin, oregano, salt & pepper) and dry rub them into the meat. Heat half of the oil in a large, heavy-bottomed skillet and brown pork cubes on high heat for 3-4 minutes, until brown on all sides. Add the wine, lower the heat and cook for another 5 minutes. Take of the heat and set aside.
Heat the rest of the oil in another medium-size skillet and sauté the onions, mushrooms, pepper and carrots for around 5 minutes.
Pour ½ cup hot water and cook for another 10 minutes over medium heat. When the vegetables are soft and the liquid is almost gone, add the chopped tomatoes and let simmer for 5 more minutes.
Combine all the ingredients by transferring them to the clay pot, adding the leeks to the mixture. Stir well, cover the dish with its lid and place it in a pre-heated to 120°C /250°F oven for about 3 hours.
Serve hot, with some crusty homemade bread.