Last Updated on February 18, 2022 by Share My Kitchen
Maincrop potatoes are traditionally used for this Swedish invention, but it is spring now and we love new potatoes. If you're using main crop potatoes, avoid those huge floury monsters; moderately proportioned potatoes would be just fine for the job. It is also not necessary to peel the potatoes, especially if you buy those shiny, pebbly ones, which we don't even scrub.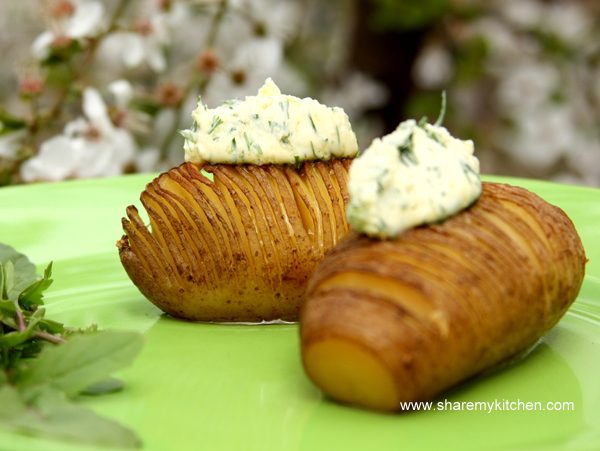 photo: Antonya Kostova
Hasselback Potatoes with Garlic Dill Butter Recipe
Serves: 4
Preparation time: 40-70 minutes
Ingredients:
8 medium red potatoes
4 tablespoons butter, softened
1 tablespoon chopped fresh dill
2 teaspoons minced garlic
1/4 teaspoon salt
Method:
In a small bowl, stir together the melted butter, dill, garlic, and salt, and put it back in the fridge, so you can have it firm, once the potatoes are ready.
Cut potatoes crosswise into few millimeters slices, cutting only three-fourths of the way through to bottom. Place cut sides up in the baking dish, brush with butter or olive oil (you can also infuse them with rosemary or thyme) and sprinkle with salt and pepper and bake at 180⁰C (350⁰F) until they are done. It should be around 40 minutes for the new potatoes and 70 minutes for main crop potatoes. Brush them every 20 minutes with butter or oil.
Once potatoes are ready, transfer into individual serving plates and top with half a tbsp. of the garlic dill butter.