Last Updated on November 2, 2022 by Share My Kitchen
A kitchen will never ever be complete without a good set of cookware. Hard-anodized cookware is designed to offer a better and safer cooking experience. You won't worry about harmful toxins unlike those found in old-fashioned non-stick pans. The treated aluminum material also provides more strength and durability that can give you years after years of use.
Sounds pretty interesting, right?
We at Share My Kitchen thought so too! We took the great liberty to sort out the top 7 best hard-anodized cookware in the market. We only aim for quality recommendations, so we put this equipment on actual fire to test its performance in cooking. So, if you want to know which products made our cut, make sure to stick and read 'til the end.
Our Top 7 Picks For Best Hard-Anodized Cookware
CALPHALON CLASSIC HARD ANODIZED NON-STICK 10-PIECE COOKWARE SET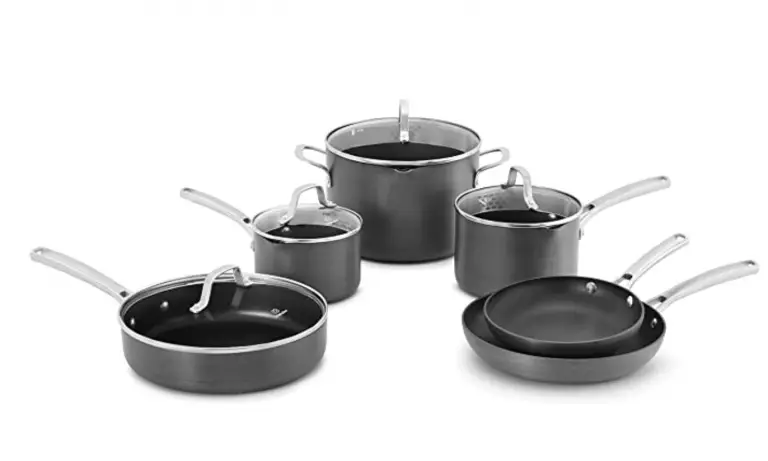 The Calphalon Classic cookware is ideal for consumers who wish to invest in an essential range of pans and pots made with high-quality materials and construction.
Calphalon is one of the most popular manufacturers of hard-anodized aluminum cookware.
This Classic series includes a basic assortment of pans and pots you would likely use on a daily basis. They are compatible with all types of cooktops including induction.
This anodized cookware is integrated with two layers of PFOA-free interior lining. Thus, making the surface highly non-stick. At the same time, it is safe and non-toxic too.
We also appreciate that this Classic model is designed with more functional features. It comes with measuring marks, pours spouts, and straining covers. All of which promote versatility and convenience.
Pros
2-layer PFOA-free non-stick interior
Long stay-cool stainless steel handles
With functional design
Oven-safe up to 450°F
Lifetime warranty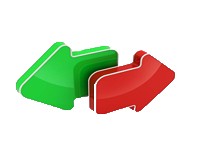 Cons
Not safe to use on the dishwasher
Not stackable
GOTHAM STEEL PRO HARD ANODIZED 20-PIECE COOKWARE AND BAKEWARE SET
The Gotham Steel Pro series offers a complete assortment for both cooking and baking. It is designed to cater to the standards of professional and experienced users.
The Gotham Steel Pro model aims to provide pans, pots, and baking trays you would ever likely need in your kitchen.
It is made from single-sheet aluminum that is layered three times with titanium and ceramic coatings to create an ultimate non-stick surface. It is also infused with diamond-like particles to enhance its protection against metal utensils.
Both the cookware and bakeware are 100% safe and non-toxic. Hence, you don't have to worry about toxic fumes and chemical leaches.
Pros
3-layer reinforced titanium and ceramic non-stick coating
Stay-cool stainless steel handles
Oven-safe up to 500°F
Dishwasher-safe
Free from PTFE, PFOA, PFOS, lead, and cadmium
Cons
Not all pieces are induction-ready
T-FAL ULTIMATE HARD ANODIZED NON-STICK 17-PIECE COOKWARE SET
The T-Fal Ultimate hard-anodized cookware set offers you great value for your money. At a fair budget price of almost $200, you already get a good variety of 17 pieces of non-stick pans and pots.
Unlike other hard-anodized cookware, this T-Fal model is reinforced with titanium. This provides enhanced non-stick capabilities. But worry not, this cookware is free from harmful toxins including PFOA, lead, and cadmium.
This cookware is designed with a T-Fal exclusive thermo-spot technology. This indicator turns solid red when the pan is already evenly hot and ready for cooking. To add convenience, it also comes with a vented tempered glass lid. Thus,  allowing you to see through what's happening inside without having to lift the lid.
Pros
Titanium-reinforced non-stick interior
With thermo-spot indicator
Oven and dishwasher-safe
PFOA, lead, and cadmium-free
Limited lifetime warranty
Cons
Not intended for use with induction stove
ALL-CLAD HA1 HARD ANODIZED NON-STICK 8-PIECE COOKWARE SET
The All-Clad HA1 collection is a premium-grade hard anodized cookware. It is a perfect investment for both professional and household cooking.
The HA1 hard anodized cookware comes with three layers of PFOA-free non-stick coating. The base is reinforced with stainless steel metal. Hence, making the construction extra durable and highly resistant against warping even under extreme temperatures.
On that note, this makes the cookware compatible to use with any type of stovetop including gas, electricity, and induction. It can also withstand high temperatures up to 500°F.
Thus, suitable to use on the oven and broiler.
Pros
Anti-warp stainless steel base
3-layer PFOA-free non-stick coating
Compatible to use on all types of cooktops
Oven-safe up to 500°F
Limited lifetime warranty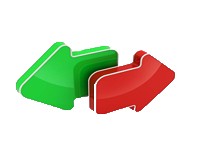 RACHEL RAY CUCINA HARD ANODIZED NON-STICK 12-PIECE COOKWARE SET
The Rachel Ray Cucina hard anodized cookware makes every meal more fun and easy with its non-stick properties and colorful ergonomic handles.
The Cucina hard anodized cookware series by celebrity chef Rachel Ray offers a PFOA-free interior for that smooth and non-stick surface. The 12-piece collection is available in three vibrant colors including red, blue, and orange.
It also features dual-riveted stainless steel handles. They are wrapped in silicone rubber to make them stay cool and easy to grip.
Apart from that, the cookware is also suitable to use with the oven and dishwasher.
Pros
PFOA-free non-stick coating
Ergonomic stainless steel handles
Oven-safe up to 400°F
Dishwasher-safe
Available in various colors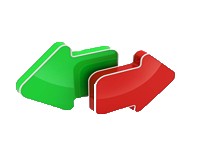 Cons
Not compatible to use with induction type cooktops
CUISINART 66-7 CHEF'S CLASSIC HARD ANODIZED NON-STICK 7-PIECE COOKWARE SET
The Cuisine Art Chef's Classic series is high-quality cookware offered at a more affordable price range.
This cookware is made with 3mm-thick hard-anodized aluminum metal. The interior is reinforced with a Quantanium non-stick coating. This multi-layered titanium coating enables the surface to become highly non-stick and scratch-resistant. Hence, making it suitable to use with metal utensils.
We also like that this cookware set is paired with tempered glass covers. It is break-resistant thus giving it extra protection against accidental drops and extreme heat exposure. The lids are also tight-sealed for optimum temperature regulation. At the same, the glass is also clear making it easier to monitor the food you are cooking.
Pros
3mm hard-anodized aluminum
Quan Tanium non-stick coating
Break-resistant tempered glass covers
Cool-grip cast stainless steel handles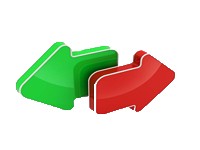 KITCHENAID HARD ANODIZED NON-STICK 10-PIECE INDUCTION COOKWARE SET
The KitchenAid hard anodized cookware offers a good range of premium-quality pans and pots marketed specifically for induction use.
As you may notice, not all hard-anodized cookware is compatible to use with induction.
But, this Kitchen Aid model is intentionally designed for this purpose. Nevertheless, it is also suitable for typical gas, electric, glass, and ceramic cooktops. 
The cookware is made with a heavy-gauged forged base. The interior is then lined with triple layers of a non-toxic non-stick coating. This makes it extra durable and resistant to abrasion and corrosion.
The hard-anodized pans and pots come with clear tempered glass lids. It seals tightly with heat thus allowing you to optimize cooking and retain the best flavor of the food.
Pros
3-layer PFOA-free non-stick coating
Extra-wide riveted handles
Tempered glass lids
Oven and dishwasher-safe
Lifetime warranty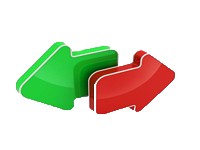 Why Is Hard Anodized Cookware Best?
What makes hard anodized cookware better, if not the best, among the rest? Well, here are some of its strongest qualities that definitely outshine other types of cookware.
Durability
Durability is probably the first and most obvious characteristic of anodized cookware. The oxidation process technically strengthens the metal. Thus, making it highly resistant to physical damages. It does not dent, warp, or deform easily even when exposed to extremely high temperatures. In fact, the anodized aluminum metal is said to be twice as strong as standard stainless steel.
The cooking time basically depends on the number of taquitos you plan to heat up. For a single serving or about 3 taquitos, you need to set the timer for 1 minute and 15 seconds up to 1 minute and 30 seconds. The temperature should be on a high level or approximately 1,000 watts.
For every increase in the serving size, you must adjust the duration of the cooking time too. For heating 6 taquitos, the timer should be set at 2 minutes up to 2 minutes and 30 seconds. After cooking, make sure to let the taquitos cool down for at least 1 minute before serving or eating.
Longevity
And, with durability comes longevity. Yes, you can use your hard anodized cookware as long as it shall live. Which we think is pretty much a lifetime if given the proper care. You may not expect it to look as pristine as it was when first bought. But, we can guarantee you that it will continue to deliver quality performance.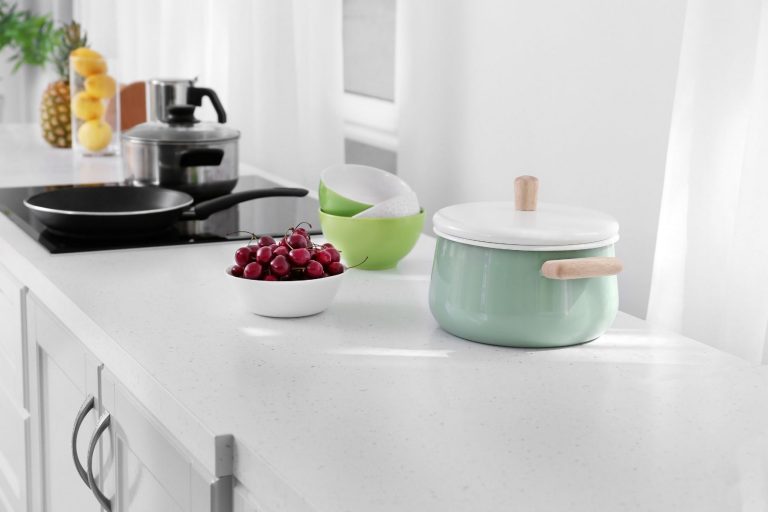 Versatile
Hard anodized cookware also encourages versatility. Its non-reactive and non-stick properties allow you to cook virtually anything on it. From red meats to poultry, seafood, veggies, and even pasta, you can rest assured to enjoy a pleasant cooking experience with it.
You don't have to fret about food acids breaking down the coating. Nor worry that your food will annoyingly stick and burn at the bottom of the pan. Do not forget it is scratch-resistant too. So, you can use any utensil to cook with it.
Low-maintainance
We also like the fact that hard anodized cookware is pretty much low maintenance. Its smooth surface makes it possible to easily clean with just soap and water. Some models are even designed to be dishwasher-safe. So, make sure to check on that 'cause every cook definitely deserves a break when it comes to cleaning their pans and pots.
Recyclable
For the eco-conscious, it is good to know that the hard anodized cookware is a perfect fit for you and the environment. To begin with, aluminum metal is totally recyclable. Thus, after years of good use, old aluminum cookware can simply be melted and transformed into another type of equipment. Apart from that, the anodization itself is not harmful in any way to the environment. The process does not produce solvents or carbon emissions.
Final Verdict On Best Anodized Cookware Sets
From traditional ceramic pots and stainless steel pans, kitchenwares have greatly improved throughout the years. And today, the modern market brings you a new trend called hard-anodized cookware.
Above it all, the CALPHALON CLASSIC HARD-ANODIZED NON-STICK COOKWARE exceeds our standards and expectations. It offers its consumers high-quality pans and pots that can surely deliver plenty of good years of pleasant cooking experience.
We appreciate that the cookware is very well designed. It comes with functional features that further promote convenience and versatility. Not to mention, you get all these and more at a cost that is fairly priced.