Last Updated on October 5, 2022 by Share My Kitchen
When you say glass cookware, many might think it is only great for baking. But, the truth is, it can do more than what most people expect. With a wide array of glass cookware designs, there will always be a pan, a casserole, a stewpot, or a baking dish that will suit your cooking needs.
In this article, we have gathered five of our favorite glass cookware brands and their best-selling products. We have delightfully reviewed each. So, you'll know exactly why these products are worth spending money on.
Plus, we will discuss all the good benefits you can get from using glass-made cookware. We will also share valuable tips on finding the right kind to fit every demand. Lastly, we will also tap into the proper care and maintenance to make your cookware last longer in tip-top condition.
Everything you need to know about glass cookware is right here on this page. So, make sure to stick around and read 'til the end.
The Benefits Of Glass Cookware
Clear visibility.
Visibility is probably the most apparent advantage of using glass cookware. The glass material may come in different colors, but it will always be clear and transparent. This characteristic enables you to conveniently see through the status of the food you are cooking without having to lift the lid.
Non-toxic.
Health safety is the very reason why I stay loyal to using glass cookware. Glass itself is naturally non-toxic and does not react with food acids. It does not have a superficial layer of synthetic non-stick coating, unlike most stainless steel pans. This coating is made up of potentially harmful chemicals. Compounds like lead, cadmium, aluminum, PFOA, and PTFE are known to leach and contaminate your food.
Non-porous.
Glass is also naturally non-porous. That simply means the material does not allow moisture and air to pass through. Hence, it does not retain flavor or smell. So, it will not likely impart a weird taste to the food you are cooking.
Compatible with most cooktops.
The glass cookware is usually most compatible with gas and electric stovetops. But, most people love them because they are great for oven use too. Nevertheless, some models are already equipped with a magnetic plate at the bottom to also make them suitable for induction cooktops.
Multi-purpose.
Glass cookware looks gorgeous on its own. Thus, they are great enough to be used as a serving dish as well. At the same time, glasses can also withstand lower temperatures. This makes them excellent for storing foods in the fridge or freezer. A cookware, a serving dish, and a food keeper? What more can you ask for?
Easy to clean.
Glass cookware is super easy to clean. Its non-porous material makes it less likely to stain. It does not need to be seasoned too, unlike cast irons. Most importantly, glass cookware is majority of the time dishwasher-safe.
How to Choose the Best Glass Cookware?
Capacity.
The capacity of your cookware will essentially depend on the serving size of the food you intend to prepare. Are you cooking just for one or two? Or, do you plan to have a feast for a big group of people?
The shape of glass cookware.
Do you need a pan, a pot, a deep-dish casserole, or a baking dish? The type of cooking you intend to use it with will tell you which shape or design of the glass cookware you would likely need.
Type of glass material.
Most of the modern glass cookware is made with borosilicate glass or tempered glass material. Both are safe, non-toxic, and durable. But, there are a few characteristics that differentiate the two.
The borosilicate glass cookware is highly-praised for its excellent thermal resistance. On the other hand, tempered glass is well-liked because it is thicker and feels more substantial.
Handles.
Glass is known to be a poor conductor of heat. But, when it does heat up, it heats up pretty good and evenly. So, make sure to choose glass cookware with long or wide handles. They should be comfortable and secure to grip during cooking and transfers.
Price.
In general, glass cook wares tend to be more expensive than "ceramic-coated" cookware. But, it is relatively cheaper too than "pure" ceramic cookware. The cost of the glass cookware varies greatly depending on the brand, quality, size, and quantity. In most cases, though, buying in sets will give you a better deal in price.
Our Top Pick Glass Cookware Brands and Products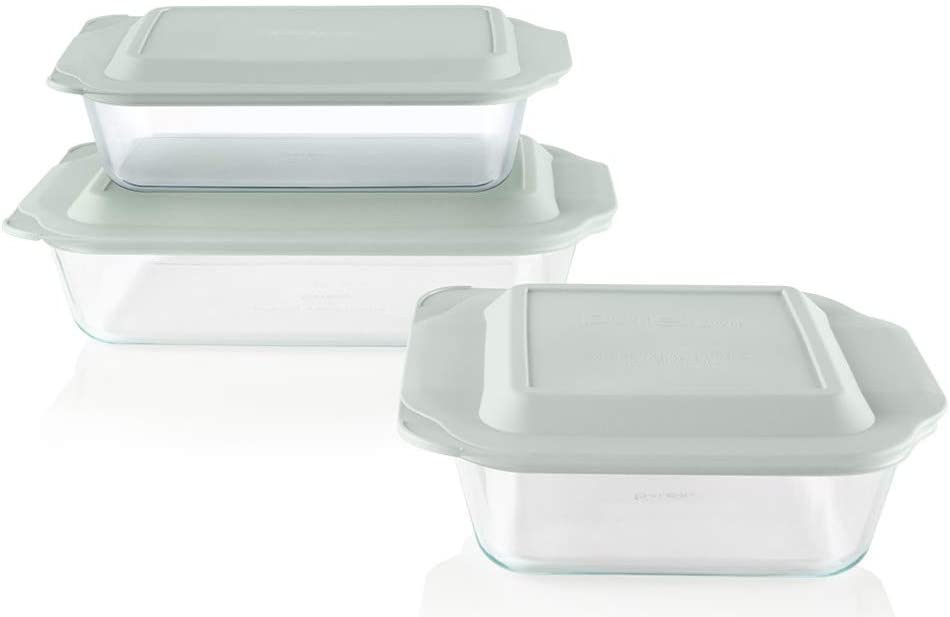 PYREX Glass Deep Baking Dish Set with Lids
The American-made Pyrex is a household brand when it comes to glass cookware. And, if you love their classic baking dishes, you will surely fall in love even more with this upgraded version. The Pyrex Deep is a baking dish set that is, catch this, 50% deeper than the standard model.
Higher siding means bigger capacity. Hence, this is perfect for preparing larger batches of food. Not only that, this 6-piece set includes tight-fitting BPA-free lids to allow you to keep your food fresh longer and leftovers ready for storing in the fridge. Or, freezer if you wish.
Speaking of leftovers, worry not because this dish is microwavable. So whenever you're ready to reheat your food, simply pop the dish into the microwave, and your hot meal is ready in just a few minutes. Even more convenient is that these glass baking dishes are totally dishwasher-safe.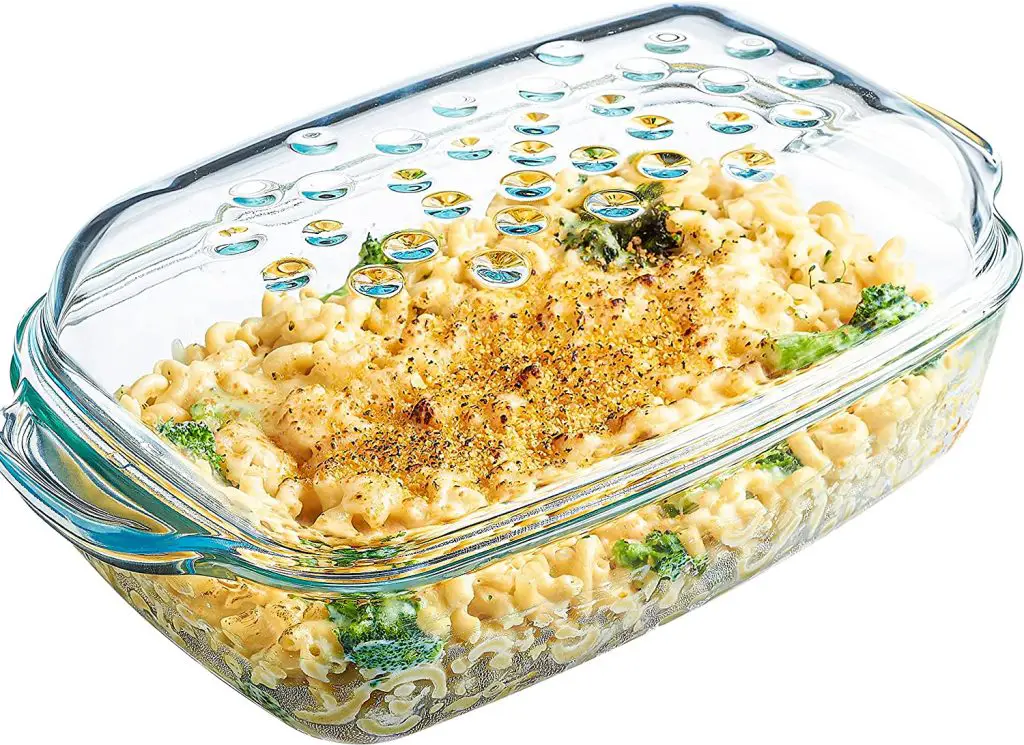 SIMAX Clear Glass Cookware Rectangular Roaster Pan
The Simax roaster pan is my go-to choice for oven roasting chicken, turkey, lamb, beef, ham, meatloaf, and vegetables. This 3-quart borosilicate glass pan has raised ridges at the base to allow fat-free cooking. So, the grease will drip and settle in the bottom of the pan instead of sitting on top of your food.
The roasting pan also comes with an ingenious glass lid to match. It has a dimpled interior surface to promote even moisture distribution for basting. But, what I love most about this lid is that it can also double as a small 2.4-quart baking pan.
Simax is a European brand that manufactures high-quality glass cookware in the Czech Republic. This product is free from toxic lead and cadmium chemicals. It is also designed to withstand temperatures between 572°F and up to -40°F. Rest assured that this roasting dish is safe in the oven, refrigerator, freezer, microwave, and dishwasher.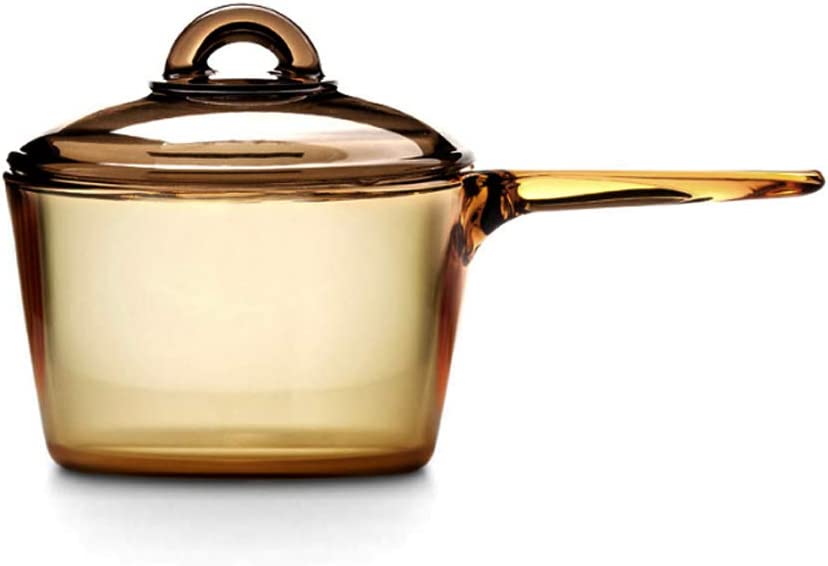 LUMINARC Vitro Blooming Glass Cookware Saucepan
If there's one cookware I reach for almost every single day, this would be it! The Luminarc Vitro Blooming saucepan is perfect for cooking oats and quinoa for breakfast, boiling pasta for lunch, and making soups and stew for dinner. Its 1.5-liter capacity is suitable for cooking smaller portions that are enough to serve one to two persons.
This size is also great for cooking baby food. You can quickly boil veggies, mash them, and store the leftovers in the fridge or freezer without a hassle. This non-porous glass-ceramic saucepan is 100% food-safe and hygienic. So, feel secure and confident preparing your precious baby's meal with it.
This French brand uses vitro-ceramic glass material on this specific line of cookware. This material is designed to retain heat much longer. Hence, it is perfect for cooking water-based recipes. Because it stays hot longer, you can choose to turn off the stovetop a few minutes earlier to save on the cost. A wise budget hack, I should say!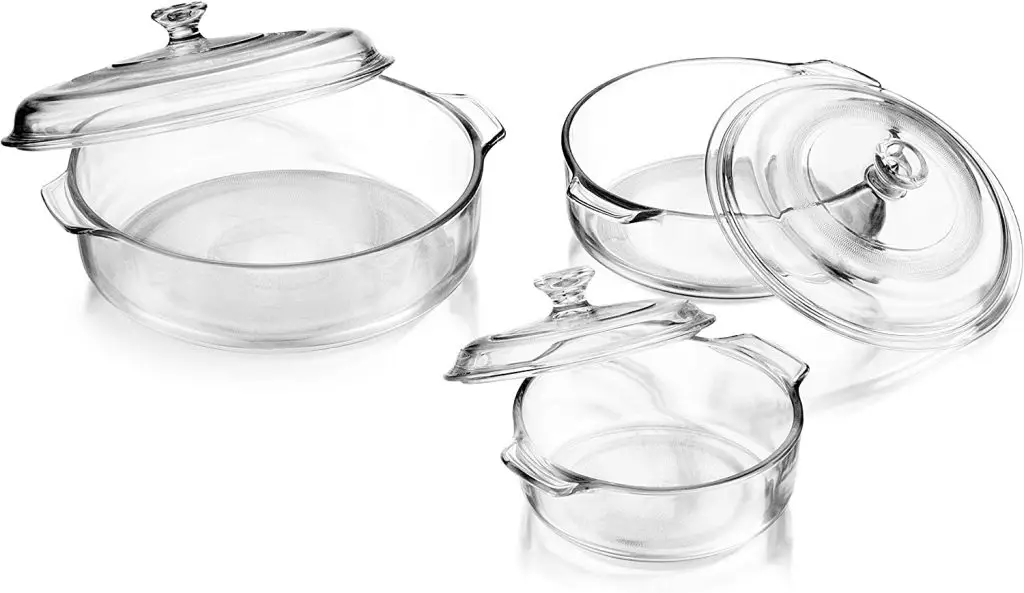 LIBBEY BAKER'S Basic 3-Piece Glass Casserole Baking Set
You can cook anything in this 3-piece glass casserole from Libbey Bakers. The set includes three of its most popular sizes, including 1-quart, 2-quart, and 3.2-quart round casseroles with matching glass lids. You will never be confused with the sizes because each handle is embossed with easy-to-read dimensions.
This casserole baking set is a perfect collection for tiny houses and places with limited storage space. The pots are designed to be nestable. So, it will take up very minimal space in your cupboard. At the same time, keep the glass securely stored within each other.
Libbey Baker's is a long-standing tableware and cookware brand in the United States. Although, this specific line of product originated in Mexico. Also, note that the set is only designed for oven and microwave use.
ANCHOR HOCKING Oven Basics Rectangular Glass Cookware Baking Dish
Your glass cookware will never be complete without the basics. Yup, sometimes this simple rectangular baking dish is all you need in your kitchen. You can use it for cooking stews, casseroles, roasts, and baking cookies and brownies. But, my favorite dish for this is lasagna with an extra layer of cheese baked enough to let it melt and blend in every layer. So yummy!
The glass bakeware set is made from clear tempered glass material. It is oven, microwave, refrigerator, freezer, and dishwasher-safe. It will not stain, retain odor, or warp.
This American brand provides a limited five-year warranty on its glass bakeware. This is longer compared to what other company offers. This is ample time for you to test the quality of the product. Nevertheless, I can assure you the Anchor Hocking baking dish will last you more good years than that. I know mine did, ten years and still counting.
Tips On How To Care For Your Glass Cookware
To remove grimes, burnt food, and stains:
There are plenty of methods to remove grimes and stains on your glass cookware. But the BAKING SODA + DISH SOAP combo is my favorite. It is fast, simple, readily available in your kitchen, and cheap!
All you have to do is to sprinkle baking soda on the glass cookware, squirt some dish soap, and let it soak in hot water for 10 to 15 minutes. The surfactant in the dish soap plus the warm water temperature aids in dissolving the grease off of the surface. Then, the baking soda's abrasion will help scrub the stain away.
To prevent dirt build-up:
As they always say, prevention is better than cure. The same principle applies when taking care of your glass cookware. It is still the best practice to immediately wash up the mess even before it hardens and makes cleaning difficult. Don't let leftover food, grease, or stain sit in for too long. Applying too much abrasive force can potentially scratch and dull the surface of your glass cookware.
To avoid shattering:
Glass is glass. It is breakable. But, this can be avoided if we know how to care for them properly. Aside from careful handling, you should also know that temperature is also a crucial factor. Be aware of the temperature tolerance range of your cookware. Different brands may have various recommendations on this. But generally, it is safe to use the cookware between 350F to 500F, depending on the type of glass material used.
Another critical thing to remember is to avoid a sudden shift in temperature. Never pour cold water into hot glass cookware. This is one of the most common mistakes people make. It would be ideal to allow the glass to cool down before attempting to wash or store it in the refrigerator.
To remove white spots and restore shine:
Over time, it is natural for glass cookware to become cloudy and lose its natural luster. These white spots or films are actually calcium and magnesium that built-up from using hard water from the tap. These mineral deposits can easily be removed though by soaking your glass cookware in pure white vinegar. Once the clarity and shine are restored, rinse your cookware in water to wash off the vinegar smell.
Takeaway
Why bother to spend on inferior products when you can have the best value for your money from these five glass cookware we reviewed herein?
Yup, tons of glass cookware are available in the market. But, only those from trusted and reputable brands can provide top-notch performance and premium quality that will surely last you plenty of good years. So, waste not your money, time, and effort, and check out the five best glass cookware we proudly recommend.