Last Updated on November 2, 2022 by Share My Kitchen
The convection microwave oven is one of today's latest upgrades in kitchen appliances. This device is a mix of a standard microwave and a convection oven. Hence, giving you the best of both functions! So, aside from the usual reheating of food, you can now enjoy baking and roasting all in the same appliance.
Nevertheless, to get the best cooking performance, you need cookware that is also convection microwave oven-safe. In this article, we will discuss just that!
What kind of cookware is compatible with convection microwave ovens? What to look for when buying one?
Plus, we will also give you a rundown of the 8 best cookware for a convection microwave oven.
What cookware to use in a convection microwave oven?
A convection microwave oven is equipped with an added heating element that produces hot air and circulates it throughout the device. The elevation in temperature subsequently activates the water molecules within the food. Hence, causing it to heat up and cook from the inside and out more evenly.
By understanding that mechanism, you now know that it is essential to look for cookware that has a high heating point and does not repel heat.
Moreover, since the movement of hot air is vital for its operation, a pan with low sidings would also be a great advantage.
Glass, Ceramic, and Metal
Materials such as glass and ceramic are one of your best choices for cookware when using a convection microwave.
Both can withstand high temperatures and maintain them at a consistent level. They are also well-loved because they do not retain flavor and aroma from the food.
Metal, on the other hand, is a more complex option. Mainly because the material itself is known to deflect microwaves. Thus, inhibiting it to penetrate into the cookware to heat the food. This makes metal a least favorable choice, particularly when using the microwave mode settings.
Can You Use Aluminium In A Convection Oven
Nonetheless, it is still possible to use metals like aluminum cookware. If and only if you use the convection mode of the oven. For this instance, metal cookware can be a feasible choice for baking and roasting.
Again, let me further stress this – you cannot use metal cookware for both the microwave and the microwave-convection combo settings. Otherwise, the metal will instantly react and cause arcing which can potentially damage your device.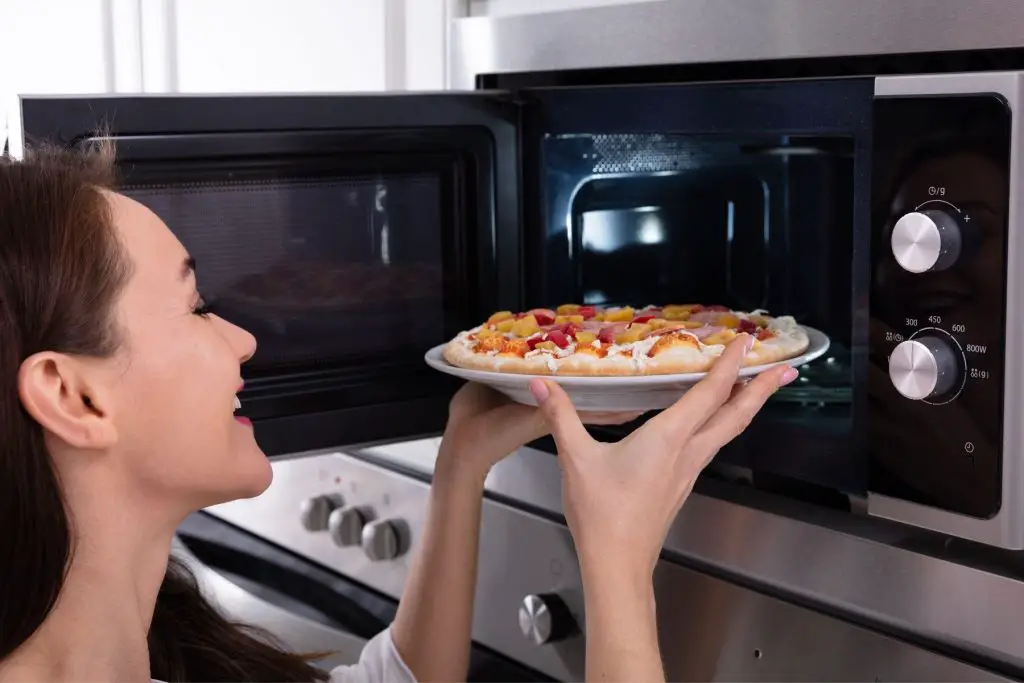 8 Best Cookware For Convection Microwave Oven Reviews
CORNINGWARE FRENCH WHITE CERAMIC 20-PIECE COOKWARE SET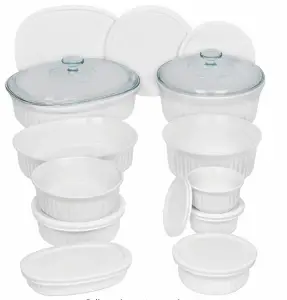 No classic home would be without Corning Ware ceramic cookware. This 20-piece set contains all the essential pans and casseroles you would need for cooking in a convection microwave oven.
They are elegantly designed to conform to an oven-to-table concept. That means you can serve it at the dinner table as is right after cooking. Store the leftovers later on in the refrigerator or freezer with its BPA-free plastic lids to maintain freshness.  Hence, giving you optimum versatility and convenience.
This cookware can be both used in the microwave and convection oven mode settings.
Nevertheless, make sure to always pre-heat the cookware first before cooking or baking in the oven.
The sudden changes in temperature stress the ceramic material and might cause breakage or cracks.
Pros
Made with non-porous ceramic material
Offers good variety
Includes glass and BPA-free plastic lids
Stain and odor-resistant
Oven, microwave, dishwasher, refrigerator, and freezer-safe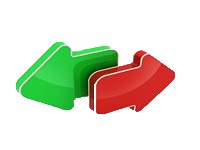 Cons
Requires preheating before oven use
SWEEJAR CERAMIC RECTANGULAR BAKING TRAY 3-PIECE SET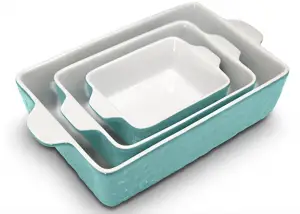 This Sweejar baking tray set is the perfect cookware for minimalists. It comes in three different sizes with which you can heat, cook, bake and roast different dishes from turkey to pasta and bread. Not to mention, its sleek aesthetics make it very presentable as a serving dish itself. It also comes in a dozen of different colors to match every theme.
It is a simple rectangular tray with double-ear handles on each end. Hence, making it more convenient to handle and transport.
The set comes in different dimensions which you easily stack to save space.
Nevertheless, the size range included in the set is more on the compact side.
Thus, this cookware is more suitable for cooking or serving smaller food portions. This should be a perfect choice for smaller-sized convection microwave ovens.
Pros
Professional-grade porcelain material
With double handles
Stackable design
Available in a wide range of color options
Microwave, oven, refrigerator, and dishwasher-safe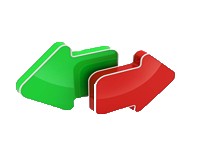 Cons
Sizing tends to be smaller than typical rectangular trays
MOSS & STONE BASIC GLASS CASSEROLE 3-PIECE SET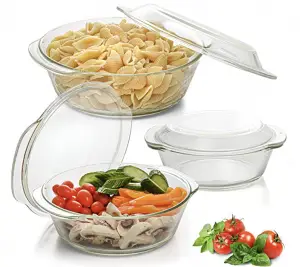 This 3-piece casserole set by Moss and Stone is marketed as an all-in-one dish.
This makes it the perfect cookware for on-the-go and minimalist users.
You can prepare, cook, serve, store, and reheat your food all in the same dish. Hence, saving you a great deal of time and effort.
The set comes in 2, 3, and 4-pint capacity casseroles. The glass is clear with a hint of turquoise hue.
The see-through design makes it more convenient to monitor what you are cooking. It also comes with large side handles for easy and safe handling.
Pros
Made with 100% borosilicate glass
With large side handles
Safe to use in microwave, oven, dishwasher, and store in the freezer
Offers 1-year warranty policy
Very affordable price point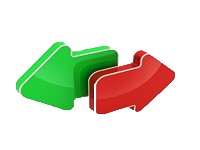 Cons
Lighter in weight thus the greater tendency for the glass to chip or break if mishandled
M MCIRCO DEEP RECTANGULAR GLASS 8-PIECE BAKEWARE SET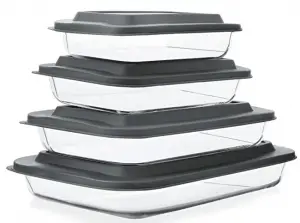 This rectangular glass deep dish is made for multi-function uses. It comes with a depth of 1.8 up to 2.1 inches. Thus, perfect for cooking casseroles, pasta, and any other saucy type of recipe.
The glass dish comes with wide and thickened side handles. This makes handling easier and more secure. The set is also a total space-saver as they can be nested onto each other.
The package contains 4 rectangular glass dishes with individual BPA-free plastic lids. It comes in different sizes from 1-quart up to 3.2-quart capacities. Lids are available in colors gray, navy blue, green, and red.
Be mindful though that the lids are made of plastic thus it is not oven-safe. Nevertheless, they work really great for storing and keeping the food fresh with their tight-fitting seal.
Pros
Made with durable borosilicate glass
BPA, lead, and cadmium-free
Stackable design
Available in 4 basic colors
Microwave, oven, freezer, and dishwasher-friendly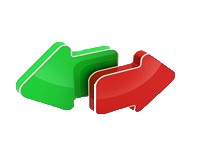 Cons
The lids are not oven-safe
SIMAX GLASSWARE PIZZA PAN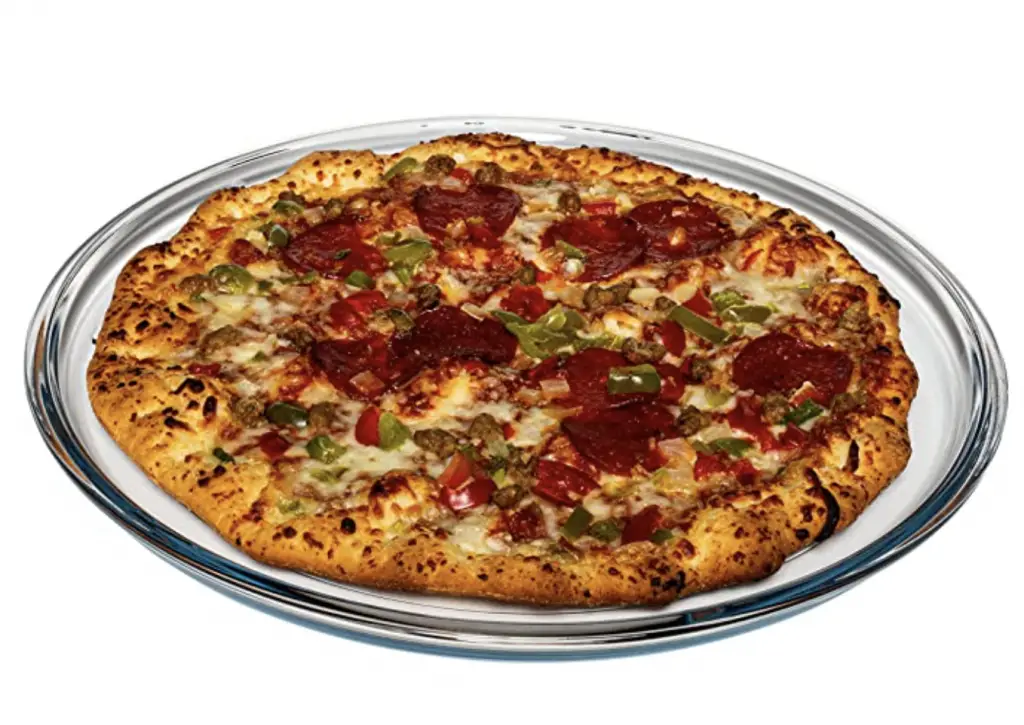 This glassware is made with genuine laboratory-grade borosilicate glass. Simax really meant what they claim in their tagline – "Glass that lasts". Not only are the pan durable, but the glass material is also a naturally healthier option. They do not contain toxic chemicals including lead and cadmium.
This product is marketed as an all-in-one pizza pan. You can prep, bake, and serve in this single dish. It comes with a 12.5-inch width with a depth of about half an inch. This is convection oven friendly cookware is ideal for pizzas.
Nonetheless, the flat surface would also be great to use for cooking other dishes that are less saucy. Better yet, pair your pizza with some fries and baked chicken tenders using this same pan.
Pros
Made with borosilicate glass
100% free from lead and cadmium
12.5-inch width
Oven-safe up to 572°F
Microwave, refrigerator, and dishwasher-safe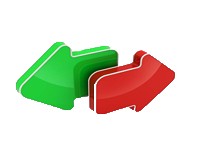 NORDICWARE COMPACT 3-PIECE OVENWARE SET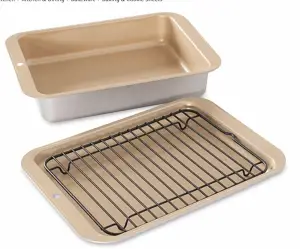 This ovenware from NordicWare is specifically designed with compact sizing. Hence, it is perfect for a smaller convection microwave, toaster oven, and even gas or electric stoves. It is an ideal cookware for RV and camping use. It is multi-functional and doesn't take up a lot of space.
This 3-piece set is made with aluminized steel with a non-stick interior coating for easy food release.
The package includes a baking sheet, a casserole pan. and a broiling grill. So, you can practically cook, bake, broil, and grill with this cookware.
The downside, though, is that it is not dishwasher-friendly. Not that you would likely bring one when camping out. Nevertheless, it is recommended to hand wash it using mild soap and water.
Pros
Made with aluminized steel material
With a non-stick cooking surface
PTFE and PFOA-free
Compact size
Very affordable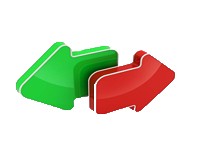 MACONEE DELUXE NON-STICK PAN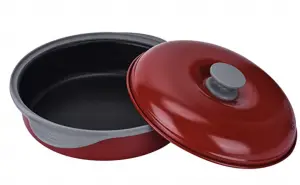 I know that I mentioned over and over again that metals are not meant to be used with microwave settings.
However, this Maconee Deluxe pot is specifically designed to be compatible with that very purpose.
It is engineered with patented heating technology that enables rapid conversion of microwaves into thermal heat. Thus, making it possible for this metal pot to be safely used even in the microwave mode of a convection microwave. Sounds like magic, right?
This aluminum pan is coated with a non-stick surface to allow smooth food release. It is also multi-purpose so can freely cook any type of dish in it. It is dishwasher-safe too so clean-up is definitely fast and hassle-free.
This pot, however, requires pre-heating before use in the microwave. It only takes no more than 3 minutes to prep the pot and you are good to go about your cooking. Although, this extra step may not be most favorable for on-the-go users.
Pros
Made with durable aluminum material
With a non-stick cooking surface
Designed with silicone handles and rim
BPA-free
ETL-approved certification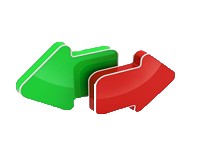 Cons
Pot requires pre-heating before use in the microwave oven
How To Choose The Best Cookware For Convection Microwave Oven?
Material
As discussed, cookware that is made with either ceramic, glass, or aluminum are your best option.
There are also some models that have components that are made with various materials. The core or body of the cookware might be ceramic, glass, or aluminum. But, the lid, handle, and other parts might be of a different element.
Be mindful of that and assess whether they are also convection microwave-safe. If in doubt, make sure to read the product manual or contact customer service to ensure the safety of use.
Size and Shape
Unlike the standard full-sized oven, the convection microwave oven is rather compact. So, when buying a cookware set be sure to measure out the actual size of the compartment.
From there, you will be able to determine how big or how small the pans and pots you should be using for your appliance. The size will also give you an estimate in terms of the number of food servings.
The shape and dimension of the cookware are essential when it comes to the type of food you can cook it with. Of course, recipes that have sauce or are soup-based require a deep dish pan or casserole.
On the other hand, baking pizzas tend to call for a flatter and rounder pan. That said, the shape basically tends to depend on the dish itself.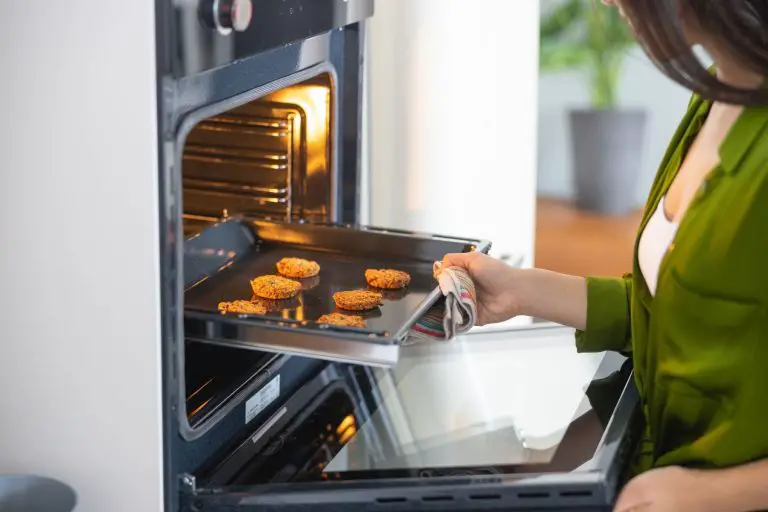 Non-stick Features
There are cookwares that offer non-stick coating. Yes, they are indeed a convenient feature in the sense that it avoids the food from sticking at the bottom of the pan. The smooth surface also makes it easier to clean up.
Nonetheless, this coating is likely treated with certain chemicals which can potentially be harmful to your health. Be wary of the most common types of toxins found in cookware. This well includes PTFE, PFOA, PFOS, lead, cadmium, and BPA from plastics.
When the cookware is heated, toxic fumes are released into the air. In some instances, the chemicals leech off from the pan and are absorbed by your food. These chemicals are proven to have detrimental effects on health and safety.
So, always always always choose toxin-free cookware. Take time to read the product manual and check for claims and certifications to ensure safety. It is better to be sure than sorry. It is never worth the risk to compromise your family's well-being.
Value for Money
Convection microwave oven-compatible cookware comes in a wide range of price points. Some are budget-friendly while some come with a hefty price tag. But, no matter what the cost is, you must be able to get the most value in return for that sum of money you paid for.
To achieve that, you must consider the versatility, durability, and convenience of the cookware. How many types of dishes can you cook it with?
Can you use it from oven-to-table and table-to-refrigerator? Is it pretty enough to be used as a serving dish too? Does it come with lids to allow direct storage of leftovers? Is it dishwasher-safe? Is it delicate? How many years will it last me?
Questions like these enable you to gauge what benefits can you probably expect from the product. And, are they really worth it for the price after all?
Our Pick On The Best Cookware For Convection Microwave Oven
Our top pick goes to the CorningWare French White Ceramic 20-Piece Cookware Set. This set contains every dish you would likely need for cooking and baking in a convection microwave oven.
We love that it adapts to the concept of oven-to-table plus storage. It definitely is an all-around multi-function product.
This CorningWare model is best suited for users who want to purchase a reliable and durable set of convection microwave oven cookware.
With the superior quality and versatility it can offer, its $130 price point is absolutely worth the bang for your buck.
FAQs On Cooking With Convection Oven
Can I use metal pans in my convection microwave oven?
Answer: Yes, but with certain restrictions. You can only use metal cookware for the CONVECTION mode. This setting does not utilize microwaves thus it will not cause untoward reactions to metallic elements.
Can I use aluminum foil in a convection oven?
Answer: When you run out of parchment paper, we want to replace it with aluminum foil. But same guidelines should be applied. Since foil is made with aluminum metal, it should only be used when the oven is set to a convection mode.