Last Updated on February 18, 2022 by Share My Kitchen
When I was little my mom used to prepare for us some incredibly delicious fudge cake. I loved it so much, that still remember a few tricks which you need in order to gather all of the moist crumbs that it usually makes. 
I browsed the web and discovered yet thousands of varieties – with raw or cooked beetroot, with or without nuts, sweetened with honey, maple syrup, or sugar. I have baked a few of them, and have now settled my own proportions for a perfect, very moist fudge cake with earthy beetroot hints.
I have to say I don't like beetroot any other way, but on this cake I actually enjoy it! (Anyway, my mom's cake was simple chocolate fudge, no beetroot was used, so I'm still searching that recipe…)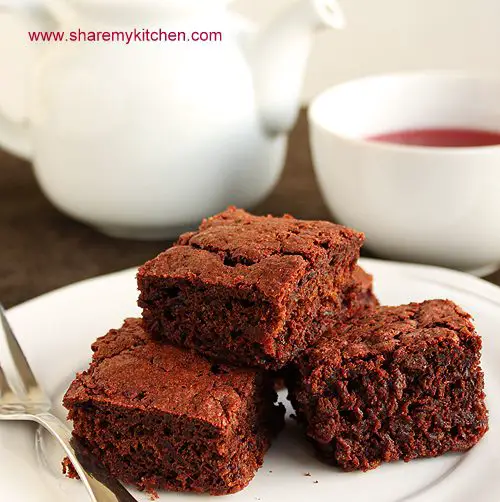 Beetroot Chocolate Cake Recipe
Makes 12 pieces
Preparation and baking time: 55-65 minutes
Ingredients:
350g beetroot, boiled and grated
200g dark chocolate
3 eggs
200g sugar
100g self-raising flour
25g cocoa powder
100g butter
1 tsp vanilla essence or
seeds from 1 vanilla pod
Method:
Prepare the beetroot
For this fudge, you need to cook the beetroot first. Thoroughly rinse the root, cut the stalk high (leaving at least 2cm of it), and don't remove the peel.
This way it will not absorb too much water and will not release its juices and color during the cooking.
Boil it until soft, leave to cool, peel and grate.  Measure the quantity after you prepare it.
Preheat the oven to 180°C/350°F/160°C for fan assisted oven.
Prepare a springform cake tin (24cm) or a 30x30cm baking pan – grease it with some butter or vegetable oil. Line the base with baking parchment.
Drain the grated beetroot and blend together with butter, chocolate and vanilla essence (or vanilla seeds) and puree them. If you're working with warm beetroot, you don't need to melt butter and chocolate previously – they will melt during the process. Using a food processor or hand blender process the mixture until very smooth.
In a separate bowl mix together sugar and eggs until pale and fluffy. Add it to the beetroot mixture and gently fold together, using dry rubber spatula. Try to get into the batter as much air as you can.
Sift over the mixture flour and cocoa and fold them in gently, but thoroughly. Be careful not to overdo it, because it could result in a flat, gummy cake. Stop as soon as the colour of the batter is even.
Pour the mixture into the prepared tin and bake for 30-35 minutes. The cake is cooked when a skewer can be inserted and removed almost cleanly, but this cake is very moist so the skewer will always be a bit messy.
Cool completely before cutting into pieces.