Last Updated on November 10, 2022 by Share My Kitchen
I often think slicing food is quite a repetitive task in the kitchen. No matter what food you are preparing, you will sometimes use your knife and chopping board to cut up something. While this is part of cooking per se, some people, like me, would gladly appreciate a little help from a manual food processor.
In this article, we have gathered ten of the best manual food processors or handheld choppers on the market. We will highlight why we think they are fantastic, what makes them unique from other products, and why they are worth having in your kitchen too.
Yup, this tool is very simple yet highly convenient to have in your kitchen. It enables you to chop, dice, mince, grind, and blend all sorts of vegetables, fruits, herbs, nuts, and more in just a few seconds. It can be manual or electric. But, honestly, I prefer manuals for household use. It is cheap, compact, does not require electricity, is noiseless, and works perfectly to prepare smaller batches.
What Is A Manual Food Processor? How Does It Exactly Work?
A manual food processor is a basic kitchen tool that primarily works to facilitate the slicing or chopping of food into smaller pieces. It is essentially composed of the bowl, the cutting blade, and the mechanism. Depending on the design, it may either come as a hand crank, a pump, or a pull string food processor type.
Regardless of the mechanism used, the manual manipulation of it initiates the rotation of the cutting blades. It does not need electricity to operate. Instead, it takes advantage of the physical force you exert on the mechanism. The more you crank, pump, or pull, the more the blades rotate and chop your food into bits.
The texture and consistency of the food particles may vary depending on the duration of the process. The longer it is, the finer the size will be. Yes, it may sound like it requires some elbow grease to operate. But, indeed, this does give you more control over the fineness of the cut.
Manual vs. Electric Food Processor? How Does It Differ?
Power
The mode of power is the most apparent difference. In manual food processors, you do not need electricity to run the unit. It is just the sheer mechanical energy sustained with every push or pulls of the crank, string, or pump.
Maneuverability
The manual food processors do not come with power cables. This makes it a lot easier to move here and there without worrying about getting restricted by the length of the cord or access to a power outlet.
Compact and Portable
Manual food processors are usually designed to accommodate minimal loads. Hence, they are often smaller in diameter, which makes them easier to store since they won't consume a lot of space in your cabinet or countertop. The device's compactness and lighweightness make it travel-friendly and ideal for campers, RVs, and tiny houses.
Easier to Clean
Manual food processors are much easier to clean as all components are relatively washable. Unlike electric models, you have to be extra careful not to wet the power lines. Otherwise, you run the risk of damaging the motor. Or worst, getting electric shocked.
Inexpensive
Manual food processors are generally cheaper than electric ones. That is primarily because they are not built-in with motor systems which significantly adds to the production cost.
What to Consider When Buying A Manual Food Processor?
Bowl Capacity
Manual food processors are most often available in 2 to 3-cup capacities. This size is perfect for chopping a mason jar full of produce. However, some designs can accommodate as many as 6 to 8 cups if you wish to chop up bigger batches.
Bowl Quality
The majority of the time, manual food processors come with plastic vessels or bowls. If so, make sure to choose those that are food-safe and BPA-free. However, some designs use glass containers. This is more long-lasting yet a bit heavier.
Cutting Blades
Unlike electric food processors, manual models tend to have fewer blade options. Nevertheless, the quality and the number of blades should be considered. After all, this is the very component that does all the chopping.
It is best to choose blades made with food-grade stainless steel metal. This material is durable, rust-resistant, and reasonably low maintenance. In terms of numbers, the more blades there are, the finer the cut will also be. At the same time, cutting with more blades take lesser time and effort.
Safety Features
Features like a non-slip base ensure the device stays in place while in use. The extra grip it provides prevents it from slipping off the countertop. A tight lid closure, on the other hand, is also very important in keeping the contents intact and avoiding spills. It is also helpful for outright storage.
Cost
As mentioned, manual food processors are very affordable. It usually costs between $10 to $40. If budget permits, I'd definitely invest in models with premium quality and credible performance. These tend to last much longer and give you more value for your money.
Best Manual Food Processors For Every Budget
One of the best things about a manual food processor is that they are very easy to clean and also come with lids that save you some time in preparation. Below, I have listed some details on each product and why I think it deserves being on your shopping list.
Below $10
CAMBON MANUAL FOOD CHOPPER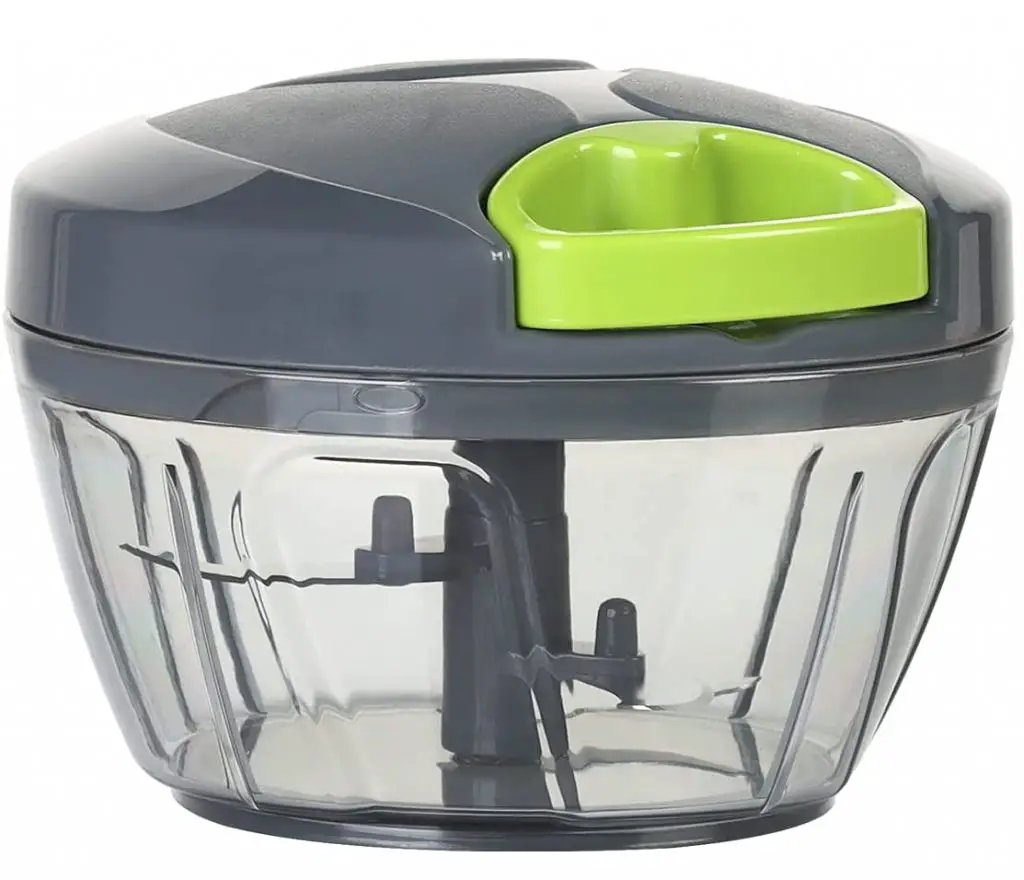 Yes! At a price of only $9.99, this pull-string or pull cord food processor is nothing short of being "small but terrible". This mini food chopper 2-cup jar is made with BPA-free plastic material with a stainless steel blade attached to the lid.
This manual food processor is not only functional, but it is pretty stylish too. I love how they come in a wide range of color options. Its compactness is also perfect for on-the-go routine. You can chop food portions and store them in the fridge for later use.
Below $20
CUISINART CTG-00-SCHP CHOPPER
This manual food chopper is the top of the line when it comes to quality and portability. Both the housing and the cutting blades are made from stainless steel metal. It looks so sleek and is definitely durable.
I often reach for this tool when we are out camping and on RV road trips. The one to two-cup capacity is fantastic for preparing small portions of onion, garlic, vegetables, nuts, and cheese. Such things that you would likely need for single cooking.
SALSA MASTER SALSA MAKER FOOD CHOPPER
This salsa maker is not just a badass at chopping tomatoes and onion. It also works perfectly with other vegetables, nuts, herbs, and more. Thanks to its tripe samurai blades that are made from surgical stainless steel. It is ultra sturdy, and it promises not to bend or rust at all.
I also love how its 5-cup bowl comes with a pouring spout and an anti-skid base. As a bonus, the package includes a handy recipe book too. So, salsa won't just be your only menu.
CHEF'N VEGGIE CHOP HAND-POWERED FOOD CHOPPER
This manual food processor is designed for that chop and store purpose. It comes with a pull-cord lid with stainless steel blades for cutting. And when you're done, you can easily replace it with the storage lid to keep the chopped food sealed for freshness.
I love the versatility and the multi-function approach of this product. The 2-cup BPA-free plastic bowls are easy to clean and dishwasher-safe too.
ULTRA CHEF EXPRESS FOOD CHOPPER
This manual food processor is definitely not your typical food chopper. It is actually a 7-in-1 multifunction tool that can slice, shred julienne, separate egg, whip, juice, and store at the same time. All that functions in just one item that costs less than 30 bucks.
The Ultra Chef Express is powered by triple-bladed surgical stainless steel cutting blades. The 5-cup bowl is also big enough to chop and mix different foods in one go. A total time-saver!
BRIEFTONS EXPRESS MANUAL FOOD CHOPPER
If you are looking for longevity, then the Briefton Express is your ultimate choice. This food processor has undergone intensive stress tests to ensure quality performance. The results then show that it lasts up to hundreds of thousands of uses. Whewww!
The easy pump mechanism is specifically designed to promote single-hand operation. To help out with stability, it is paired with a BPA-free bowl with an anti-skid base. It is a large-size bowl that can accommodate 6 to 8 cups per load.
GEEDEL MANUAL HAND FOOD CHOPPER
This manual rotary food chopper features 420 surgical stainless steel cutting blades. It also comes with a 3-cup food-grade BPA-free plastic bowl. All parts are easy to assemble/disassemble and dishwasher-safe as well.
The design and features are pretty basic. But, I appreciate how excellent their aftersales services are. The company actually offers a 1-month free trial of their product. Also, it ensures to provide 24-hour customer service and lifetime technical support.
Over $30
KHUN RIKON PULL CHOP MANUAL FOOD PROCESSOR
The Khun Rikon Pull Chop food processor is my ultimate go-to choice for quick meal preparations when traveling. This tool has a pull cord lid that attaches to the stainless steel cutting blades. Once done with the chopping, you can replace the pull-cord top with a regular lid cover for storing.
What I love most about this food chopper is that the bowl is both microwave and dishwasher-safe. This offers another level of convenience from start to finish. Safety is a priority in this product. The set includes a blade protector to secure the sharp edges when the cutting blades are not in use.
ZYLISS EASY PULL MANUAL FOOD PROCESSOR
The Zyliss Easy-Pull food chopper features high-grade serrated stainless steel blades. Thus, the manual food processor can produce uniform slices and julienne strips fast and easily. The dual blades are paired with top and bottom booster arms to help sweep and prevent food from sticking.
The bowl has a capacity that can fit 2 to 3 cups of food per load. I appreciate how broad the slicing surface is. This allows you to fit in more oversized items without an issue.
OXO GOOD GRIP ONE STOP CHOP MANUAL FOOD PROCESSOR
This manual food process stands by its name "one-stop chop" because it can perform various functions, including chopping, mincing, pureeing, and blending. Its three ultra-sharp stainless steel cutting blades promise to deliver it all for you. The OXO Good Grip, as the name implies, features a suction cup base. Moreover, it has a locking tab too to keep the lid tightly sealed. Both features promote the easy and secure one-hand operation of the food processor.
This model is the most expensive on the list. Nevertheless, I feel less guilty about spending on this product since OXO shares 1% of its annual sales to support non-profit environmental projects.
Takeaway
A manual food processor is only a simple cutting tool that brings in a heck of convenience. So, if you don't feel like chopping, are afraid of knives, don't want to risk getting cut, or just want to save time, this tool is worth having in your kitchen.
The excellent products we have included herein are all tested and proven to deliver quality performance as they claim. Whether you have $10 or more to spare, we have showcased the suitable manual food processors that best suit every budget.