Last Updated on May 2, 2022 by Share My Kitchen
Bulgarian and Turkish cuisines have a lot in common. Or, more precisely said, for historical reasons, Bulgarian cuisine heavily borrowed from the Turkish. In spite of this, Turkish Kisir was an absolute surprise for us.
We were tempted to try it in London, at Ottolenghi and it was instant love. If you have never had Kisir before, you've got to give it a try. The fresh taste of the herbs and the scent of pomegranate, combined with the tomatoes and olive oil, make this simple vegan dish delightfully rich.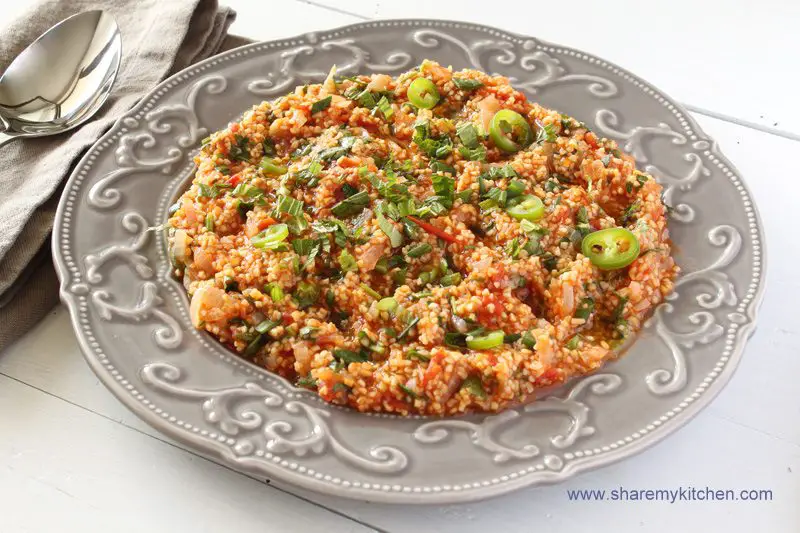 What's Turkish Kisir
This traditional Turkish dish is in a way another form of Tabbouleh (it uses almost the same list of ingredients). And it's served as a starter, side dish or meze (appetizer). But if cold, fresh and tangy tabbouleh is perfect for the hot summer days, we like our kisir warm (or tepid), and it is good all year around.
How is Turkish Kisir Made
Traditionally in Turkey kisir is made with red pepper paste, but we definitely prefer Ottolenghi's "tomato" version (meaning more tomatoes than pepper paste). And as our experience shows, Kisır goes really well with grilled meats, especially lamb.
Turkish Kisir Recipe
Serves:4
Preparation time: 20-25 minutes
Ingredients:
2 large onions, finely chopped 90ml olive oil, plus extra to finish 2 tbsp tomato purée 4 medium tomatoes, peeled and chopped 120ml water 400g medium or fine bulgur wheat 1½ tsp pomegranate molasses 1 tbsp lemon juice 3 tbsp chopped parsley 3 spring onions, finely shredded, plus extra to finish 2 fresh green chillies, deseeded and finely chopped 2 garlic cloves, crushed 1 tsp ground cumin
salt and black pepper
Optional:
seeds from 1 medium pomegranate (about 120g) handful of mint leaves, some whole and some roughly shredded
Method:
Place the onions and olive oil in a large pan and sauté on a medium heat for about 4 – 5 minutes, until translucent. Add the tomato purée and stir for a minute or two. Add the chopped tomatoes and simmer on a low heat for a further 4 – 5 minutes.
When tomatoes are softened, add the water and bring to the boil. Remove immediately from the heat and stir in the bulgur.
Next, add the molasses, lemon juice, parsley, spring onions, chillies, garlic, cumin and some salt and pepper. Stir well, then leave aside until the dish is lukewarm. Taste it and adjust the seasoning – it will probably need plenty of salt.
How To Serve Turish Kisir
Transfer the kısır in serving dishes and flatten it roughly with a spoon, creating a wave-like pattern on the surface. Drizzle with oil (you may skip this one), sprinkle with mint and pomegranate seeds, and serve.
Recipe adopted from Ottolenghi.