Last Updated on February 18, 2022 by Share My Kitchen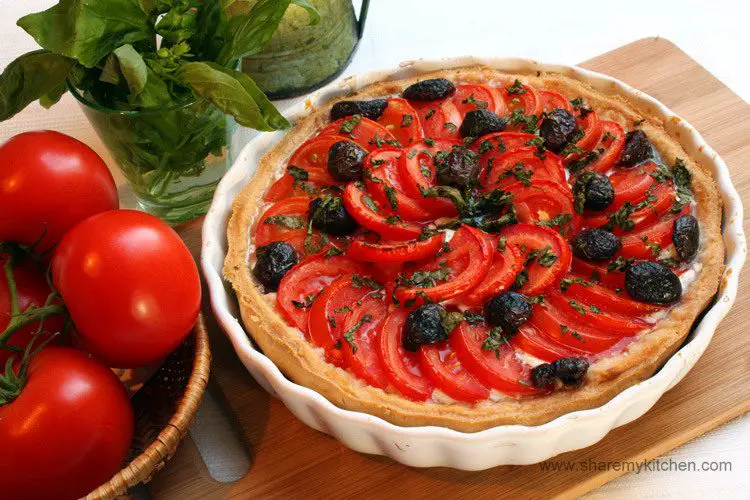 This is one of my favorite types of savory tarts, and believe me, it's really not easy for me to say that, since I just adore savory tarts.
In this variation, the pastry crust plays host to blue and goat cheeses, sliced tomatoes, and fragrant basil – simple and irresistible.
Full Recipe Of The Best Savory Tart with Basil & Tomato and Cheese
Preparation and cooking time: 65 minutes
Serves: 6
Ingredients:
Tart Dough:
360 g all-purpose flour 120 g (6 tablespoons) cold unsalted butter cut into small pieces
1/2 teaspoon salt
2 tablespoons extra-virgin olive oil
2 egg yolks
1 tablespoon(s) water
Filling:
100g grated/ crumbled goat cheese (any kind) 100g blue cheese,
crumbled 4  (plum) tomatoes,
cut into 1/2-inch slices and seeds removed
10 ml extra-virgin olive oil
1 teaspoon fresh rosemary, finely chopped
1 tablespoon fresh thyme leaves
1 sprig of fresh basil, chopped (substitute with dried if you don't have fresh)
Black pepper, crushed
Few fresh basil leaves, for decoration
Few black olives, for decoration
Prepare The Dough
Sift the flour together with the salt in a large bowl.
Using your fingers, rub in the butter until you have a soft breadcrumb texture.
In a small bowl, mix together the egg yolks and water.
Add the oil and yolk and water mixture to the crumb mixture and work it into it to form a firm dough.
Gather into a ball, flatten into a disk, wrap in plastic wrap, and chill for 30 minutes.
How To Make The Pastry?
Preheat oven to 200⁰C (400⁰F).
Roll out the chilled dough into a 35 cm (14 inch) circle and place it into a baking dish.
Line with baking parchment and then fill it with baking beans.
Place on a baking tray and bake blind for 15 minutes.
Remove the beans and parchment and return to the oven for another five minutes to cook the base.
Combine the crumbled cheeses with olive oil and all the fresh herbs.
Sprinkle the cheese mixture evenly over the base and place the tomato slices to form two circles, while covering the whole of the tart.
Reduce the temperature of the oven to 160⁰C (325⁰F) and bake for 25 minutes.