Last Updated on November 2, 2022 by Share My Kitchen
Teriyaki sauce is the OG of Asian cuisine's list of sauces. This classic Japanese condiment is a staple in most kitchen pantries, not just in Asia. The traditional recipe essentially consists of soy sauce, mirin, and sugar. It gives it a flavor profile with an excellent balance of savory and sweet.
Unfortunately, not all of us have access to authentic recipes. More so, the luxury of time to whip up a good batch of homemade teriyaki sauce. On that account, buying commercially bottled ones off the shelf seems to be a very convenient option.
With this in mind, we took the liberty of trying out different teriyaki sauces on the market. In this article, we will share our 5 best teriyaki sauce picks. We will explain why we love them so much and why they are worth adding to your shopping cart.
Why is Sauce Texture Important in Teriyaki?
Teriyaki sauces may come in varying textures or viscosities. In general, sauces with a thinner consistency are ideal for use as marinades. The more liquid it is, the better it will be absorbed by the food.
As a marinade, it is best to leave the meat coated with the teriyaki sauce for at least an hour or overnight, if time permits. It gives ample time for the meat to soak up the flavor. At the same time, allow the muscles to tenderize.
You may also encounter teriyaki sauces with thicker textures. These recipes usually contain some form of starch or thickening agent like xantham gum. Thicker sauces are less likely to penetrate deep into the meat. However, they are more suitable to be used as grilling sauces, dressings, or dips instead.
Thick teriyaki sauces are also less likely to evaporate quickly in the heat. Additionally, the thick viscosity helps the sauce stick better to the surface of the food. Thus, effectively enhancing the flavor of the dish.
Alternatively, you can also choose to thicken a thin teriyaki sauce by adding a little bit of cornstarch. This simple hack will do the trick if you want your sauce to be less runny. Or, if you prefer, use it as a salad dressing or dip instead.
If you haven't yet, you can try the teriyaki sauce as your next Asian marinade for beef. Let me tell you, it will change the way you cook your beef and other Asian recipes.
What Is the Difference Between Japanese and American Teriyaki Sauces?
Teriyaki, by definition, means a meat dish marinated in soy sauce and cooked over direct heat. That is why you may often find traditional Japanese teriyaki sauce thinner or more liquidy. It is primarily used as a marinade to add a punch of umami to fish, chicken, and other types of meat.
Meanwhile, the American sauce version leans more towards a thicker texture. The high starch and sugar content essentially add to its viscosity. It makes the consistency more apt for adding glaze while enhancing the flavor of grilled meats. That said, you will find teriyaki sauces labeled as grilling sauces in some instances in the US.
Our Top 5 Pick Bottled Teriyaki Sauces
PRIMAL KITCHEN NO-SOY ORGANIC TERIYAKI SAUCE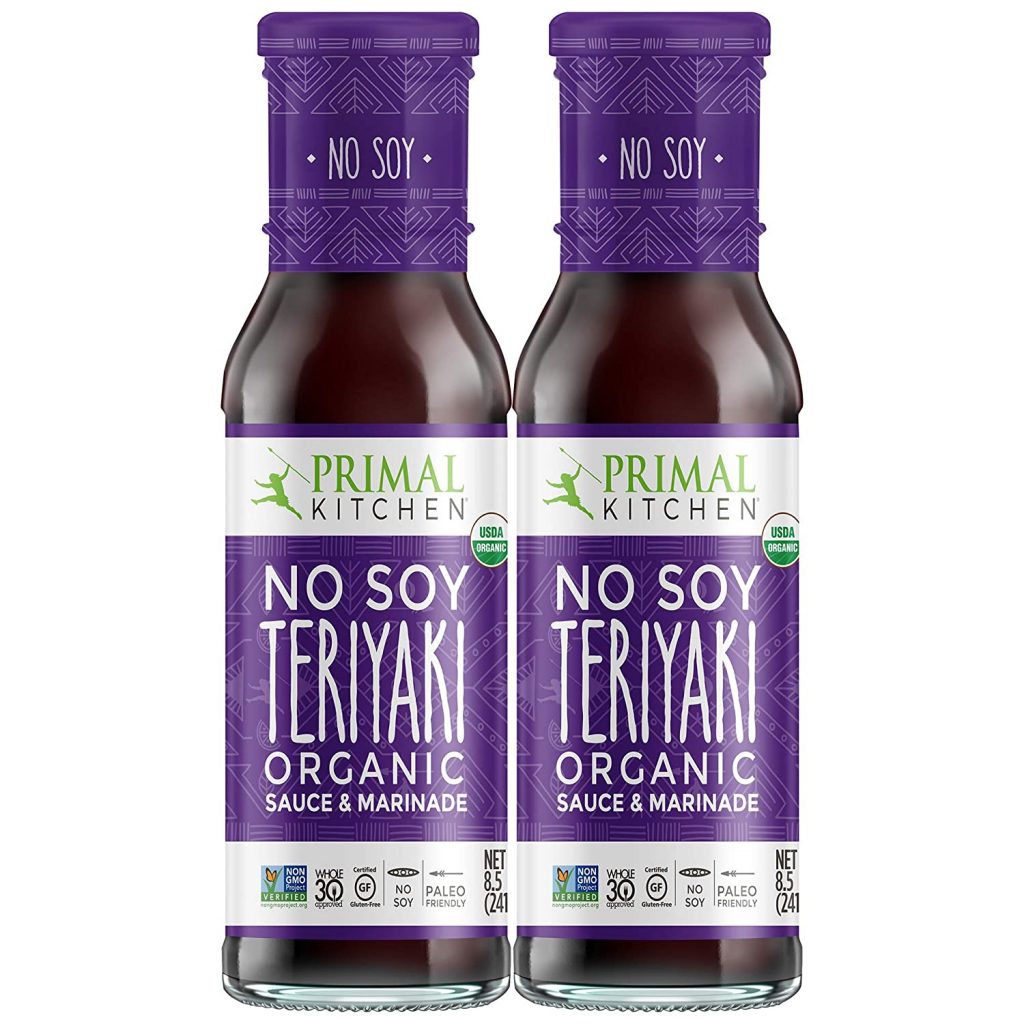 The Primal Kitchen No-Soy Teriyaki Sauce is your ultimate choice if you want a teriyaki sauce that contains only REAL food. This product contains ingredients found in the complete list of USDA organic ingredients. So feel confident that this bottled sauce is a safe and healthier option on the market.
This no-soy recipe uses organic coconut aminos as its base ingredient. It has a similar color and consistency to typical light soy sauce. However, it tastes milder, sweeter, and contains fewer amounts of sodium. Thus, coconut aminos make an excellent alternative for those at risk of high blood pressure and other health issues.
Aside from being gluten-free, this teriyaki sauce also fits most lifestyle diets. This well includes keto, paleo, and whole30 and is vegan-friendly. So, no matter your food preferences, this teriyaki sauce will always complement your taste.
The Primal Kitchen's No-Soy teriyaki sauce is the very definition of guilt-free. I love how I get to enjoy the delicious Asian-inspired teriyaki dish. But at the same time, feeding myself only with natural and organic ingredients. The price might be steep, but we know that great quality foods don't come cheap.
KIKKOMAN TERIYAKI MARINADE & SAUCE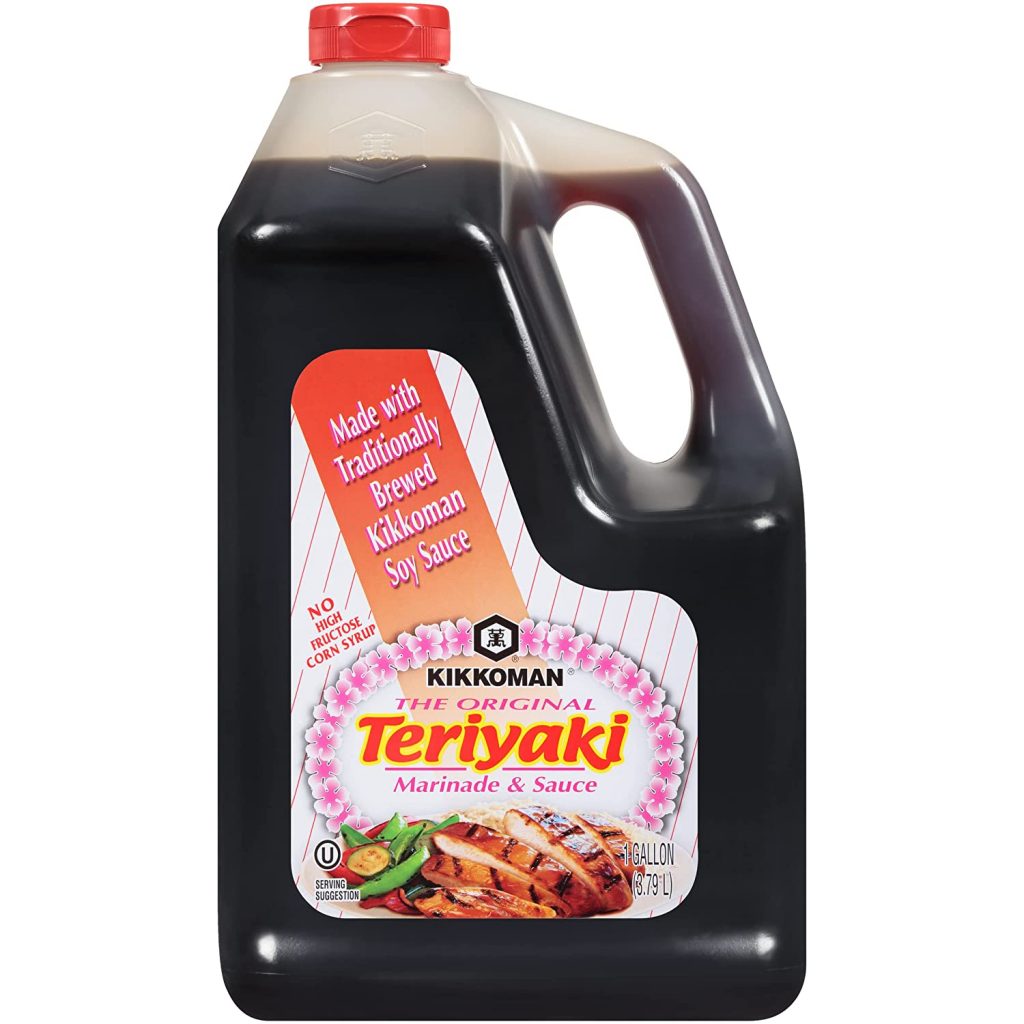 Kikkoman is one of the most popular commercial brands when it comes to Japanese condiments. They are most well known for their high-quality soy sauces. Their naturally brewed soy sauce is used here as the primary ingredient for their original teriyaki sauce.
As expected, Kikkoman's teriyaki sauce is more traditional. The consistency is thin. Hence, it is a perfect medium for marinating. You can use it for any meat. But, I usually reach out for this to marinate my chicken wings. I leave it in the fridge overnight and grill it the next day.
To make my barbecue chicken special, I add minced garlic, ginger, green onion, brown sugar, and honey to the teriyaki sauce. I brush this over the chicken to give it a nice layer of glaze.
I love how clean and straightforward the Kikkoman Teriyaki sauce tastes. I prefer thin sauces since they are more versatile. You can use it as a marinade and a grilling sauce at the same time. Add a little bit of cornstarch if you want to thicken the consistency.
G HUGHES SUGAR-FREE ORIGINAL TERIYAKI MARINADE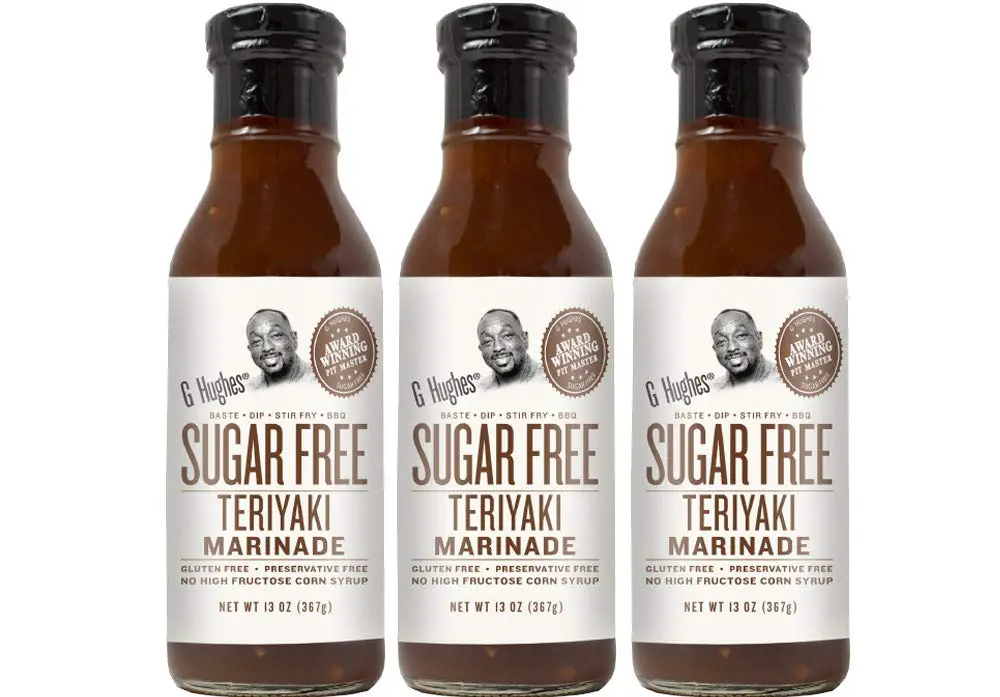 The G Hughes original teriyaki marinade is an award-winning sauce that highlights its use of healthier alternative ingredients. The blend primarily uses tamari soy sauce. It is a simple blend of water, soybeans, salt, and alcohol. It is thicker and darker and has a richer flavor than regular soy sauce.
G Hughes also takes pride in their sugar-free products. It does not contain high fructose corn syrup. Instead, they use sucralose as a sugar substitute. It is a no-calorie artificial sweetener that will not elevate blood sugar levels. Hence, this sauce is a safer choice for those with diabetes, on a keto diet, or simply trying to monitor their weight.
I love how versatile this sauce can be. It acts as a marinade, basting, a dip, or for grilling barbeques. Nevertheless, this is my go-to choice for stir-frying veggies. The consistency is thick enough to stick and coat the vegetables. It is flavorful and quick to prepare. Not to mention guilt-free for having low-calorie, sugar-free, gluten-free, and no preservatives.
ORGANIC ASIAN FUSION LOW-SODIUM TERIYAKI SAUCE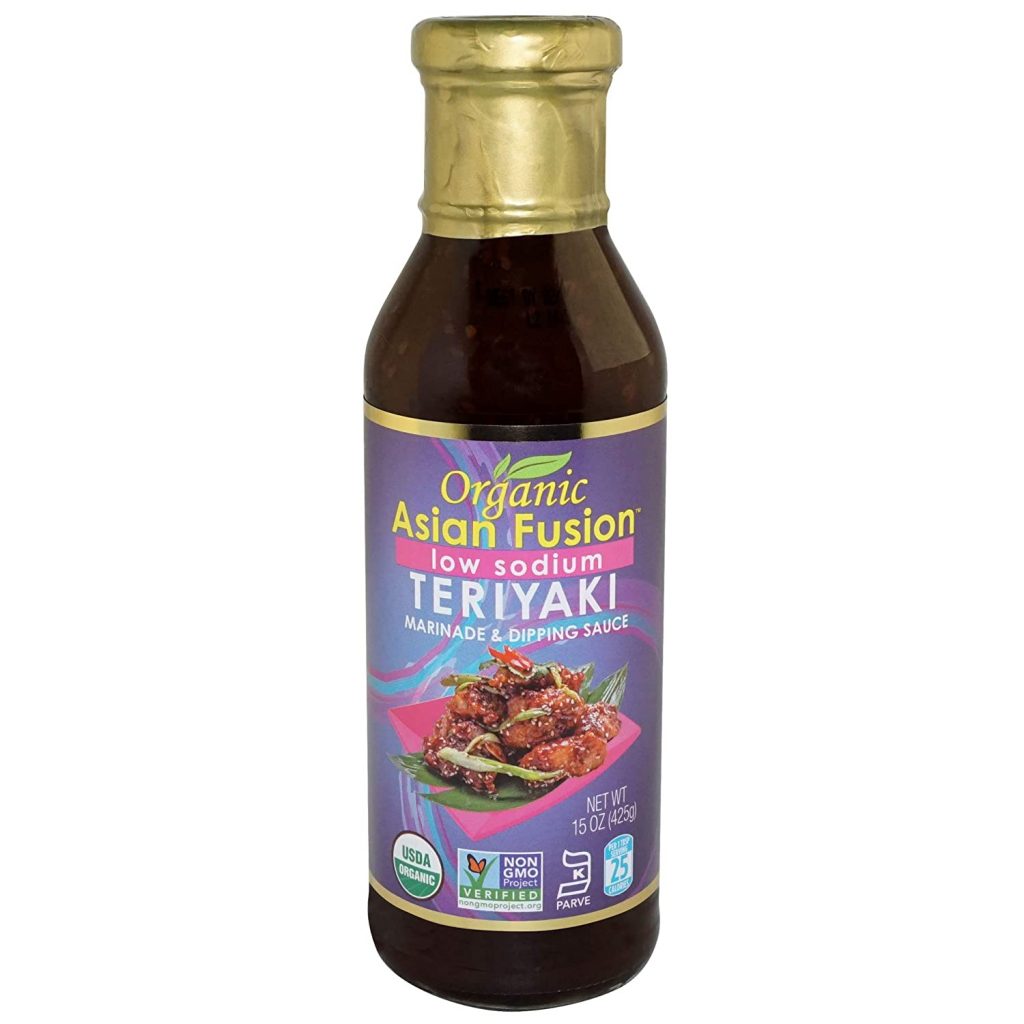 This Asian Fusion teriyaki sauce is an excellent choice for those keeping track of sodium intake. This sauce features gluten-free tamari sauce. It has a bolder flavor but is far less salty than regular soy sauce.
In particular, this sauce only contains 125 mg of sodium per one-tablespoon serving. It is more or less 50% lesser than other leading bottled teriyaki sauces. Hence, this makes the Asian Fusion No-Soy a good condiment alternative for those with heart and kidney problems.
However, this sauce contains a tad bit more calories than the other brands we've mentioned here. But, at 25 calories per serving, it is still very forgivable considering the delicious flavor it can impart to my dishes. I tried this on chicken, fish, tofu, and stir-fried noodles, and it tastes divine every time. This bottle is what I usually make sure to cook with whenever my parents come and visit me.
LAWRY'S TERIYAKI WITH PINEAPPLE JUICE MARINADE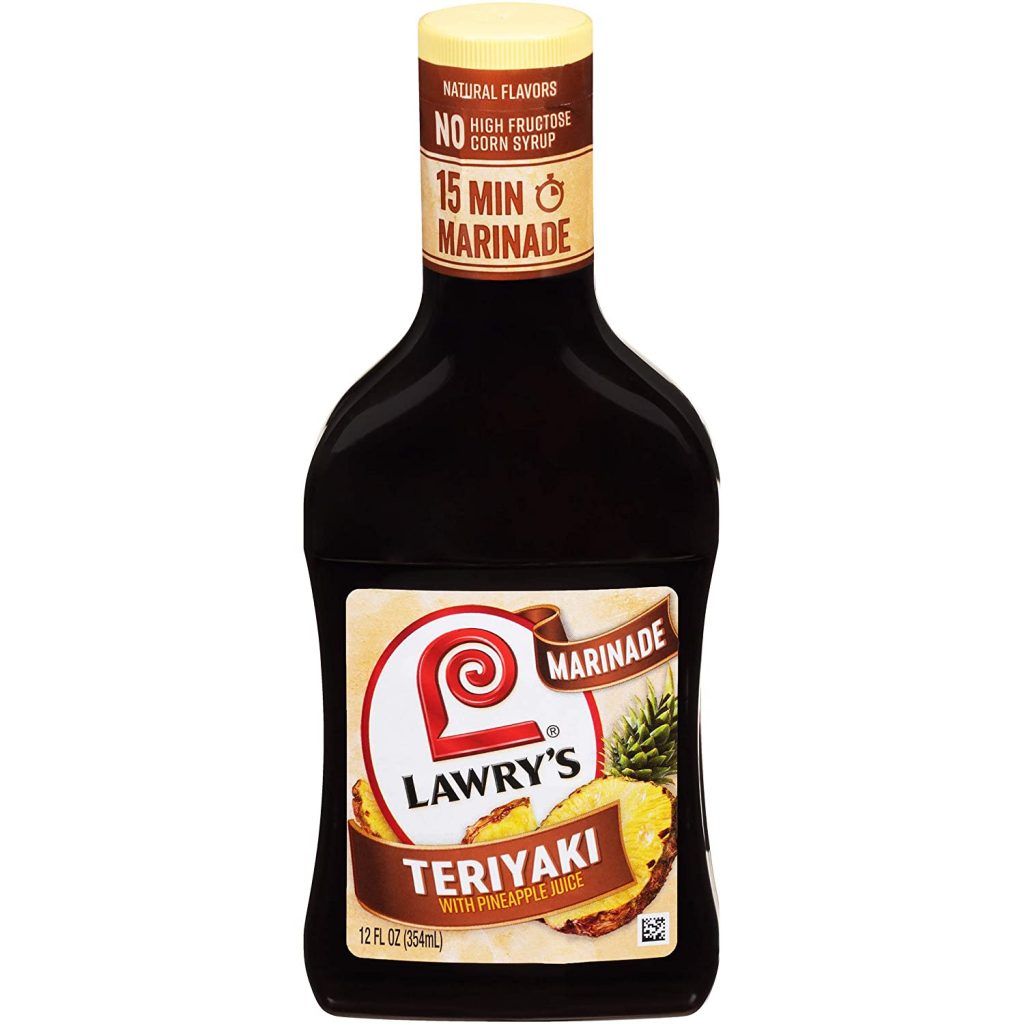 Lawry's teriyaki sauce is an absolute favorite among kids and those who want their sauce on the sweeter side. The pineapple juice in this marinade makes the recipe tangy and sweet. It complements the savoriness of the soy sauce very well.
I kid you not; my kids love them so much. So, I usually use this sauce to marinate their burger patties. Then grill and top it with cheese, lettuce, glazed onions, and fresh pineapple to create a teriyaki burger. Adding this sauce to your veggies makes it more palatable for the kids. It might even be a great secret ingredient to encourage your child to eat more vegetables.
Even though it is sweet, this does not contain high fructose corn syrup. It also has no MSG. Nevertheless, it is still best to use this marinade sparingly as it has 3 grams of added sugar and 570 mg of sodium per one-teaspoon serving.
Our Final Verdict
Out of the five, the Primal Kitchen No-Soy Organic Teriyaki Sauce satisfied our expectations the best. It gives any dish that Asian-inspired teriyaki sauce flavor, minus the nasty ingredients. I feel very at ease filling my tummy with foods that are not only yummy but natural and healthier too. We've tried this in our chicken teriyaki stir fry and it was the bomb!
Although it is not the cheapest on the market, we still feel it is worth it for its price. Organic ingredients are technically more expensive to cultivate than processed foods. But, it's a price I'm more than willing to pay if it means better meals for my family and me.