Last Updated on February 18, 2022 by Share My Kitchen
Stinging nettles might seem an intimidating source of food but they are a good one. Once gathered and processed they can be used much as spinach and are just as nutritious.
The key to a successful stinging nettle collection (aside from thick gloves) is fussiness.
You should, like herbivores in wildlife shows, only go for the tender new growth at the top of the plant. They are at their best in the spring when all of the plant growth is new.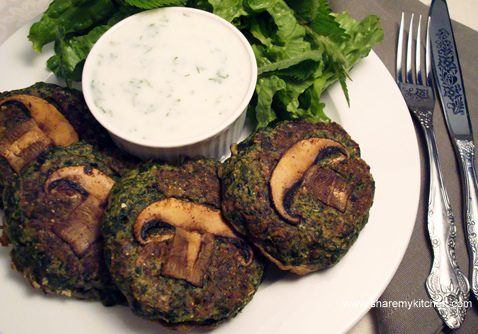 How To Cook Mushroom Croquettes
Serves: 4
Preparation time: 40 minutes
Ingredients
2 cups stinging nettles, blanched and chopped (it's about 6 cups raw)
4 medium-sized potatoes 100 g. of nettle tips, blanched and chopped
4 medium-sized mushrooms
One egg
2 tbsp. oil
Flour Breadcrumbs
Salt and pepper, to taste
For the yogurt sauce:
2 cups of plain yogurt
Half a bunch of fresh dills,
chopped Large garlic clove, grated or minced
Salt to taste
Method
Chop three of the mushrooms very finely.
Sautee them and set them aside.
Boil the potatoes and mash them.
Boil the nettles, drain, and squeeze.
Then chop and add them to the potatoes, together with the mushrooms.
Add salt and pepper and bind with an egg.
Roll the mixture into little balls and cover the balls in flour.
Slice the fourth mushroom and stick one slice to each ball.
Fry a small number of croquettes at a time in a large amount of hot oil.
To make the yogurt sauce, combine the ingredients in a small bowl and stir gently to blend.