Last Updated on August 3, 2023 by Share My Kitchen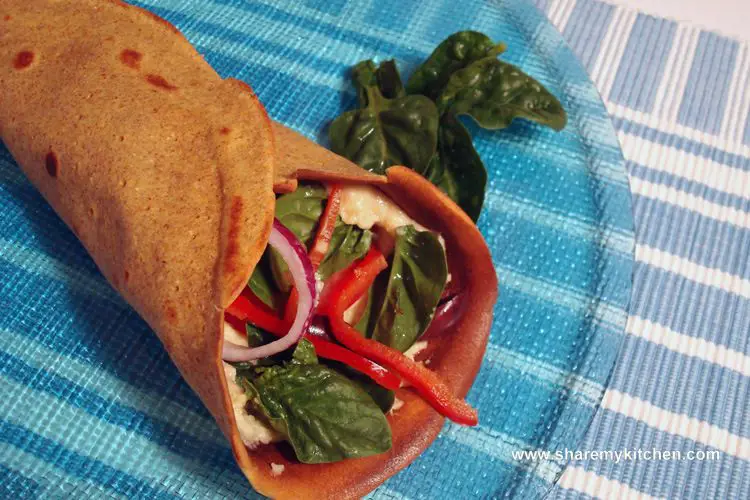 Lemon and Garlic Hummus Tortilla Rolls with Fresh Baby Spinach Recipe
Serves: 4
Preparation time: 40 minutes
Ingredients
For the tortillas:
1 ½ cups whole wheat flour 1 ½ cups cornmeal
1 egg
½ teaspoon salt
1 cup warm water (110 degrees F/45 degrees C)
For the hummus:
200 g boiled chickpeas  ( you can also use canned chickpeas )
Grated zest and freshly squeezed juice of 1 lemon
1 garlic cloves,
chopped 2½ tbsp lemon juice
2 tablespoons tahini paste* 70ml extra virgin olive oil
Salt and freshly ground pepper
For the filling:
A handful of fresh baby spinach leaves
½   sweet red pepper
thinly sliced rings 1tomato
cut into thin slices 8-10 pitted olives
sliced in halves
½ small red onion, thinly sliced
Method:
For tortillas:
In a large bowl, stir together the flour and cornmeal.
Add the egg and salt, and begin whisking – any sort of whisk will do – incorporating any bits of flour from around the edge of the bowl as you do so.
Next gradually add small quantities of the water still whisking, until the batter is smooth, with the consistency of very thick cream.
Now get the pan really hot, then turn the heat down to medium and cook as you cook pancakes – two minutes on each side, depending on the thickness of your tortillas – I prefer mine thicker.
For the hummus:
If you are going make your own hummus (best option), make sure you soak the beans properly for at least 5-6 hours, best overnight.
Then boil them for at least couple of hours or until very soft.
If you don't have the patience (or time), there is always the option to use canned chickpeas.
To make the hummus, put the drained chickpeas in a food processor with the lemon juice, garlic, and olive oil.
Blend until semi-smooth before adding the tahini. Season with salt and pepper and blend until smooth. Finally, stir in the grated lemon zest.
Lay the tortillas on a clean work surface and spread a quarter of hummus over each. Divide the spinach leaves, peppers, tomato, onion, and olives between the tortillas, scattering over. Season and roll up each wrap.
*You can make your own tahini paste. It is worth making tahini in bulk to reduce waste as the sticky paste is difficult to empty cleanly from your food processor. This is the proportion of oil to sesame seeds to use, increase the quantities to suit your needs – ¼ cup vegetable oil to 1 cup sesame seeds.