Last Updated on June 9, 2022 by Share My Kitchen
We really go crazy over Swedish meatballs and to be honest they are one of the main reasons we visit Ikea stores. Tender and delicious don't even start to describe them. In short, we love Swedish meatballs!
Is it hard to make Swedish Meatballs at home?
Making Swedish meatballs aren't really difficult, although rolling the balls can be a bit labor-intensive, especially if talk about preparing large volumes for lots of people.
For a long time, I doubted I can make these cuties myself but the recipe you're about to read looked easy enough and I finally decided to give it a go. The result is that we now can have tasty Swedish meatballs whenever we want them.
How To Serve Swedish Meatballs?
Swedish meatballs make a great dinner or Sunday lunch, served with fluffy mashed potatoes or white rice and lingonberry jam alongside. You can also serve them skewered, as an appetizer.
How To Cook Swedish Meatballs At Home?
Serves: 4; Makes around 32-36 meatballs
Total time: 45-50 minutes
Ingredients:
For the meatballs:
2 – 3 slices of fresh bread*
60ml (1/4 cup) milk
4 tbsp butter, divided
1/2 cup onion,
finely chopped or grated
A pinch of sea salt
350g (3/4 lb) ground chuck
350g (3/4 lb) ground pork
2 large egg yolks
1/2 tsp black pepper
1/8 tsp ground allspice
1/4 tsp freshly grated nutmeg
For the sauce:
20g (3 tbsp) all-purpose flour
3 cups beef broth (if using a stock cube –
½) 1/4 cup heavy cream
1 tbsp fresh parsley leaves, chopped
Some lingonberry jam, or cranberry, blackberry, or blackcurrant jam, to serve
*I use homemade whole wheat bread and honestly I needed more than 3 thin slices.
Steps for the best homemade Swedish Meatballs
Preheat oven to 60C/140 F.
Shatter the bread into small pieces and place in a small mixing bowl along with the milk. Set aside.
In a large saute pan (straight sided) over medium heat, melt 1 tablespoon of the butter.
Add the onion and a pinch of salt and sweat until the onions are soft.
Remove from the heat and set aside.
Prepare the meatballs
In a big bowl combine the bread and milk mixture, ground chuck, pork, egg yolks, 1 tsp of sea salt, black pepper, allspice, nutmeg, and onions. Get your clean hands in there and scrunch and mix it well, or, if you prefer beat with the mixer on medium speed for 1 to 2 minutes.
Divide the mixture into four equal balls, then pat and roll each ball into a sausage shape. Cut each one into 8-9 equal pieces and with wet hands roll them into little balls. Keep wetting your hands as you go so you get nice round elegant meatballs, arranging them on a large oiled tray. When all the mix is rolled into balls cover with plastic wrap and refrigerate for 30 minutes to firm up.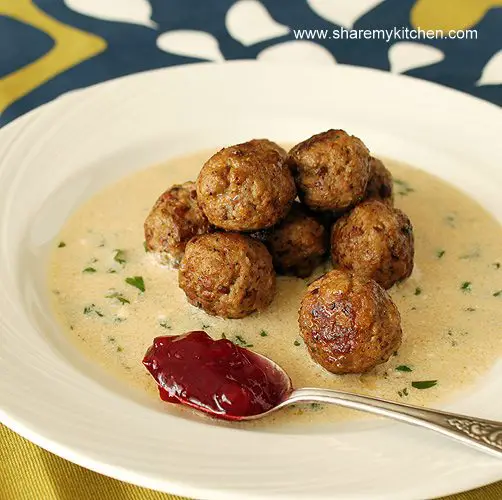 Cook The Swedish Meatballs
When you're ready to cook, heat the remaining butter in your largest pan on medium heat. Once hot, add a batch of the meatballs (I fry them in 3 rounds, but it will depend on how big your pan is). Fry gently for 10 to 12 minutes, tossing occasionally, until they are golden brown from all the sides. Remove them with a slotted spoon, and keep the ready balls in a covered ovenproof dish in the warmed oven.
Glaze Sauce on the meatballs
When all the meatballs are cooked, down the heat lower and add the flour to the pan. Whisk until lightly browned, or for approximately 1 to 2 minutes. Gradually add the beef stock and whisk until sauce begins to thicken. Add the cream and continue to cook until the gravy reaches a nice consistency. Before removing it from the heat, add the chopped parsley and stir.
Serve your meatballs hot, drizzled with the gravy and with some warmed-up jam on side.
Adapted from Fresh tart, who, in turn, adapted it from Alton Brown.