Last Updated on November 2, 2022 by Share My Kitchen
Want to cook taquitos but don't wish to go through all the hassles of actually preparing them? Then, you are in for some savory treat, my dear.
 Ready-to-cook, frozen taquitos are here to make your dinner nights delightfully easy peasy. 
Be it for fun Friday meals with the kids, super bowl snacks with your buddies, or simply to satisfy one's Mexican food cravings. Taquito is definitely a crowd-pleaser!
In this article, we reviewed 5 of the best-frozen taquitos in the market. We give you an insight into what makes these products amazingly good. We have also included the best ways to prepare and the best sauces to pair them with to further enjoy the taste.
Best Frozen Taquitos Review ?
DELIMEX WHITE MEAT CHICKEN CORN TAQUITOS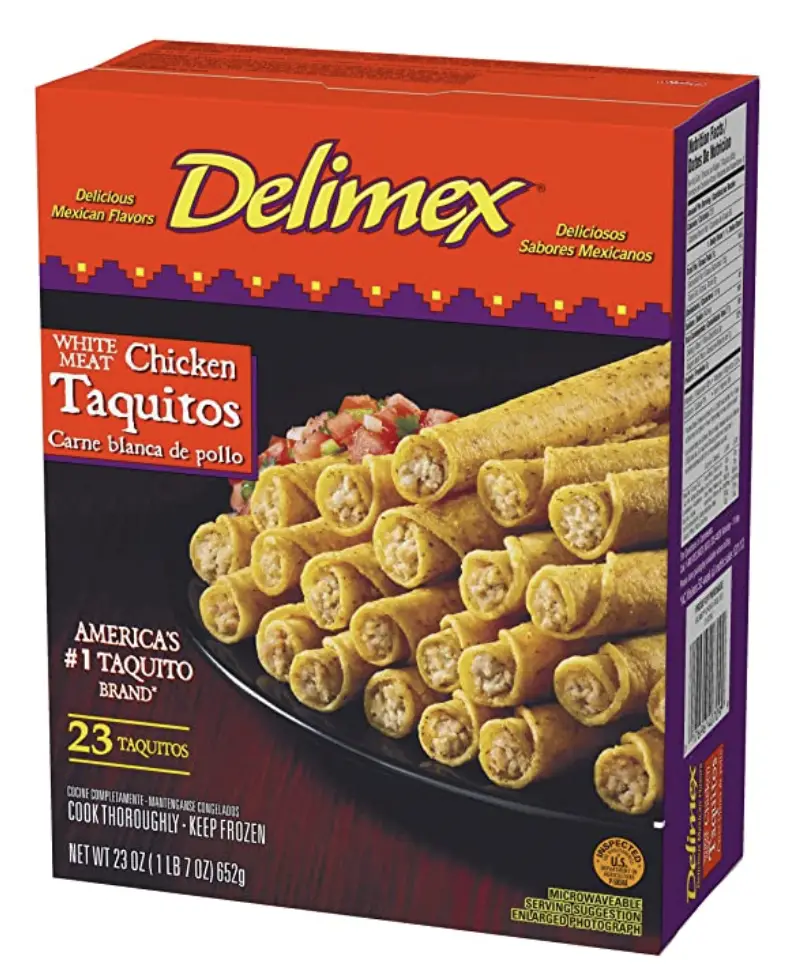 Delimex frozen taquitos are made with white chicken meat which is known to have lower fat and calorie content. It is blended with seasonings and spices to bring out the authentic Mexican taste. The tender meat is then rolled within the crunchy corn tortillas.
The Delimex taquitos do not contain milk products thus perfect for lactose-intolerant consumers. The serving size is 85 grams or about 3 taquitos.
The package is available in different sizes containing 12 up to 66 counts.
Quick Facts
Uses white chicken meat
Gluten-free
Dairy-free
EL MONTEREY CHICKEN & CHEESE TAQUITOS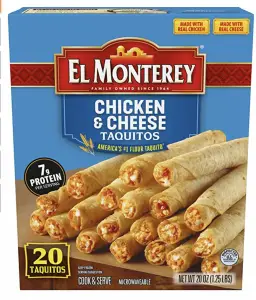 This taquito is made with real juicy chicken meat seasoned with traditional Mexican spices. It is complemented with the brand's original Monterey Jack cheese to further enhance the flavor and taste pleasure. The filling is then wrapped into freshly-baked flour tortillas.
Every serving of this taquito contains about 7 grams of protein. It has lower cholesterol levels at 3% compared to the 5% of other frozen taquito brands. It is best enjoyed with dipping's like guacamole, salsa, ranch dressing, or munch it on its own.
Quick Facts
Made with real chicken and cheese
No added sugars
Lower cholesterol content than other frozen taquito products
JOSE OLE BEEF TAQUITOS IN CORN TORTILLAS
The Jose Ole beef is a classic flavor. It is made with savory shredded beef and ground meat. To add a zing, it is paired with zesty green chiles.
It is wrapped then with tortillas made from freshly-baked stone-ground corn masa flour. However, know that despite the tortilla being made from corn, it is not completely gluten-free.
The serving size is about 85 grams or equivalent to 3 taquitos. In every serving, it contains about 6 grams of protein.
Quick Facts
Non-dairy
No added sugars
No artificial colors
JOSE OLE BEEF & CHEESE TAQUITOS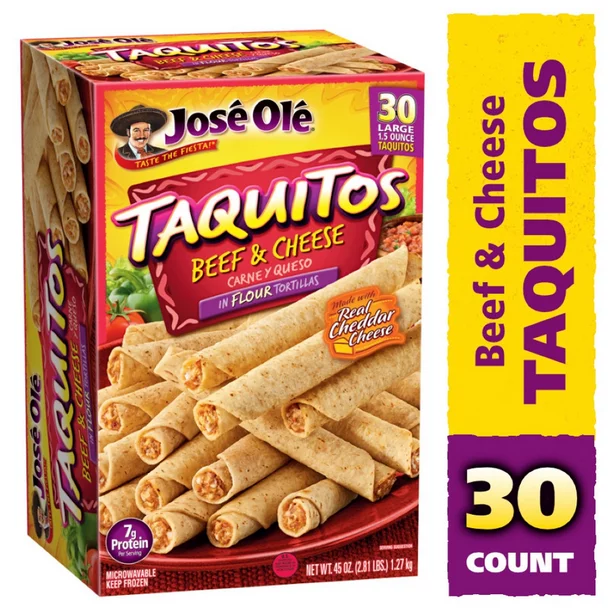 Jose Ole's beef and cheese taquito is another variety of the brand's fan-favorite frozen Mexican dishes. It is made with shredded beef meat seasoned with a traditional mix of spices.
The tender meat is then paired with melty cheddar cheese and wrapped in a fresh wheat flour tortilla.
Quick Facts
Made with real cheddar cheese
Each serving contains 8 grams of protein
Contains added niacin, reduced iron, riboflavin, thiamine mononitrate, and folic acid
EL MONTEREY BLACK BEAN & CHEESE TAQUITOS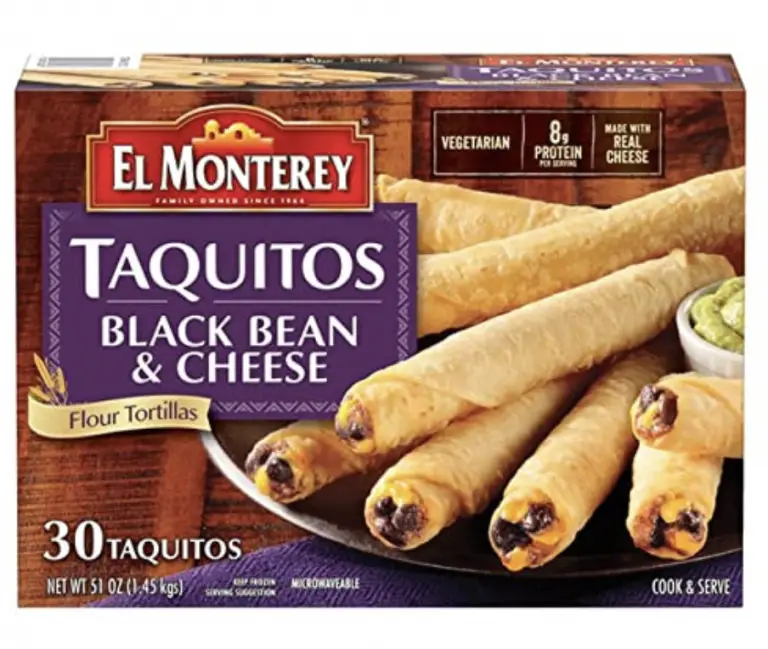 The serving size is equivalent to 2 taquitos. It delivers about 8 grams of proteins per serving. To prepare, you can either microwave or oven-bake to achieve perfect crispy and crunchy texture. 
The black bean and cheese taquito is among the popular options best for vegetarians.
This frozen taquito is made with cooked real black beans seasoned with authentic Mexican spices. Together with the cheddar cheese, different levels of texture and savoriness are created.
Despite being non-meat, this taquito is still full-packed with proteins at 8 grams per serving. It also has more than 12% of dietary fiber and has lower cholesterol levels at only 2% of daily needs. 
Quick Facts
Real black beans and cheddar cheese
No added sugar
High dietary fiber content
How Do You Make Frozen Taquitos Taste Good?
There are different ways to cook your frozen taquitos to make them crispy, crunchy, and extra yummy. Here are the following:
Microwave
Heating the frozen taquitos in the microwave is the easiest and most convenient method of all. All you need is at least a 1000-watt microwave oven, a microwave-safe plate, and of course, your frozen taquitos of choice.
How long should you cook frozen taquitos in the microwave?
The cooking time basically depends on the number of taquitos you plan to heat up. For a single serving or about 3 taquitos, you need to set the timer for 1 minute and 15 seconds up to 1 minute and 30 seconds. The temperature should be on a high level or approximately 1,000 watts. 
For every increase in the serving size, you must adjust the duration of the cooking time too. For heating 6 taquitos, the timer should be set at 2 minutes up to 2 minutes and 30 seconds. After cooking, make sure to let the taquitos cool down for at least 1 minute before serving or eating. 
Traditional Oven
Heating frozen taquitos in the oven is another popular and most favorable method of cooking. The key thing here is to always preheat your oven at 400°F. The best way to achieve an evenly brown and crispy texture.
Place your frozen taquitos on the baking sheet. Make sure to give about an inch of space between each taquito to allow all sides to cook properly. Bake the taquitos between 7 to 12 minutes or until crispy. Let it stand for at least 1 minute before eating.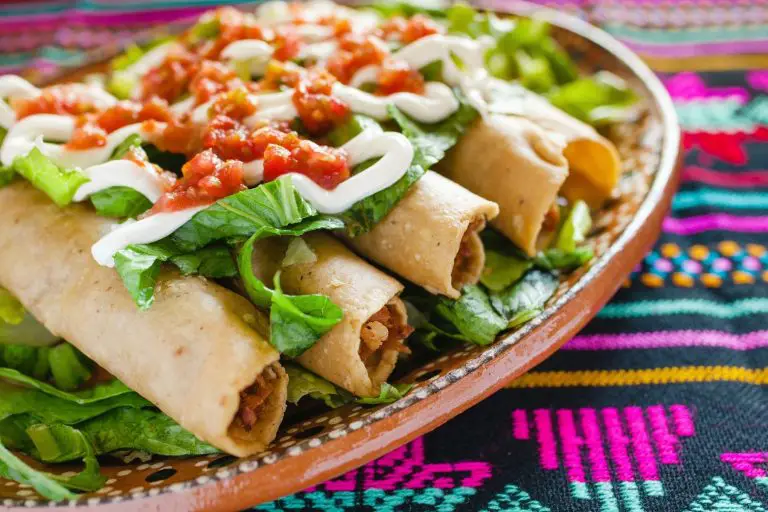 Air Fryer
Air frying is another easy and innovative way to cook your taquitos. Simply pop those frozen taquitos in the fryer basket. Make sure to line them up in a single layer. Then, turn the temperature setting to 400°F. Cook them between 7 to 10 minutes or until crispy to your liking.
Quick tip, do not forget to give the basket a quick shake halfway through the cooking time. This ensures even frying of the taquitos.
Deep Frying
If you prefer a fool-proof golden brown crispy and a bit sinful method of cooking the taquitos, then deep-frying is the way to go. The important thing here is to make sure to use plenty of hot cooking oil. 
Whether you are using a deep pan or deep fryer, heat up the oil to 350°F. Once hot, put the taquitos in the pan and cook for about 2 minutes or until brown and crispy.
Are Frozen Taquitos Healthy?
As the famous saying goes, not all things are created equal. The same holds true when it comes to frozen taquitos.  The differences in its nutritional values mainly depend on the type and amount of stuffing being used for every roll.
Frozen Taquitos Nutritional Breakdown
Let us take a frozen chicken and cheese taquito as an example. This variety on average can contain more or less 284 calories for every 100 grams. This constitutes about 14% of an adult's total daily needs based on a 2000-calorie diet. 
It contains approximately 11% carbohydrates, 18% protein, and 19% total fats. These macronutrients should comprise the bulk of your diet. They are the major source of energy and are necessary for maintaining bodily structures and systems. 
Frozen taquitos can also contain essential micronutrients needed to support a healthy body. It has vitamins including vitamin A, D, E, K, and B1, B2, B3, B5, B9, and B12. For minerals, it has varying amounts of calcium, iron, potassium, sodium, magnesium, phosphorus, copper, manganese, and selenium.
Frozen Taquitos Sodium Content
But among all macro and micronutrients, sodium seems to be significantly on a higher level. A 100-gram of chicken and cheese taquitos can contain about 453 grams of sodium. This constitutes about 30% already of the required daily value. 
Most processed foods are pretty much expected to have high sodium content. The salt here is essential for two reasons. The first is to enhance the flavor and the second is to help prolong the shelf life of the taquitos.
So know that saltiness is usually a trade-off when it comes to ready-to-cook frozen products. 
Are Frozen Taquitos Fully Cooked?
The short answer is YES! Most commercially prepared frozen taquitos are already fully cooked before they are packaged. There are various reasons why frozen products require to be pre-cooked prior to distribution to the market. 
Why Are Frozen Taquitos Pre-Cooked?
The primary reason is to prevent spoilage. The meat and other raw ingredients are likely to harbor and proliferate bacteria. Cooking them before packaging greatly decreases the chances of contamination. Thus, rendering the food much safer to consume. 
At the same time, pre-cooking also helps to retain the nutrients, flavor, color, and texture of the food. Thus, allowing the taquitos to stay as tasty and appealing as it was prior to being frozen up.
Benefits of Pre-cooked Frozen Taquitos
Another reason, pre-cooking the food reduces the cooking time of the product at home. This process widely fits the concept of fast, easy, and convenient meal preparations. Something that most modern consumers like us are looking forward to nowadays.
Nevertheless, fully-cooked frozen foods don't necessarily mean they are literally ready-to-eat right off the shelf. For utmost safety, it is still highly recommended to properly re-cook the taquitos before eating. Heating the pre-cooked food at the right level ensures harmful bacteria and other pathogens are destroyed. Thus, avoiding the risk of food poisoning.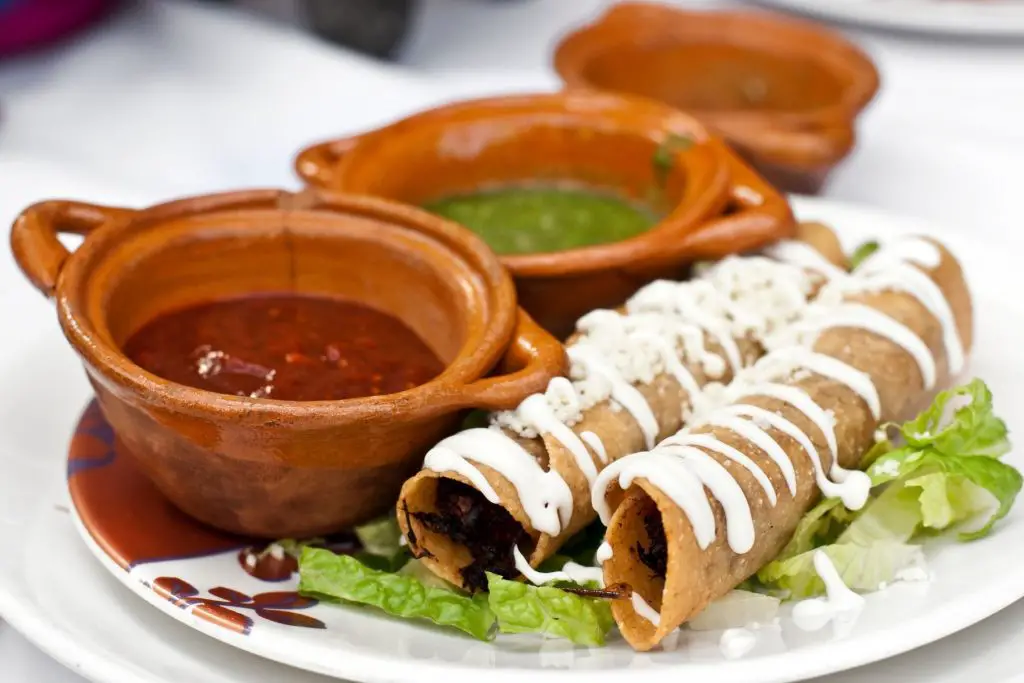 What Sauces Goes Well With Taquitos?

When it comes to dipping sauces, the possibilities are endless. Nevertheless, if you are not sure what to pair your taquitos with, here are some of the popular sauces:
Guacamole
Nothing can be more Mexican than a guacamole dipping sauce. It is basically made up of avocados, lime, fresh herbs, salt, and spices. They are mashed altogether to create a creamy base perfect to complement the saltiness and crunchiness of the taquitos.
Salsa
Salsa is another very Mexican dipping sauce. It is not only good for tacos and nacho chips but a perfect pair for taquitos too. The base is made up of tomatoes, cilantro, lime, garlic, onion, and pepper. You can make this sauce as tangy or spicy as you wish.
Ranch Dressing

The ranch is often the go-to dressing for anything chicken. The base of this American sauce is made up of buttermilk and mayonnaise. It is seasoned with herbs and spices like garlic, onion, chives, dill, thyme, parsley, and black pepper.
Cheese Sauce

Go for the cheese sauce if you prefer a cheesy overload kind of taquitos. Any shredded cheese will work but cheddar is the most common. It is mixed with butter, milk, flour, and salt. Then, whisked until the cheese is dissolved and the mixture turns into a saucy consistency.
Sriracha

If hot sauce is your thing, then sriracha is the best bet. You can use the sriracha on its own or mix it with mayo to add thickness to the dip. Then, sprinkle some garlic powder and pepper to add more flavor. Better yet, splash some honey into the mix to make the dip sweet and spicy.