Last Updated on February 18, 2022 by Share My Kitchen
Chicken drumsticks are always easily available effortless to cook and, let's say it out loud, tastier than the breasts. We have them relatively often, especially during busy weekdays as they cook quickly and everybody loves them, even kids.
There are lots of different recipes for oven-baked chicken legs, but this one is our favorite – it is incredibly simple, uses only ingredients you always have in underhand and it is a perfect base for further interpretations.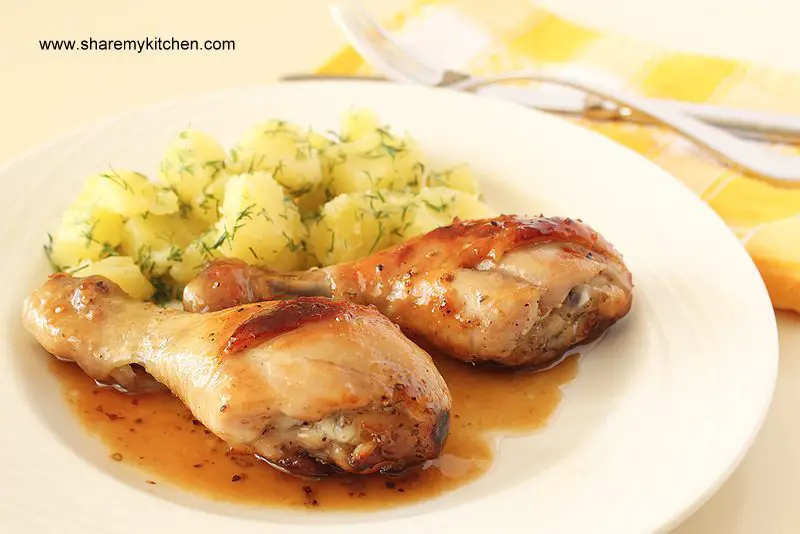 If very health-oriented, remove the skin of the drumsticks, although we warn you the meat won't remain that moist. The only trouble you'll have with keeping the skin is that you will need lots of willpower to resist it later, when it is perfectly golden and crispy.
Best Beer And Honey Glazed Chicken Drumsticks Recipe For Dinner
Serves: 4
Preparation time: 30 minutes
Baking time: 30 minutes
Ingredients:
8 chicken drumsticks
3 tbsp olive oil freshly ground mix of peppers
3 tbsp honey
150 ml lager
Method:
Pat dry the chicken legs and season generously with salt and freshly ground mix of peppers. Drizzle with the olive oil and mix so it can coat thoroughly. Leave to marinate for at least 30 minutes at room temperature. However, it's best if you can leave them to marinade in the fridge overnight.
Bake The Chicken Drumsticks
Preheat the oven to 190 oC /370 oF.
Place the chicken drumsticks onto a roasting tray. Mix the honey and the beer with the remaining marinade until well blended and cover the chicken legs with it.
Roast for 30 – 35 minutes, turning occasionally or pouring the juice over the meat from time to time. Bake until the meat is thoroughly cooked fork-tender and glistening with the marinade.
Serve with some boiled potatoes with butter and dill, and drizzle with the remaining sauce.