A lot has been written about the highest earning celebrity chefs. Тhey аre all over our television screens and bookshelves. They open new restaurants (sometimes few within a year), publish books, host TV shows, endorse products – you name it. The business magazine Forbes published the "Ten Top-Earning Celebrity Chefs" (2008) with estimates of chefs' earnings ranging from $1.5 million (Anthony Bourdain) to the staggering $18 million (Rachael Ray)! These are just the Forbes top ten and there are many more chefs earning millions a year.
How on Earth do they earn such money? Where is the money coming from? From their restaurants? Not only, for the new generation of superstar chefs, it all adds up to a recipe for riches: as already mentioned, profits from their restaurants, endorsements, royalties and the biggest among them all, the TV work. For more information about the sources of income of a particular chef, read on -I've included the Forbes list of the top chefs, shedding some light on how the "Top 10" have earned their money, after which I wrote about few others chefs I like.
Overall, the branded television shows play a big role in the success of many of the super-rich chefs. This is because it makes them popular among the ordinary people, turning them into household names. Being a household name means higher fees and royalties from everything you do and put your name on.
Here is the Forbes magazine list for 2008:
1. Rachael Ray – $18 million
Ray has several Food Network shows, a U.S. nationwide syndicated talk show, and many endorsement deals, such as with Dunkin' Donuts.
2. Wolfgang Puck – $16 million
The Austrian-born chef, owns 15 fine-dining brands and you'll see his name in the supermarket aisles and on sandwich counters at U.S. airports, among other places.
3. Gordon Ramsay – $7.5 million
By 2009, Ramsay had about 20 restaurants as far afield as Dubai, New York, Paris, Prague and Tokyo. The Brit is also earning big money from Hell's Kitchen in the U.S. and Kitchen Nightmares in Britain, as well as from the many books he writes.
4. Nobuyuki Matsuhisa – $5 million
Co-ownes 17 Nobu sushi restaurants around the world last year, including star-studded ones in New York and L.A.
5. Alain Ducasse – $5 million
This French chef has 22 restaurants
6. Paula Deen – $4.5 million
This Southerner, is featured on the U.S. Food Network, and in cookbooks, a memoir and a successful magazine.
7. Mario Batali – $3 million
Owns 14 restaurants in New York, Los Angeles and Las Vegas. Batali name appears on cookbooks and cookware, and he's got gigs on PBS and the television talk-show circuit.
8. Tom Colicchio – $2 million
This self-taught chef, a founder of the famed Gramercy Tavern in New York, owns a string of high-end Craft restaurants and steak houses in the U.S., and is a judge on Bravo's Top Chef.
9. Bobby Flay – $1.5 million
A Food Network star, he first made his name by opening the Mesa Grill in New York in 1991, featuring Southwestern cuisine. He's got a regular gig on The Early Show on CBS, and a slew of books to his credit.
10. Anthony Bourdain – $1.5 million
Earns his "modest" income as the presenter of Travel Channel, "No Reservations".
Do they deserve the money they earn, what do you think? My opinion, they most definitely do! Nothing in life comes easy and working in the kitchen is definitely not Paradise. Yes, in the kitchen, that is where the majority of famous chefs have started. With little exclusion, most of celebrities started at the lowest possible level of the kitchen hierarchy, working their way up, to achieve what they are today.
In his recent interview with Times Online, Gary Rhodes (48), British celebrity TV chef and the owner of a number of restaurants, including two with Michelin stars tells his story, probably typical for many chefs: "My first job was working as a cleaner in a local restaurant in Kent when I was 15. About eight months into the job, they promoted me to the washer-upper. I got £7 a week for cleaning three mornings a week. Later, in the early 1980s I was offered a position as a chef at the Amsterdam Hilton and was paid £50-£60 a week."
Sounds familiar?
Even today, when they are rich and famous, I don't think it's easy for them. I mean, imagine being Gordon Ramsey or Wolfgang Puck, what do you think your ordinary day will be like? Make no mistake, it's still hard work. You need commitment and lots of energy to control all the things you do. Apart from the hard work, it also takes to be a damn good manager of all the enterprises you're in.
I wish to add few more chefs here. They all most surely are millionaires but my praise goes to the men bellow, because of what they achieved.
HESTON BLUMENTHAL (44)
Heston Blumenthal
Pioneer of scientific approach to cooking, often described as "molecular gastronomy", whose unusual dishes include egg and bacon ice cream and snail porridge. One of Britain's four chefs with three Michelin stars, Blumenthal is self-trained and was inspired after sampling stunning food at a restaurant in France during a family holiday. He started investigating the science of food and visiting fishmongers and butchers in London and around. He bought an old pub in Bray, Berkshire, called The Bell and in 1995 renamed it The Fat Duck.
Restaurants: The Fat Duck. He co-owns The Hinds Head pub, also in Bray, which specialises in re-inventing historic British food. Heston Blumenthal is to open a new restaurant in London this year (2010) with treble the space for diners as at his three-Michelin star restaurant, Fat Duck.
TV shows: Kitchen Chemistry (2005); Heston Blumenthal: In Search of Perfection and Heston Blumenthal: Further Adventures In Search of Perfection, (2006-2007), Heston's Feasts (2009)
Books: Family Food: A New Approach to Cooking (2002); Formulas for Flavour: How to Cook Restaurant Dishes аt Home (2004); In Search of Perfection (2006), The Perfect Marriage: The Art of Matching Food and Sherry Wines from Jerez (2007) The Big Fat Duck Cookbook (2008), Feast (2010)
Accolades: The Fat Duck was voted best restaurant in the world by Restaurant magazine in 2005. Since then, for four consecutive years (2006-2009), The Fat Duck has been holding the number two place in the world.
Blumenthal has made a culinary success of The Fat Duck but the restaurant has just 14 tables and can seat 45. So even with bills like £400 for two, the restaurant cannot make enough money. Most of the chef's income comes from the hefty BBC fees and book sales, and hopefully from the new in restaurant in London, which will seat 140.
GORDON RAMSAY (44)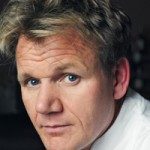 Gordon Ramsay
Gordon Ramsay, U.K.'s only chef to be awarded a total of 13 Michelin stars, is a giant name in the culinary industry. Britain's most famous chef and probably the most financially smart. Born on November 8, 1966 in Johnstone, Scotland , he was brought up in Glasgow and Stratford-upon-Avon. Ramsay's first love was football; after being spotted at Oxford United, he signed as a professional with Glasgow Rangers aged 15. But a knee injury ended his career and he signed on at hotel management college, later training under Marco Pierre White, then Albert Roux, and later in France under Joel Robuchon. He became head chef and part-owner at London's Aubergine, where he won two Michelin stars within three years.
Today, Ramsay has about 20 restaurants as far afield as Dubai, New York, Paris, Prague and Tokyo. He also starred in five TV shows that reinforced his image as a master chef who swears and shouts in pursuit of perfection.
In the U.K., he earns more than 2 million pounds annually from Ramsay's Kitchen Nightmares and The F Word, in which his culinary adventures with celebrities have included creating breast-milk cappuccinos. His partner in Gordon Ramsay Holdings Ltd. and father-in-law Chris Hutcheson says Ramsay's talent fees just in 2009 alone, from U.S. are to top $9 million.
TV shows: Boiling Point (1998); Beyond Boiling Point (2000); Ramsay's Kitchen Nightmares (2004); Hell's Kitchen (UK) (2004); The F-Word (2005)
Books: Passion For Flavour (1996); Passion For Seafood (1999); The Real Food Handbook (1999); A Chef For All Seasons (2000); Just Desserts (2001); Secrets (2003); Kitchen Heaven (2004); Gordon Ramsay Makes It Easy (2005); Gordon Ramsay Easy All Year Round (2006); Sunday Lunch and Other Recipes from the F Word (2006); Hot Dinners (2006); Cool Sweets (2006), Gordon Ramsay Cooking for Friends (2008), Gordon Ramsay's Fast Food (2008), Gordon Ramsay's Three Star Chef (2008), Gordon Ramsay's Healthy Appetite (2009), Gordon Ramsay's Maze (2009)
Other commercial interests: Branded crockery, tableware and glassware from Royal Doulton, including a tumbler priced at £18 and a dinner set at £262. The range is being expanded to include pots and pans. Ramsay has advertised a limited-edition range of crisps for Walkers and Gordon's Gin. He has a contract to write for The Times and has just become a columnist for a new Channel 4 design magazine. His website says that he acts as a consultant for Singapore Airlines, Booker Cash & Carry and the catering business Aramark.
Accolades: "He's one of the great chefs," says Jean-Luc Naret, Paris-based director of the Michelin Guide series, which awards the stars that are the Oscars of the food world. Restaurant Gordon Ramsay at Royal Hospital Road is London's only dining spot with three Michelin stars. In all, Ramsay boasts 13 stars, surpassed only by Frenchmen Joel Robuchon (25) and Alain Ducasse (18).