Last Updated on November 1, 2022 by Share My Kitchen
Oven-safe skillets are a godsend! You may have wished sometimes that you had a wonder skillet that you could use from the stovetop straight to the oven.
I know, I DID! 
If that means I can sear, braise, bake, and more in the same pan. Save money by buying one multi-function skillet instead of two separate cookware. And yes, one more miniature pan to wash.
I am pretty sure you are wildly interested in this too! So, ShareMyKitchen will share seven of the best oven-safe skillets on the market. I tried and tested these products, so I am sure to recommend only no-nonsense products.
Of course, I will not leave you hanging with just a product recommendation. Let me also discuss the basic features of what makes an excellent oven-safe skillet. Ready? Let us begin.
What type of oven-safe skillet can you put in the oven?
As they always say, not all things are created equal. The same goes for skillets—not every pan is oven-safe. That is because not all skillets have materials that can withstand exposure to high temperatures. In short, skillets intended for oven use should be able to tolerate heat from 450°F or higher. It should not warp, deform, or disintegrate in any way.
Skillets made with cast iron, stainless steel, carbon steel, and copper are among those regarded as safe for oven use. The table below shows the maximum temperature tolerance of each type of skillet:
| Type of Skillet | Oven-Safe Temperature |
| --- | --- |
| Cast-iron | Up to 600°F |
| Stainless Steel | Up to 500°F |
| Carbon Steel | Up to 1200°F |
| Copper | Up to 500°F |
Nevertheless, be mindful of the individual construction of the skillet—some may be a mix of materials with a lower melting point. Components like plastic knobs, rubber handles, and PTFE non-stick coatings are among the things that are NOT compatible with oven use.
How do you know if your skillet is oven-safe?
The most obvious way to check if your skillet is oven-safe or not is to review its product manual. Every specification, ideally, should have been indicated there by the manufacturer. Lucky you if you could still keep those manuals for your reference.
You can also physically inspect for the oven-safe icon. You will most commonly find an engraved mark at the bottom of the pan. Note that different brands may have varying representations of the icon.
Lastly, you can look up these details on the brand's online page or website. Just ensure you have the correct model number for your skillet.
7 Best Oven-Safe Skillets
LODGE PRE-SEASON CAST IRON SKILLET – Best-selling Cast Iron Skillet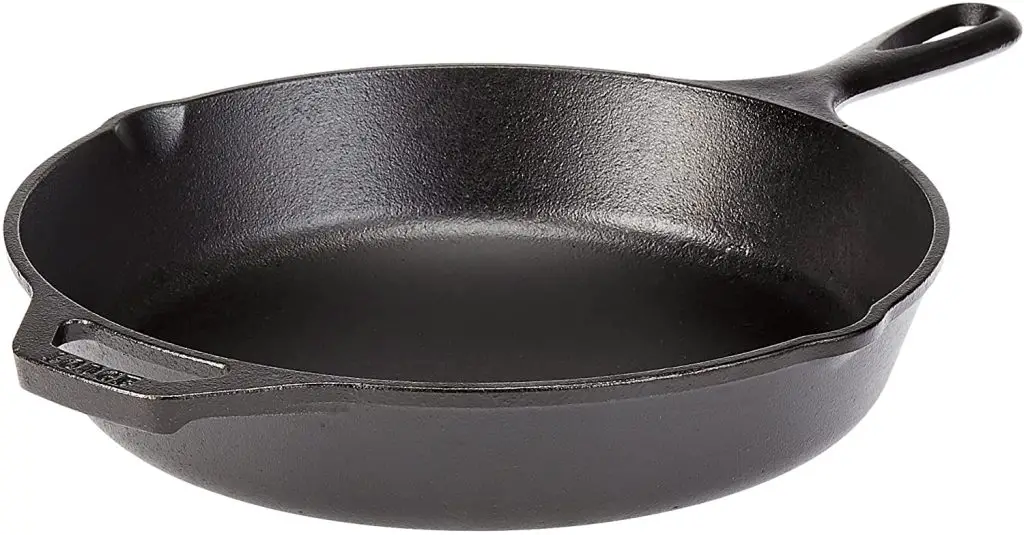 This skillet is a top hit with over 130K units sold. The pan boasts solid cast iron material with unparalleled durability that can last for generations. For some, it is even an heirloom piece that brings only good memories of home cooking.
Unlike other cast iron cookware, I love how the Lodge skillet is already pre-seasoned with 100% natural vegetable oil. I have tried searing, frying, braising, and baking with it, which always works like a charm. It has excellent heat retention and won't make your food stick to the bottom.
Pros
Available in a wide range of sizes
Compatible with all cooktops
Great value for money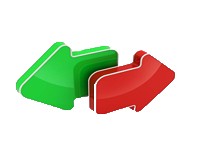 Cons
Heavy-weight
Needs regular maintenance
No lid included
CUISINEL PRE-SEASONED CAST IRON SQUARE GRILL PAN – Best Oven-Safe Grill Pan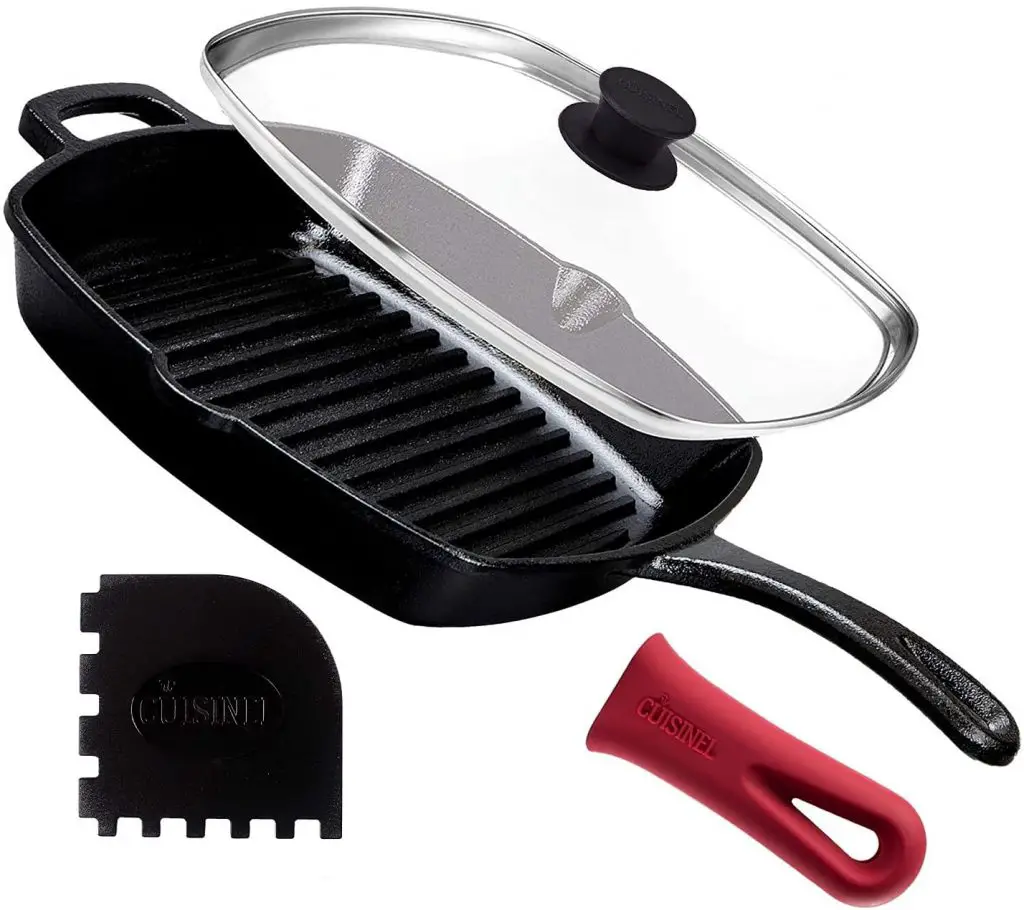 The Cuisinel skillet is a step up from the traditional cast-iron skillet. Because of the griddle design, I mostly used it for grilling. It creates the perfect "grill lines" for my meat and vegetables. Don't worry, though, as it is sold with a scraper to ease cleaning between the ridges.
The versatility of this skillet is phenomenal. I tried cooking with it on a regular stovetop, an induction stovetop, an oven, and even on an open fire while camping. And guess what? It did not warp nor burn my food. Just make sure to keep it well-seasoned between each use.
Pros
Pre-seasoned griddle design
The package includes a glass lid, silicone handle cover, and scraper
Lifetime warranty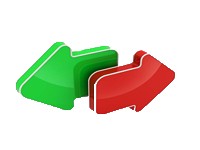 Pros
Limited pan sizes are available.
Clean-up takes more effort
The silicone handle does not offer much heat protection
CUISINART CHEF'S CLASSIC STAINLESS STEEL SKILLET – Best Large Oven-Safe Pan
The Cuisinart skillet is one of the essential and must-have pans in the kitchen. The stainless steel material delivers efficient and even heating. It is not non-stick, but I am not bothered since a splash of oil can do the trick. Nonetheless, it is safe, non-toxic, and hassle-free to clean.
The 14-inch size is perfect for cooking large batches of food. In my case, I can prepare a dish good enough to serve my family of four. The helper's hand makes this big pan easier to transport from stove to oven.
Pros
With drip-free rims and stay-cool riveted handles
BPA-free and dishwasher-safe
Lifetime warranty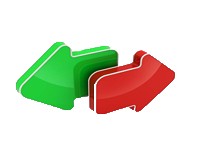 Cons
Not non-stick
Lid not included
A bit pricey
T-FAL PERFORMA STAINLESS STEEL SKILLET- Best Stainless Steel Pan w/ Food Release Technology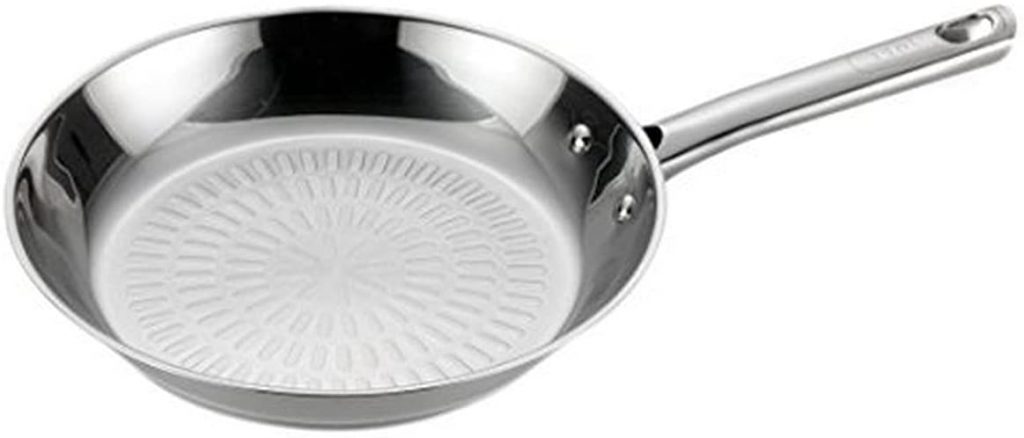 The T-Fal Performa is perfect if you prefer an oven-safe stainless skillet with excellent food release. Its design includes a Techno Release feature for fuss-free food release and clean-up. Nope, this is not a chemical coating. Instead, it is T-Fal's patented raised interior pattern that solves the non-stick properties of stainless steel. Thus, there is no risk of toxic fumes or chemical leaching.
The T-Fal Performa made me ditch my old non-stick-coated skillets. The 18/10 stainless steel is ultra-durable, rust-proof, and compatible with all cooktops. So, I am happy with this switch.
Pros
Made with 18/10 stainless steel
With Techno Release technology
Induction-ready and dishwasher-safe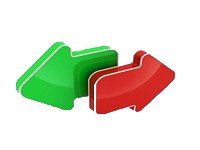 Cons
No lid included
The raised interior surface can affect cooking options
It stains easily
DE BUYER MINERAL B CARBON STEEL FRY PAN-Best High-End Carbon Steel Skillet
Premium quality, performance, and price are what De Buyer Mineral B ought to deliver. This French-made skillet comprises 99% steel and 1% carbon. As a result, it is lighter than cast iron and more heat conductive than stainless steel.
I adore how this skillet offers the best of both worlds. Yes, it is lighter in weight, yet it feels so sturdy. I also love that it has a non-oxidizing beeswax finish. The food slides off so easily onto this chemical-free surface.
Pros
Natural non-stick surface
40% lighter than cast iron
Lifetime warranty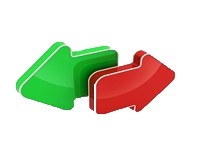 Cons
Expensive
It needs to be seasoned regularly
Not dishwasher-safe
BK BLACK STEEL SEASONED CARBON SKILLET – Best Budget-Friendly Carbon Steel Skillet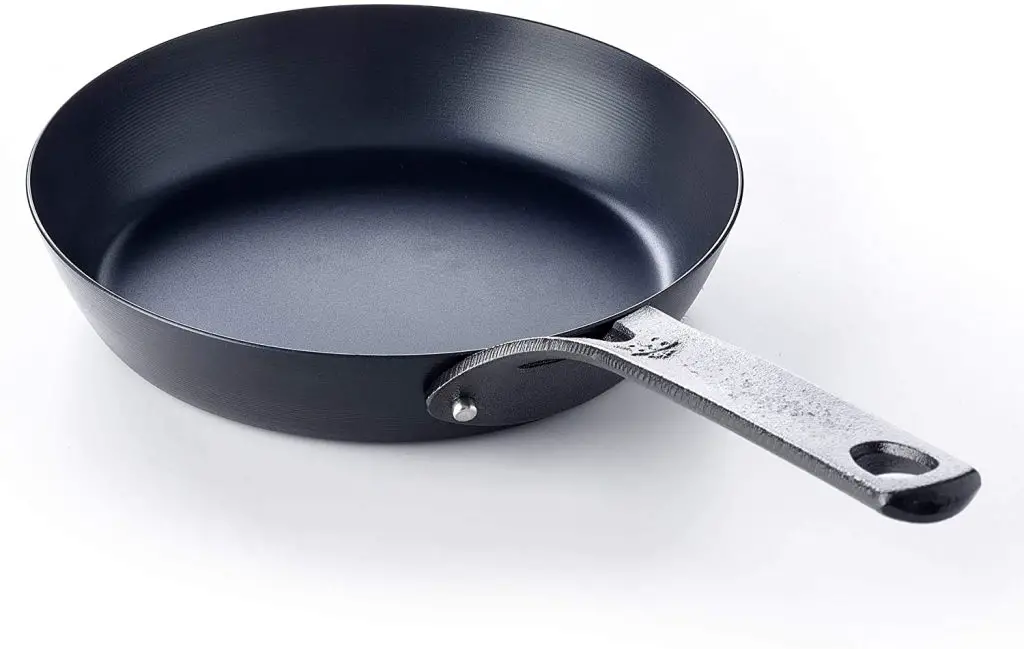 If you want a more affordable version of the De Buyer steel carbon skillet, then this BK black steel pan is a spot-on alternative. This skillet offers the same lightweight and high thermal conductivity properties without the hefty price tag.
Nonetheless, I love how BK outsmarts De Buyer regarding oven compatibility. The black steel skillet can withstand up to 600 °F heat compared to De Buyer's 400 °F flash oven use. So, BK has more edge on this specific aspect and price point.
Pros
Affordable cost
Pre-seasoned cooking surface
Easy to clean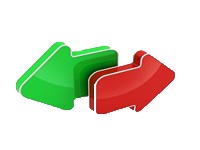 Cons
No lid included
Hand-wash only
Regular maintenance required
HESTAN COPPERBOND COLLECTION SKILLET – Best Aesthetically Designed Oven-Safe Skillet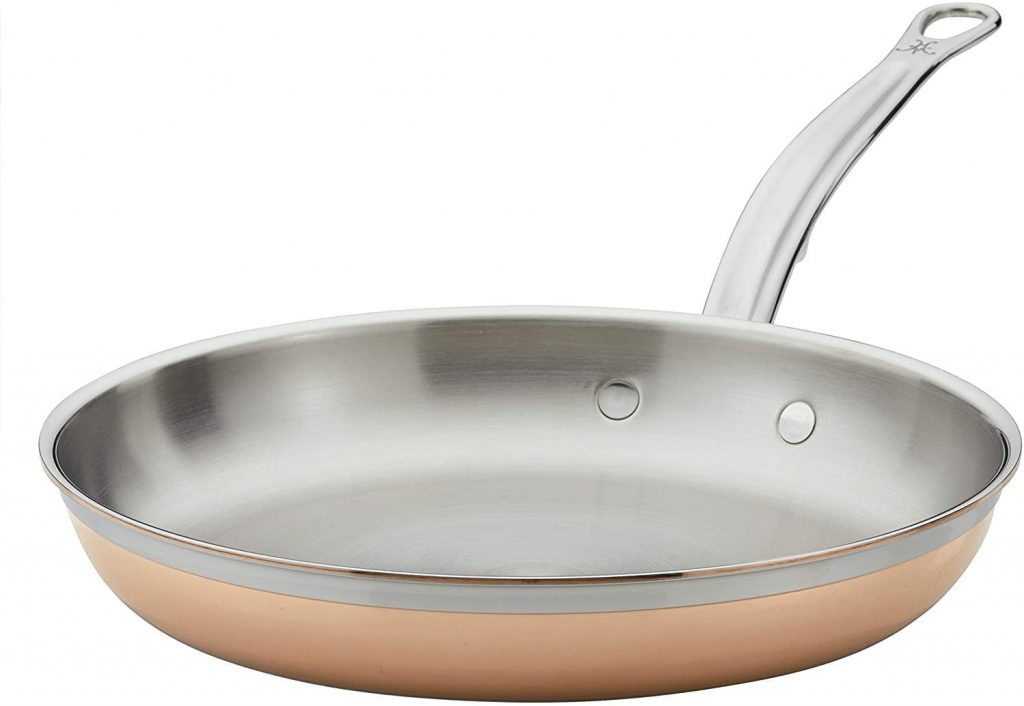 You may cringe at the price tag, but copper cookware is not legit if it's dirt cheap. The Hestan Copperbond skillet is at least ten times more expensive than regular oven-safe pans. To begin with, the value of the copper itself is steep. In addition, the material is thick, heavy, and highly conductive to heat. I should say, it is a wise investment for chefs and pro cooks.
Aside from its top-notch performance, this pan is undeniably Instagram-worthy. The color and design are so aesthetic that they motivate me to improve my cooking skills. It is also stunning when used as a serving dish.
Pros
Made with 5-layer bonded copper construction
20% more cooking surface
Lifetime warranty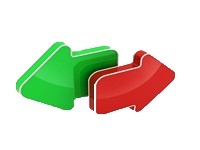 Cons
Ridiculously expensive
No lid
Not dishwasher-safe
What Oven-Safe Skillet Do Chefs Use?
If you ask the pros, their best answer would likely be CAST-IRON. This good old cookware may give the chefs a little arm workout. But, it is all worth it because this skillet adds a different depth of flavor that no other cookware can deliver.
Aside from that, you cannot also deny its durability and longevity. It can take a lot of beating day in and day out. The professionals would likely need just the suitable material for commercial cooking.
Final Thoughts:
I am not a professional cook, but I agree with the chefs that the cast-iron skillet is simply the best. I am a homemaker, and it is my job to prepare warm, healthy meals for my family. Thus, I want to own safe, versatile, and highly durable cookware.
All the qualities of the best oven-safe skillets I have found in the Lodge Cast Iron Skillet, and mind you, it has exceptionally delivered. It is an efficient choice for day-to-day cooking. Nonetheless, I won't hesitate to invest in and expand my cookware collection with copper and carbon steel skillets in the future. Should budget permits, of course!