I have had this black rice in my cupboard for a while. I bought it from China tempted by its name – the Forbidden rice. Apparently called so because it was traditionally served to the Emperors of China, thus being constrained from consumption by common people. I did some research and found that this variety of rice is not glutinous and is very high in fiber as well as iron – all very good things for you. Apart from this it's pretty and very delicious.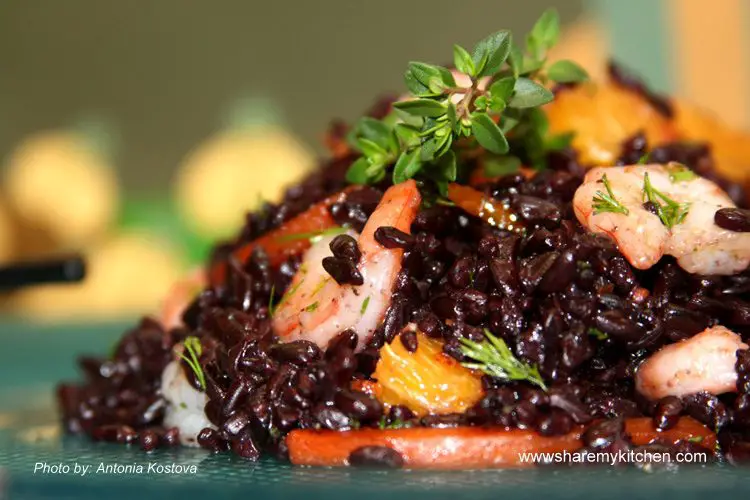 Black rice with caramelized vegetables and prawns

Serves: 4
Preparation time: 40 minutes + 4 hours marinate
Ingredients:
For the salad:
2 cups black rice 3 cups water 500 g cooked and peeled king prawns, marinated for at least four hours 1 large red pepper, sliced 1 large carrot, cut into matchsticks Zest of one orange 5-6 orange segments cut in half 30 + 30 ml olive oil 30 g brown sugar Few dashes of soy sauce Few sprigs of fresh thyme
a few snipped chives (on top as a garnish)
For the marinade:
Half a bunch of chopped dill Juice of one lemon Two cloves of pressed garlic 30 ml extra virgin olive oil
Salt and ground black pepper
Start with the prawns. They are better made the night before, but if making on the day the prawns should be marinated in a fridge for at least 4 hours.
If you haven't cooked black rice before, don't be alarmed by the color of the water. It turns deep purple and leaves stains, so be careful. Apart from that it is the usual story.  Rinse the rice and then leave it to soak for about 5 minutes. Drain well and add to a large sauce pan. Cover the rice with the 3 cups of water and add some salt to taste. Bring it to a boil, then reduce the heat for a low simmer and cover with a tight fitting lid. Cook like this for about 25 minutes.
Meanwhile, in a heavy based fry pan, caramelize the brown sugar and add the butter, while constantly stirring. Then start adding the rest of the ingredients: orange zest, carrots, red pepper and finally the soy sauce. Stir well and cook on low heat for ten minutes or until the vegetables are soft but a little undercooked.
Remove the rice from the heat, drain well and add olive oil, while the rice is still hot, stir well and leave to chill.
Transfer the rice to a large mixing bowl and mix well with the prepared vegetables and marinated prawns. Garnish with few sprigs of fresh thyme.
Best served at room temperature, making it suitable for any time of year.
This post is also available in: Bulgarian