Last Updated on August 3, 2023 by Share My Kitchen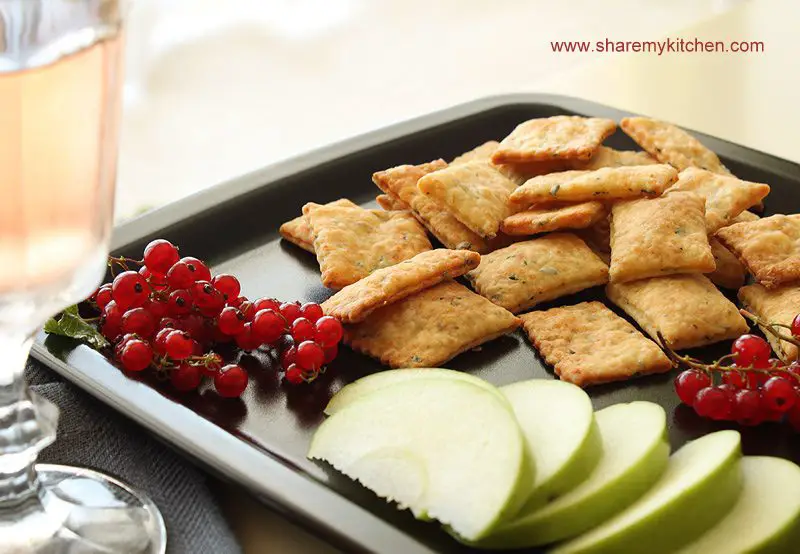 The last few weeks I've tried a number of different Parmesan cracker recipes – with various ingredients or ratios, or different spices, but not one of them was what I wanted. The goal was to get a result when they are crispy but not too fragile, buttery but not too greasy and with the distinct Parmesan flavor.
Because I already had this idea pinned in my mind, it was impossible to give up. Than yesterday, with any previous arrangements we decided to meet with friends. The quickly put together plan was to have some quite time on beautiful beach, during the late evening, watching scenic sunset, with a bottle or two of white wine.
And, lucky me, I had an hour and the enthusiasm to try baking a batch of new Parmesan crackers – this time completely my way.
I was more than happy it worked perfectly, and so were our friends, by the way. These salty crisps came out exactly as I wanted and the generous pinch of fresh rosemary was just the right addition to their perfection.
Recipe: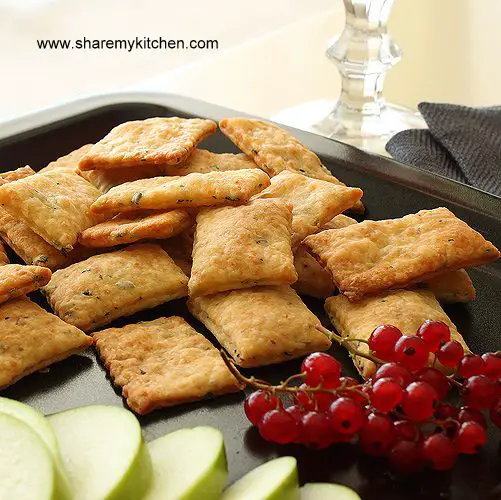 Makes around 40 crackers (2,5×5 cm/2×1 inches)
Prep time: 20 minutes
Baking time: 15 minutes
Ingredients:
1½ cups all-purpose flour 2 tbsp fresh rosemary, chopped ½ cup grated Parmesan cheese 7tbsp/100g butter, cold
4-5 tbsp ice cold water
some coarse salt for sprinkle
Method:
In a big bowl sift the flour, add grated cheese and finely chopped rosemary. Mix them thoroughly together.
Grate the cold butter over this mix, and blend it using a wooden spoon or just the tips of your fingers, until the mixture resembles breadcrumbs.
Add two tbsp of the ice water and work the mixture using the wooden spoon. Continue adding ice water a little at a time, until the dough holds together but isn't too wet and sticky. Knead the dough briefly, wrap it in plastic and refrigerate it for 10-20 minutes.
Preheat the oven to 160ºC/325ºF and line with baking parchment two baking sheets.
Divide the dough in two and place the first one on a lightly floured surface. Roll it out to about 3-5 mm / 1/8 – 1/5 inch thickness and pierce all of it with a fork. The dough should be firm enough to be easily handled, but if needed you can roll directly over the baking parchment.
Using a cookie cutter or a sharp knife cut out the crackers and arrange over the baking parchment. Their volume won't change significantly, so you don't need lots of space in between.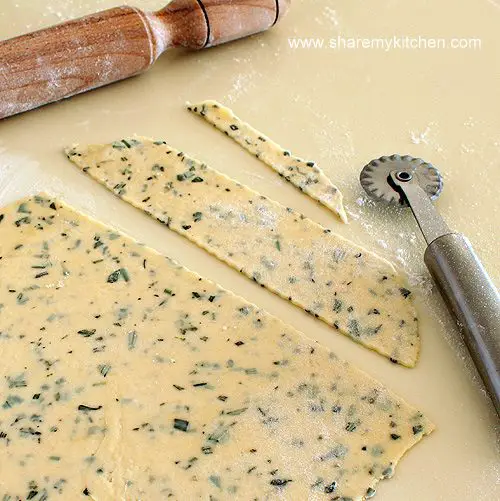 As I wanted them really thin, I found it easier to cut out long stripes of the rolled dough and then cut it into equal pieces directly over the baking parchment. In the same manner, roll, pierce, cut and arrange all the dough.
Sprinkle with some salt and bake in the preheated oven for 15 minutes. Switch position of the baking sheets halfway through the baking. Your crackers are ready when slightly golden, be careful not to over bake as the Parmesan cheese will become bitter.
When ready, let the crackers sit on baking sheet for a minute or two, as they are too fragile when hot. Then transfer to wire rack to cool completely. These crackers can be stored in airtight container for up to one week.