Musaka – the Bulgarian version of Eastern Mediterranean Moussaka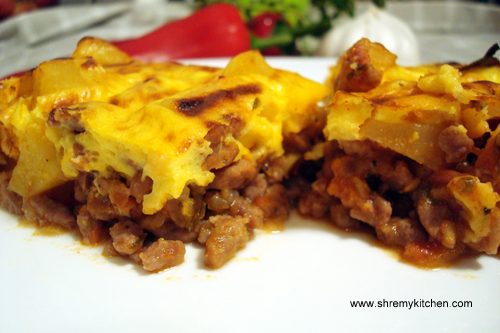 Bulgarian Musaka is a version of the very popular dish of the Balkans, Eastern Mediterranean, and the Middle East – Moussaka. It uses potatoes instead of aubergines and does not contain zucchini (courgettes), either.
Serves: 4
Preparation time: 1 hour
Ingredients:
5 tablespoons olive oil 500g ground beef 1 teaspoon ground paprika 1 teaspoon ground cumin 1 teaspoon salt 1 teaspoon ground black pepper 4 potatoes, peeled and cut into 1/2-inch cubes 200ml (6.5 ounce) can tomato sauce 1 tablespoon chopped summer savory (chubritsa) 1 egg, lightly beaten
2/3  cup yogurt
Method:
Start with preheating the oven to 165 degrees C (325 degrees F).  Heat oil in a frying pan over medium heat and cook ground beef until evenly brown. Season with paprika, cumin, salt, and pepper, and stir in potatoes. Cook for 2 to 3 minutes. Stir in tomato sauce, and summer savory. Add some water but make sure it's not much, just bellow covering the mixture. Reduce heat, and simmer 15 minutes.
Pour the mixture into baking dish, and spread evenly. In a small bowl, mix together the egg and yogurt; pour, and spread evenly over meat mixture.
Bake in preheated oven for 30 to 40 minutes, or until top is golden brown.