Last Updated on August 3, 2023 by Share My Kitchen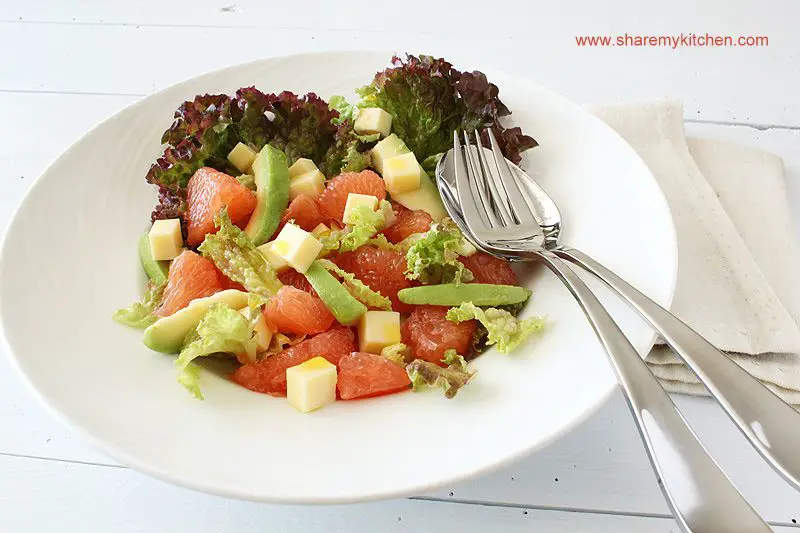 I'm fascinated by the power of the word "salad". Once pronounced it can make any pile of food being that bacon, meats, potatoes, oily dressings or anything really, sound a lot healthier. At the end of the day if it's a salad, it seems to be ok, isn't it?
We however, prefer our salads to be really healthy – fresh and crunchy, and preferably containing mostly plants.  This one is not just good, it is super.  And it is filling enough to be a perfect lunch by itself (well, maybe not for everybody), combining healthy grapefruit and crunchy green salad leaves with avocado, giving you the good fatty acids. Well, avocado and grapefruit are not typically local fruits for us, but we love them and that means we can have this salad at any time of the year.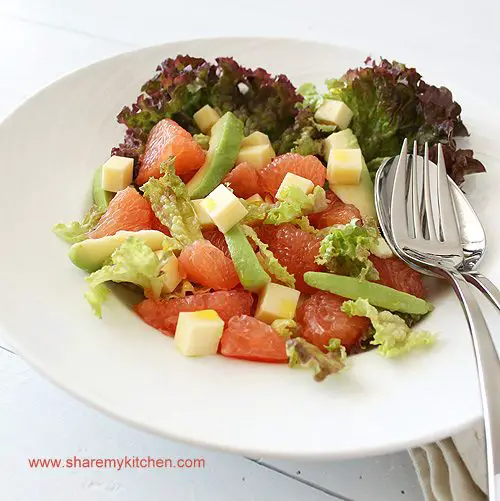 Serves: 2
Preparation time: 15 minutes
Ingredients:
1 pink grapefruit 1 avocado 100g cheese, cubed*
Salad leaves, washed**
Optional: 1 handful walnuts
pomegranate seeds
Dressing:
½ lemon, juice only 1 tsp honey Pinch of salt
2 tbsp extra-virgin olive oil
*For this salad we prefer Edam or Gouda, but Emmentaler, Gruyère, Fontina or Bulgarian Kashkaval are also suitable. Low fat types are also good.
**I used Lollo Rosso, but Lollo Biondi, Lollo Verde, Red Oak Leaf or Frisee (known also as curly endive) or any type of lettuce you like can, is good.
Method:
Combine all the dressing ingredients in a small bowl and whisk until well blended.
Using a sharp knife divide the grapefruit into segments. It's a bit easier to do it on a cutting board, but working over a bowl will allow you to catch the juice.
Slice the avocado into the juice, and stir to prevent it from browning. You can also add a splash of lemon juice.
Tear half of the salad leaves to byte size, and leave whole the other half. Add the byte sized salad leaves and the grapefruit segments to the avocado.
Arrange the whole salad leaves in a serving dish. Spoon over them the grapefruit & avocado mix. Top with the cubed cheese and some crushed walnuts or pomegranate arils, if you like.
Drizzle with the dressing and serve.