Haybox Cooker
Modern hay box cooker Photo source: www.theinnovationdiaries.com
We've heard only recently about the thing called a "hay box cooking" and the idea hooked us instantly. The concept of the box cooker is so simple and commonsensical that when I think about it I start wondering why I haven't come up with the idea earlier.
Continue reading Haybox Cooker
Why every home cook needs clarified butter and how to make it
Clarified butter (also known as drawn butter) is butter from which milk solids and moisture have been removed, so the result is pure butterfat. Making clarified butter is really easy – typically, regular (unsalted) butter is heated to boiling point (so components separate), after which the water and milk solids are removed.
Clarified butter is
Continue reading Why every home cook needs clarified butter and how to make it
The fight for seafood
We've said it many times in different posts and forewords to recipes: we love seafood! We adore everything coming from the sea – fish, clams, mussels, oysters, shrimps, prawns, lobsters, crayfish, crabs… you name it! And I often catch myself wondering: "Can I live on fish only?" The answer is, definitely yes. However the other
Continue reading The fight for seafood
Immune boosting foods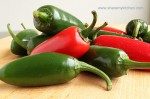 Winter is the time of the year when most of us remember about the healthy foods and in particular those that boost the immune system. It's certainly the case with us and during the last week or so we've been researching the topic, going through massive amount of sources and publications. Why is that
Continue reading Immune boosting foods
Eating seasonal produce
Thanks to industrialized farming and globalization, we can have just about any fruit or vegetable under the sun, at any time of year. If you think about it, most likely, the fruit or vegetable coming from the other side of the world was harvested early, meaning it didn't get a chance to fully
Continue reading Eating seasonal produce