These buns are really universal as you can make them with many different kinds of green leaves such as spinach, nettle, cilantro, parsley and the likes. We usually use spinach. This time we had a wonderful leaf vegetable called Patience Dock (called lapad in Bulgarian) – one leaf could be seen on the picture. It remotely resembles the spinach, and is very popular in Bulgaria at this time of year. In addition we added two handfuls of celery leaves, which combined with the patience dock and cheese, made a great filling for buns.
Perfect with soup for lunch, these buns really are quick to make, and so worth the few minutes you'll have to invest in making and baking them.
Makes: 12 buns
Preparation & baking time: 40 minutes
Ingredients:
For the dough:
300g (1⅔ cups) all purpose flour ½ teaspoon baking soda ¼ teaspoon salt 60g (5 tablespoons) unsalted butter, softened 100g (3½ ounces) thick yogurt (Greek style)
1 egg beaten (save a little for glaze)
For the filling:
120g (4½ ounces) feta cheese, crumbled A handful of chopped green leaves (flat leaf parsley, cilantro spinach, nettle or similar) chopped Freshly ground black pepper
Preheat the oven to 200⁰C (around 400⁰F). Grease a baking sheet or use parchment to avoid greasing it.
Knead together all of the dough ingredients and set aside. Make the filling. For the filling, mix the feta and the chopped greens. Divide the dough into 12 pieces and flatten or roll out one piece to a 10 cm (around 4-inch) circle. Try to get the edges thinner than the centre.
Put 1 tablespoon of the filling in the centre and pleat and pinch the edges to seal into a ball. Don't worry too much about appearance, as this is the bottom of the bun. Just make sure it's well sealed. Place on the baking sheet and flatten slightly with the palm of your hand. Repeat with the remaining 11 pieces of dough and the filling.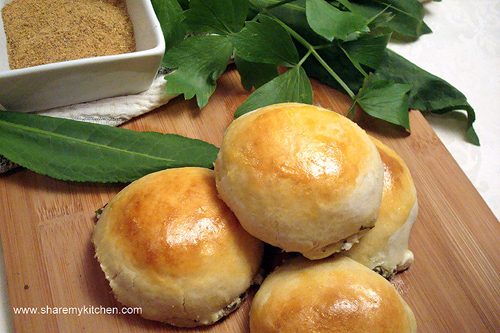 Brush twice with the reserved egg and bake for 12-15 minutes, or until golden brown.