Last Updated on November 1, 2022 by Share My Kitchen
Juicing is not just a fad diet. There are actual health benefits you can gain from it. It encourages you to increase your nutritious vegetable and fruit intake. However, transforming solid foods into juice makes them palatable and enjoyable. Chop up some fruits and veggies of your choice, dump them all in the centrifugal juice extractor, and voila! You already have a healthy drink, meal, or snack that can power you up for hours.
Another advantage of juicing is how well it fits an active and on-the-go lifestyle.
Nevertheless, all our healthy juicing is impossible without a good-quality extraction appliance in the kitchen. A centrifugal juice extractor is an excellent device specially designed to extract natural liquids from fruits and vegetables. It essentially features high-speed settings that can liquefy solid foods in a flash, making it super convenient to own.
Let us learn about this type of juicer in this article. How does it work? What makes it excellent and good for you? Which centrifugal juice extractor machines are worth spending cash on?
What is a centrifugal juice extractor? How Does It Work?
The centrifugal juice extractor is one of the most common juicers for households. This type has a cutting disk that operates at high speed. This short, disc-shaped blade tears and shreds.
The swift spinning action of the disc creates a centrifugal force within the chamber. This momentum pulls the extracted juice towards the filter. The filtered fluid then flows into a funnel that leads towards a receptacle. The mesh layer allows the liquid to pass through the filter while leaving larger sediments behind.
People sometimes call a centrifugal juice extractor a "fast juicer" because of how quickly it works.
Are centrifugal juice extractor machines a good or bad choice for juicing? 
Nothing is perfect in this world. So, here are the pros and cons of a centrifugal juice extractor that you should know when juicing:
Let's start with the reasons why they are an excellent choice:
It can work with dense products.
The centrifugal juice extractor can work for you with soft or more complex types of fruits and vegetables. It can include carrots, beets, apples, and pears, to name a few. Unlike other juicers, this machine is powerful enough to crush and extract juice from tough produce.
It often comes with larger chutes.
Most centrifugal juice extractor machines come with larger chutes. This feature allows you to fit in bigger chunks of produce. And that equally means less prep time for you as well.
It is time-saving and easy to operate.
Operating a centrifugal juice extractor is easy, making it highly suitable for beginners. You need to feed the produce into the main compartment, set the speed, and push the button to start juicing. In just a few seconds or so, your juice is extracted, separated from its pulp, and ready to be served.
It is more affordable.
The centrifugal juice extractor has a relatively more affordable and practical price than other juicers. The cost can go as low as $50. But, a more decent model will usually cost $200 on average.
Now, let's tap into its downsides:
It is more likely to cause oxidation.
The high-speed movement within the centrifugal juice extractor tends to cause oxidation of the extracted juice. The higher the RPM of the motor, the more oxygen is incorporated into the chamber. You can observe this as foam or air bubbles on the surface layer of the juice.
Oxidation is known to make the color of food darken or brown. It is the same principle as slicing an apple and leaving it in the open air. The exposed flesh of the fruit discolors after a while.
The juices have a shorter shelf-life.
Because of oxidation, the juices are more likely to lose their color, flavor, and texture quicker. Because of this, it's best to drink fluids made by a centrifugal juice extractor immediately or within 24 hours.
It can produce a lower yield.
Compared to other juicing machines, a centrifugal juice extractor might be less inferior regarding yield output. By principle, the centrifugal juice extractor uses the high-speed rotation of the disk to process the food and force the liquid out into the filter.
Unlike masticating or cold-pressed juicers, it uses a series of grinding and pressing actions on the food instead of high RPMs. Hence, it works better at maximizing juice extraction from its pulp.
It produces a louder noise.
It is pretty much expected for high-RPM motors to produce a louder noise. So, you might think this is a problem, especially if you are juicing in a quiet place like an office or small apartment.
How to Juice Leafy Greens in the Centrifugal Juice Extractor?
Juicing green leafy vegetables and herbs in a centrifugal juice extractor can be tricky but not impossible. You see, this juicing machine works best with harder produce. Technically, the higher RPM of the motor makes the process harsher for leafy greens.
On that note, it is ideal to choose greens with denser leaves, stems, or stalks, like rainbow chard. When juicing softer and smaller greens like spinach and kale, it is best to roll them up together to create a larger mass. The bigger the bunch, the easier it is to process.
The sandwich technique would also be helpful to ease the pressure on leafy greens. To do this, first load the more challenging produce, sandwich the leafy greens in between and then top it with another layer of hard produce.
Most importantly, whenever possible, use the lowest speed setting. That is why the speed variation feature in centrifugal juice extractor machines is a significant advantage.
Are centrifugal juicers better than masticating juicers?
Each of these centrifugal juicer appliances has the edge over the other. But to judge which of the two is better will depend on every person's needs and priorities. For instance, if convenience and budget are significant factors, then the centrifugal juice extractor is an excellent fit. However, if yield and juice shelf life are more important, it might be good to consider a masticating juicer instead.
Our Top 5 Picks for the Best Centrifugal Juice Extractor on the Market
BREVILLE 800JEXL JUICE FOUNTAIN ELITE
The Breville 800JEXL is a top-of-the-line professional centrifugal juice extractor. It features a titanium-reinforced cutting disk and a 1000-watt motor. The two-speed control settings are adjustable between 6,500 and 13,000 revolutions per minute.
I love how smooth the juices come out every single time. Thanks to its Italian-made micromesh filter basket. It comes with over 40,000 pores that can indeed filter out the pulp and other sediments.
This commercial-grade centrifugal juice extractor can handle juicing medium-to-large batches. Its 34-fluid-ounce jug is enough to please at least a group of four or more. Enjoy juicing without the hassle as its components are dishwasher-safe too.
HAMILTON BEACH 676014A BIG MOUTH JUICE EXTRACTOR
This Hamilton Beach centrifugal juice extractor manages quick and fuss-free juicing. It essentially features a 3-inch wide mouth chute that can fit whole fruits and vegetables. No pre-cutting is required, so you can significantly reduce your prep time.
The 676014A model comes with BPA-free smooth plastic and easy-to-clean, removable, and dishwasher-safe parts. The machine's 800-watt motor is powerful enough to produce healthy juices and smoothies quickly. Its single-speed setting is my only concern, though.
Then again, I am pleased that a 3-year limited warranty is available. Only a few manufacturers can offer that assurance.
CUISINART CJE-1000 DIE-CAST JUICE EXTRACTOR
If speed variation is a crucial feature for you, then the Cuisinart CJE-1000 is your best bet. Like the Breville Elite, this model also comes with a 1000-watt motor. However, it has impeccable speed variations of up to five options, whereas it usually has two-speed settings in most models.
Cuisinart's 1-quart juice pitcher is ample enough for multiple servings. Another similar and equally great feature is its 3-inch wide mouth chute. It enables you to feed more significant pieces of produce without worrying about wasting extra prep time.
Like the Breville, the Cuisinart CJE-1000 has a sleek, professional aesthetic. The die-cast and stainless steel housing give the juicer a smooth and easy-to-clean surface. Not to forget, its parts are dishwasher-safe too.
MUELLER ULTRA JUICER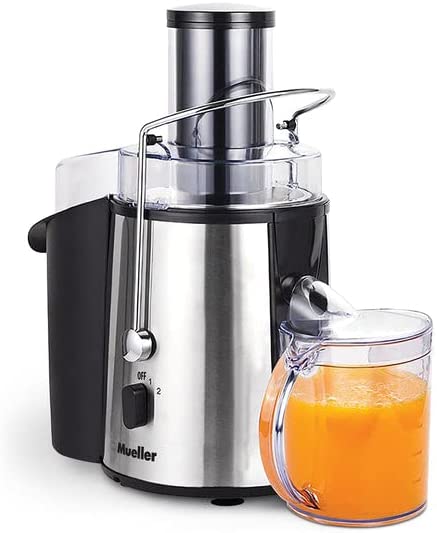 The Mueller Ultra Juicer model has a 700-watt motor. It is slightly smaller than other models but promises to generate a high-speed rate of up to 18,000 RPMs. The low-speed setting will give you 12,000 to 15,000 RPMs, and the high-speed setting will produce as much as 18,000 RPMs. The culinary-grade stainless steel cutting discs can operate with a dual-speed control.
But, the safety features themselves are what I love most about the Mueller Ultra Juicer. To begin with, it has a safety loading arm that keeps the lid cover tightly sealed. Second, it has an overload protection system that automatically shuts off the motor when it detects instability in power supply, assembly, or operation. Lastly, the bottom of the base comes with anti-slip silicone feet. It will give the machine a better grip on the countertop surface.
NUTRIBULLET NBJ50100 Centrifugal Juice Extractor
Nutribullet is not just famous for smoothies but also has its version of a centrifugal juice extractor. This juicing machine comes with an 800-watt motor with a dual-speed control dial. Plus, it comes with a 3-inch wide feeding chute. So, juicing both soft and hard, small and large produce, would be a breeze.
Nevertheless, I find this juicer more interesting because it has a built-in food pusher. This component aids in effectively pushing the ingredients down into the chamber. Thus, it ensures every last bit of your fruits and veggies are processed.
The 27-oz juice pitcher comes with durable BPA-free plastic. I also appreciate that it is designed with a no-drip spout, making the pouring of juice mess-free. As suggested, you can prepare a large batch and store the pitcher in the fridge to keep the juice fresh for up to 48 hours.
Takeaway:
There are a plethora of options available on the market. But, as long as you know what factors to look for, narrowing down your choices shouldn't be that difficult. The five best centrifugal juice extractor machines I reviewed here are fool-proof juicers. They all have premium qualities that deliver excellent value for your money. And most importantly, they are tried and tested to produce healthy and tasty juices every time.