Last Updated on November 2, 2022 by Share My Kitchen
Nothing can be more Southern than the taste of traditional crawfish cuisine. From simple fried to beignets, bisque, and our favorite, étouffée. The crawfish sure is one of the most versatile seafood out there.
However, cooking it can be pretty tricky, I must say. It needs to be thoroughly cleaned first to remove impurities. Moreover, it would be best to have the right boiler to cook it to absolute perfection. Otherwise, things might turn out not as palatable as they should be.
We in ShareMyKitchen don't wish this mess to ever happen to you. So, we will gladly teach you the proper way to clean the crawfish effectively. In addition to that, we have also picked out 5 of the best boilers for cooking sumptuous crawfish dishes.
Ready to get your crawfish boiling? Let's begin…
How Do You Clean Crawfish Before Boiling?
First things first, crawfish must be thoroughly cleansed before attempting to cook them. You see, wild crawfish tend to live in freshwater mud. Hence, this step is essential to remove the unwanted dirt and, most significantly, the digestive waste within its intestines. This cleansing process is also referred to as "purging"
Here are the steps on how to properly do it:
Fill a large tub with clean water. The container should be big enough to accommodate the amount of crawfish you have on hand.
Pour the live crawfish into the tub.
Use a large instrument like a big slotted spoon or the end of a clean shovel to stir in the water.
Keep stirring until the dirt from the crawfish is loosened, and the water turns murky. This step should take about 3 minutes or so.
Remove the dead floating crawfish from the container. It is not safe to ingest as it might contain Vibrio bacteria which cause food poisoning.
Drain out the muddy water. Refill with clean water.
Our Top 5 Picks on Crawfish Boilers
KING KOOKER ALUMINUM POTS W/ OUTDOOR COOKER SET
This King Kooker set is a multi-function boiler and deep fryer cooking kit. It is perfect for boiling 8 to 10 pounds of crawfish and other seafood and veggies. Moreover, it is also suitable for deep frying up to 20 pounds of turkey meat.
The set is equipped with a 12-inch high welded cast iron steel burner. It is paired with a wind guard to maintain a steady flame despite windy outdoor settings. The cooker unit is CSA design certified. It has been rigorously tested to ensure durability and compliance with high-quality standards.
Cost:
Price starts at $117.03
Pros
Complete set with 29-quart aluminum cookware and burner
Multi-cooker
The package already includes lids, baskets, and hooks
The fry pan comes with heat-resistant handles
With a built-in battery-operated timer
Uses type 1 connection
Listed LP hose and regulator included
It comes with a recipe booklet
CSA design certified
Very affordable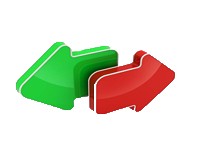 Cons
Sizing appears smaller in actual
Aluminum easily gets dented
BARTON DELUXE ALUMINUM COOKER W/ BURNER KIT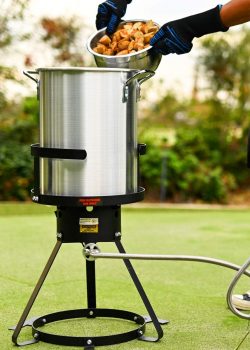 The Barton Deluxe cooker set features a 30-quart medium-sized aluminum stockpot. It comes with the right accessories to make it extra convenient to steam, boil, deep fry crawfish, turkey, veggies, etc.
The solid cast iron stand comes with adjustable height and removable legs. This feature makes it easier to store and transport from indoors to outdoors or anywhere you please. To further add, the high-pressure propane burner can deliver up to 200,000 BTU. It is just what you need to cook a good batch of crawfish outdoors.
Cost: 
Price starts at $99.95
Pros
Multi-purpose fryer, steamer, and boiler
Solid aluminum and steel construction
Corrosion-resistant
High-pressure propane gas stove burner
Includes steamer basket, poultry rack, long probe thermometer, marinade injector
CSA certified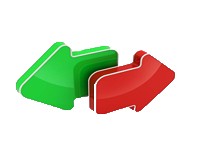 Cons
It does not include an instruction manual for assembly
Pot tends to warp easily
CREOLE FEAST TFP1030 COOKER SET
The Creole Feast is the perfect multi-use cooker for small to medium cooking batches. It comes with two aluminum stockpots – a 10-quart and a 30-quart capacity. With the 2-level perforated basket, you can steam, fry, and boil crawfish, turkey, and more right in this same cook set.
The burner is made with solid cast iron steel. It comes with an air control panel to allow better heat control when cooking. It also sits well secured on top of a fully-welded metal stand. The frame is square-shaped to give you four-point stability.
Cost:
Price starts at $129.99
Pros
Multi-use design
Includes 10-quart and 30-quart stockpots
With a 2-level perforated basket
Cast-iron gas stove burner
With a fully-welded square metal frame stand
With an adjustable air control panel
Cons
It comes with a smaller BTU compared to other products
BAYOU CLASSIC STAINLESS STEEL STOCKPOT W/ BASKET
If you prefer to buy the stockpot separately, the Bayou Classic is a great choice. The stockpot and the basket are made with professional-grade 18/8 stainless steel metal. Thus, you can rest assured that it will last you longer than typical aluminum cookware.
This stockpot set is suitable for steaming, boiling, and deep-frying crawfish and other types of meats and vegetables. It is available in the smallest size of 24 quarts to as big as 162 quarts. The wide range of sizing makes it perfect for commercial food preparations.
Cost:
Price starts at $125.94
Pros
Made with 18/8 stainless steel metal
With dome vented lids
Paired with a perforated stainless steel basket
Designed for commercial use
Available in 24qt, 36qt, 62qt, 82qt, 122qt, 142qt, and 162qt capacities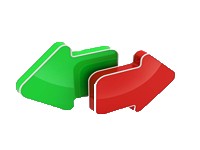 Cons
Expensive
Thin-gauged construction
GAS ONE HEAVY-DUTY OUTDOOR SINGLE BURNER PROPANE GAS STOVE COOKER
If you already have the stockpot, you will only need the gas stove burner to complete the crawfish cook set. The Gas One offers a single burner made out of solid heavy-duty cast iron. The metal frame is also layered with a protective coating to withstand high temperatures.
This burner comes with a built-in air control panel to regulate oxygen consumption. Thus, enabling it to produce a clean blue flame. This color indicates that the gas was fully combusted, giving you a hotter flame than orange or red. The burner can deliver up to as much as 200,000 BTU.
Cost:
Price starts at $87.06
Pros
Portable single burner
Made with solid metal and cast iron burner
Accompanied by a 0-20 psi regulator
Kit includes steel braided hose
With an air control panel
With high temp coating
Compatible with a 20-pound propane gas tank
Can deliver up to 200,000 BTU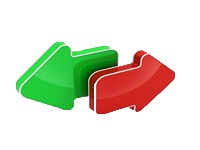 Crawfish Cooker Buying Guide
Quality of Material
Boiling crawfish takes a lot of heat. Hence, you have to use equipment that can withstand high temperatures better and much longer. Most often, we use boiling pots made of aluminum or stainless steel.
The aluminum boiling pot is one of the most popular choices for cooking crawfish. They are lightweight and have excellent heat conduction. Thus, boiling takes place much faster and easier when using this pot.
However, aluminum is a softer kind of metal. Thus, it can be easily deformed and is also prone to corrosion. Apart from that, aluminum is reactive to acidic elements. When exposed to acidic foods, it tends to discolor and impart an odd taste to your dish.
However, aluminum pots are very affordable compared to other metal cookware. Hence, they are often the go-to and more practical choice for those on a specific budget. Otherwise, if you have more money to spare, stainless steel might be a better investment choice.
Stainless steel boiling pots are more durable than aluminum cookware. It can withstand higher temperatures over an extended period. It is also less reactive to acids hence least likely to leach into your food.
The trade-off with stainless steel pots is their poor heat conductivity. That means it takes more time to boil and cook your crawfish. This material is also more expensive than aluminum. But, for sure it will last you more good years of use.
Pot Size
The pot size will depend on how much crawfish you intend to cook. Smaller batches can quickly get away with a smaller cookpot. In the same sense, it would be ideal to choose a larger-sized boiling pot if you wish to prepare a feast for a bigger crowd.
If you are not sure what to choose, then go for the general rule – 2 quarts for every 1 pound of crawfish. For example, you are going to boil 15 pounds of crawfish. This amount suggests that you would likely need to use at least a 30-quart boiling pot.
Take note that boiling crawfish in the wrong pot size can affect your cooking. Too small, and it will restrict your serving. Too big, then it might be cumbersome to manage and more expensive to buy.
Design
A well-designed boiling pot best promotes the users' convenience, comfort, and safety. Features like a wide grip handle, tempered glass lids, and built-in thermometers, are a few of the things worth having in a crawfish cooker.
Aside from these features, choosing a boiling pot with superior stability is also essential.. The base should be as flat and even as possible. This structure ensures that it will remain steady on top of the burner. It must not present any risk of accidentally slipping or tipping over, especially when cooking.
Versatility
You don't want to limit the function of your pot just for cooking crawfish. This idea will not give you the most value for your money. So instead, it is wiser to choose cookware that is compatible with other functions like steaming and deep-frying.
Doing so allows you to cook a more extensive array of crawfish dishes. You can also use it to prepare other meats, including chicken, turkey, fish, veggies, and others. It is multi-purpose, but at the same time, it will also give you the chance to save up your money and storage space in your kitchen.
Price
Crawfish cookers usually cost as affordable as a hundred dollars to as expensive as a thousand dollars. Nevertheless, a professional-grade cooker will not instantly produce a good-tasting crawfish dish. On the same note, a cheap pot doesn't always mean a lousy performance.
So, know your workable budget. And most importantly, assess if the product will give you the best value for your money.
How Long Should You Boil 5 Pounds Of Crawfish?
The critical thing here is to provide the correct type of burner, at least 50,000 BTUs. But the higher, the better. Get the water to a rolling boil first before adding the crawfish into the pot. With a sufficient heat level, it takes approximately 20 to 30 minutes to boil a 5-pound crawfish.
Frequently Asked Questions:
How many BTUs does it take to boil crawfish?
Answer: For outdoor cooking, you would usually need at least 50,000 BTUs. Then again, it would be best to consider the amount of food you are cooking. A smaller setup using a 60-quart pot would be fine using a burner with less than 100,000 BTUs. For bigger setups involving 80-quart pots or larger, it would be wise to get at least 125,000 BTU or higher.
Should I purge my crawfish before boiling?
Answer: Yes. Purging allows you to cleanse the gut of the crawfish from mud and other impurities. Thus, making them taste fresher and more palatable. Nevertheless, make sure to do the purging right before you intend to boil it. You need the crawfish to stay alive as long as possible.
Can you boil crawfish with natural gas?
Answer: Yes. Provided that you use a special burner and regulator explicitly intended for natural gas use.
How much crawfish do you need for one person?
Answer: This is entirely subjective because it depends on the eaters' appetite. An estimate of about 3 pounds per person should be a reasonable basis. You might want to give it an extra allowance for serious crawfish eaters and go for 5 pounds per person instead.