Last Updated on November 2, 2022 by Share My Kitchen
There is nothing more frustrating than to find your soups and stews ruined by a lousy cooking pot. You have the perfect recipe on hand. But, cooking it in the wrong kind of cookware can mess things up. Your food cooks unevenly and can even stick at the bottom. Aside from that, a pot with burnt food is darn too hassle to clean up.
So, all you get in the end is a bad-tasting dish plus a hard-to-wash pot.  How annoying can that be, right?
Well, that should not always be the case. With the proper kind of pot, you can definitely have the perfect soup and stew right in your kitchen. And, in ShareMyKitchen, we will help you achieve just that.
This will teach you how to find the most appropriate pot for cooking soups and stews. To make it more convenient, we have also included our top 6 picks for the best of the best pots on the market.
What kind of cooking pot is best for making soup? 
Cooking pots can be made with different designs and materials. The thinness of the built, along with the metal properties, can significantly affect the food you are cooking.
For soups and stews, it is best to choose a pot with a thick base and thin sidewalls. A more dense base warms up longer, but it distributes heat more evenly.  Thus, giving you more control over the cooking process.
On that account, thick-based pots are ideal for instances where it requires you to cook the ingredients first before adding the primary liquid into the mix. Exactly just like when stewing. Better heat regulation enables you to cook the meat and veggies in your preferred doneness with lesser worries. Because the bottom of the pot is thick, it is less likely to heat up too much and burn your food.
What material is the cooking pot made of?
Cooking pots can be made of different metals. The most common materials include stainless steel, copper, and aluminum.
Stainless Steel
Stainless steel is well-loved for its durability, corrosion resistance, and low maintenance. Nevertheless, this type of metal is a poor conductor of heat. Thus, it tends to take longer to cook your food.
Aluminum
On the other hand, aluminum is an excellent conductor of thermal heat. It is lightweight and has the cheapest price point among the three. However, aluminum is a soft metal. Hence, it is more prone to scratches and deformations.
Copper
Copper, like aluminum, is also great at conducting and distributing thermal heat. It is also lightweight and durable. But, the copper metal is reactive to acids and costs more expensive. It is a premium cookware material, I should say.
Can you make soup in an aluminum cooking pot? 
There are a lot of debates about whether cooking in an aluminum pot is safe or not. Untreated aluminum metal is known to be highly reactive to acidic ingredients. That very well includes vinegar, citrus fruits, tomatoes, and more.
Constant exposure to acids can cause erosion to the surface of the cookware. Thus, it will leach out traces of aluminum into your food. When this happens, it will change the taste and discolor your dish. Even worse, the accumulation of large amounts of aluminum is linked to Alzheimer's disease and other potential health risks.
However, innovations in technology enable us to transform regular aluminum into much safer and more durable cookware.
Anodization
Anodization of the aluminum pot alters the metal surface. Thus, making it three times harder, non-reactive to acids, resistant to corrosion, and naturally non-stick. On that account, it is best to go for the "hard-anodized" version if you choose to cook your soup with an aluminum kind of pot.
The Best Cooking Pot For Soups – An Honest Review
NUTRICHEF STAINLESS STEEL SOUP POT Best Soup Pot on a Budget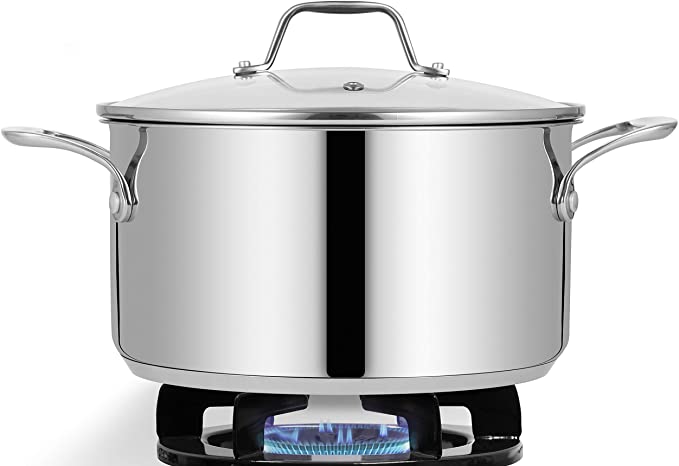 The price starts from $37.01
This NutriChef soup pot is a classic stainless steel pot built to last you a lifetime. It is made with heavy-gauge 5-layer stainless steel metal that is ultra-durable and non-toxic. It also comes with a see-through tempered glass lid and ergonomic riveted handles. The pot is also compatible with all types of stovetops, including induction.
This pot is so versatile that you can cook any dish with it aside from soups and stews. It has the right proportion of height and width, making it so spacious and easy to cook around. The pots are available in different capacities, perfect for cooking medium to large batches.
This heavy-duty stainless steel pot heats up evenly while keeping the handles cool. I also love how easy it is to wipe and clean. It is dishwasher safe but still, we recommend hand-washing with gentle soap and water to best preserve the integrity of the metal.
CUISINART CONTOUR HARD ANODIZED STOCK POT Best Cooking Pot for Stews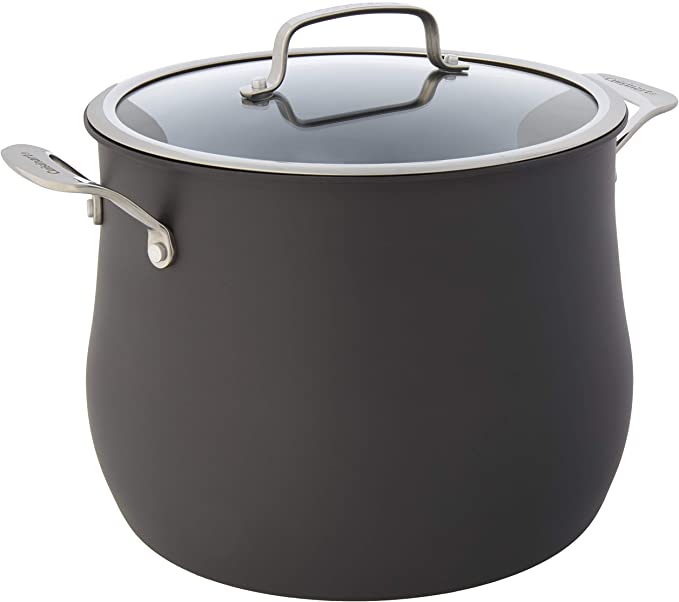 The price starts from $74.95
This CuisinArt Contour stockpot is made with a professional-grade hard-anodized aluminum core. The material is further reinforced with an ultra-smooth non-stick interior coating. This layer prevents food from sticking to the surface and makes the pot hassle-free to clean. The non-stick property is essential, especially for cooking stews.
The stockpot also features a unique contoured shape which is very aesthetic and functional at the same time. A wider bottom and narrowed opening make it less likely for the liquid to boil over the pot. It is a great conversation piece too since most of my colleagues think it looks pretty much like a witch's cauldron.
Despite the shape, the pot is surprisingly big for a 12-ounce size. I also very much appreciate its ergonomic features. The tapered rim makes it much easier and less messy to pour liquids. Another good point to consider when buying pots for soups and stews.
IMUSA USA SPECKLED ENAMEL STOCKPOT Best Soup Pot on a Budget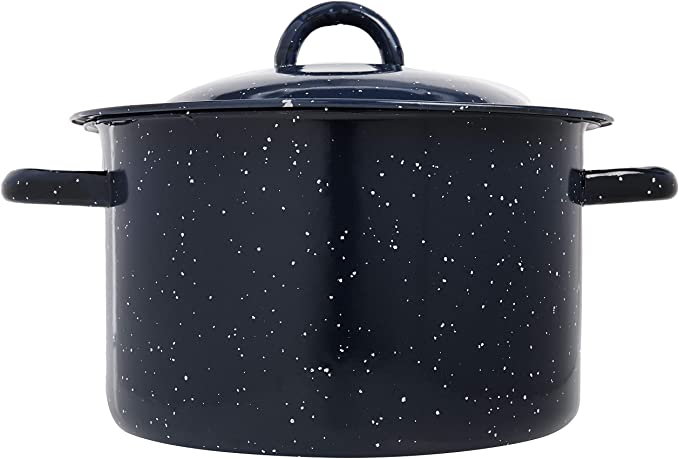 The price starts from $10.97
The Imusa USA stockpot is the way to go when the budget is tight, but you still want a soup pot with decent quality. You cannot beat the price of 10 bucks for a 6-quart size. It is available in larger capacities, up to 16 quarts.
This stockpot is made from carbon steel material fully coated with enamel on both interior and exterior surfaces. It comes in a beautiful speckled design which gives the stockpot its character. This look applies to its matching lid too.
A carbon steel pot heats up more quickly and evenly than cast iron cookware. It is also far more lightweight and inexpensive. Thus, making it a good choice for cooking soups and stocks.
Be wary that the Imusa pot is not heat-resistant. So, always be careful and use a potholder when handling it. Although, this is a small trade-off considering its very cheap price point.
GOTHAM STEEL MULTI-PURPOSE STOCKPOT W/ STRAINER Best Stockpot with Strainer
The price starts from $29.99 
The Gotham Steel pot comes with a built-in strainer feature. One on each side with different hole options for straining fine and thicker foods. This pot is perfect for cooking pasta, but it is not limited to this sole function. It is multi-purpose and works great for cooking soups, stews, stocks, casseroles, etc.
The handles are conveniently designed with a twist and lock mechanism to secure the glass lid while draining the liquid. Although it does keep the cover tightly closed, it does not seem to stay cool as claimed. So, be aware of that and remember to use a potholder to protect your hands.
The titanium-reinforced ceramic interior coating truly is durable and non-stick. Despite over-cooking and burning my dish, the food still remained easy to lift off from the bottom. You can also use metal or wooden utensils with no worries about them scratching.
ALL-CLAD HA1 HARD-ANODIZED NON-STICK STOCKPOT Premium Cooking Pot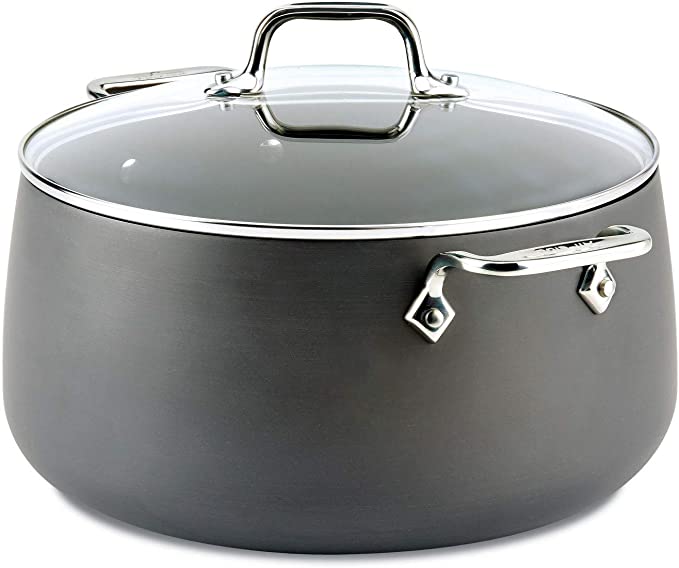 The price starts from $99.95.
All-Clad is well-known for its premium-quality cookware that delivers really and truly. And, the HA1 hard-anodized stockpot is no exemption. It isn't a surprise anymore that it is matched with a steep price point.
The stockpot is made with heavy-gauded hard-anodized aluminum with a non-toxic, non-stick coating. On the other hand, the exterior layer is made with an anti-warp stainless steel bottom. Thus, allowing the pot to be used on all cooktops, even induction.
We love how wide the base is of this non-stick pot. This design makes it easier to mix in and sautee ingredients before pouring in the liquids. You can cook any dish in this pot because, rest assured, nothing will stick to the bottom. Plus, you would likely need less amount of oil or fat. So, think of this stockpot as an excellent investment for your health and kitchen.
ECOLUTION PURE INTENTIONS STAINLESS STEEL STOCKPOT Amazon's Choice for Best Stockpot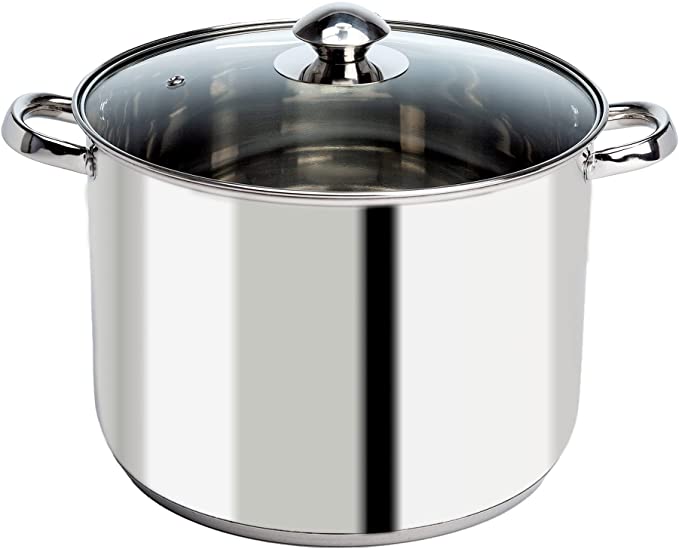 The price starts from $35.19.
The Ecolution Pure Intentions stockpot is currently one of the best-selling stockpots on Amazon. This cookware is designed with simplicity and durability in mind. It is a large and versatile vessel for cooking soups, stews, stocks, casseroles, and other liquid-based recipes.
This stockpot comes with high-quality stainless steel construction. The pot's base is encapsulated to promote faster and more even heating. It is also paired with a tempered glass lid with a steam vent.
I love how basic the design is. No-fuss but delivers its purpose as promised. It may not have a non-stick coating, yet it won't burn your food when cooked with just the amount of heat. I also liked the idea that stainless steel metal is recyclable. Thus, purchasing this makes me feel like a more responsible consumer.
One thing that annoys me, though, is the big sticker label. I find it cumbersome to remove from the pot. Totally unnecessary.
What cooking pot size do you need to make soup?
Soup pots are usually available from 4-quart up to 20-quart sizes or larger for commercial food preparations. However, a pot between 6 to 8 quarts would be ideal for home cooking. It is plenty enough to serve soup for the entire family. This size also provides sufficient space for cooking other dishes too.
What is the best cooking pot for soup?
The best soup pot would always be the one that can offer excellent heating properties, versatility in function, and good value for money. All these factors I found most satisfied with the NutriChef Stainless Steel Soup Pot. Its stainless steel construction is highly durable, non-toxic, heats up evenly, and can be used for cooking a lot of variety of dishes. It is an affordable piece of investment that will surely last you long, promising years of quality cooking.