With gourmet cookbooks, popular TV shows, chef-branded cookware and expensive restaurant chains popping up all over the world, celebrity chefs are bigger, richer and more famous today than ever before. And while I can't help but notice that the food lovers of this world (and I include myself in this category) have gotten a little too obsessed with celebrity, the focus of this post is on the people involved in the day-to-day running of famous chefs' kitchens.
So, who cooks in Gordon Ramsay or Joël Robuchon, or Mario Batali's restaurants while they are away, endorsing products, shooting TV shows or just being in another restaurant of theirs?
Well, to start with it's not always obvious who runs the kitchen in the absence of the boss. Some chefs such the above mentioned have proudly put forward their protégés, having them even listed on the corporate website. Others, however, such as Wolfgang Puck, Bobby Flay, Nobuyuki (Nobu)Matsuhisa, or Todd English, to name a few, present their restaurants as if they cook there every evening, or at least that's what it looks like when you visit their websites.
Most of the celebrity chefs are entrepreneurs and are involved in many business ventures, predominantly restaurants but not only.  So they become the CEO and hire their own executive chefs.  And that's normal – someone has to be in charge and needs to maintain the level of quality.
And even if they didn't and were the executive chefs themselves, in most of times they generally don't cook. They do the recipe development and set the menu (in some cases they may just approve a menu developed by a chef under them). Sometimes, when it's really busy, the executive chef helps cook but is otherwise busy organizing, monitoring and promoting his or her restaurant.
What happens in many cases when a celebrity chefs opens a new restaurant, is they would come a day or two before the opening and work on the menu items with the rest of the chefs. On the day the restaurant opens (or a new menu is launched) they will oversee the kitchen and spent half of the time in there and the other in the dining room, talking to guests.
However, there are famous chefs, such as René Redzepi (Noma, Copenhagen), Grant Achatz (Alinea, Chicago) or Tetsuya Wakuda (Tetsuya's, Sydney) who cook every evening (or at least on most evenings) in their own restaurants. But even they have numerous speaking engagements, television appearances and other engagements, making it impossible for them to be in the kitchen every single day.
Therefore, it all comes down to the good right-hand man. All celebrity chefs have such a person, usually called the executive chef (or chef de cuisine), who take command in the kitchen. Most of the time, these chefs have worked with the celebrity for a number of years, understand and follow their style of cooking. A lot of these chefs are in that position for several reasons: it's mostly because of the opportunity to learn from that celebrity and to be a part of his team. Getting the best training you can when you're younger matters later on in the career.
So, even if  Thomas Keller doesn't cook your meal at Per Se in New York, you can rest assured that those in charge have been trained – always by the chef himself – to deliver a meal to the same high standard, right down to the little details.
Below is the list of some of the most famous chefs on planet. I bet most of you will be interested to learn who your favourite chefs trust and depend on while away, and who stays behind their success.
Alain Ducasse and his team

1. Christophe Saintagne – Plaza Athénée (Paris) 2. David Bellin – Benoit (Tokyo) 3. Alain Ducasse 4. Jocelyn Herland – The Dorchester (London) 5. Didier Elena – Adour Alain Ducasse (NY) 6. Franck Cerutti – Le Louis XV (Monte Carlo)7. Pascal Bardet – Le Louis XV (Monte Carlo)
(Photos: independent.co.uk; lhotellerie-restauration.fr; benoit-tokyo.com; grandluxurycommunity.com; identitagolose.it; thedorchester.com; scmedia.com.hk)
Thomas Keller and his team

1. Mark Hopper – Bouchon (Yountville, Las Vegas and Beverly Hills 2. Thomas Keller 3. Sebastien Rouxel executive pastry chef 4. Timothy Hollingsworth The French Laundry (Yountville, CA) 5. Bryan Podgorski – Bouchon (Las Vegas) 6. Philip Tessier – Bouchon (Yountville, CA) 7. Eli Kaimeh Per Se (NYC) 8. Dave Cruz – Ad hoc (Yountville, CA)
(Photos: bouchonbistro.com; adhocrestaurant.com; newyork.metromix.com; tkrg.org; starchefs.com; saucytart.typepad.com; foodgal.com)
Joël Robuchon and his team

1. Cristophe Cussac – Joel Robuchon Monte Carlo 2. Claude Le Tohic – Joel Robuchon Restaurant Las Vegas 3. Alain Verzeroli – Joel Robuchon Restaurant Tokyo 4. Joël Robuchon 5. Philippe Braun – L'atelier de Joel Robuchon Paris 6. Olivier Limousin – L'atelier de Joel Robuchon London 7. Michel Del Burgo – L'atelier de Joel Robuchon Hong Kong 8. Ruyta Iizuka – L'atelier de Joel Robuchon Tokyo 9. Steve Benjamin – L'atelier de Joel Robuchon Las Vegas 10. Takeo Yamazaki – Yoshi Monte Carlo 11. Xavier Boyer – L'atelier de Joel Robuchon New York
(Photos: joel-robuchon.net)
Mario Batali and his team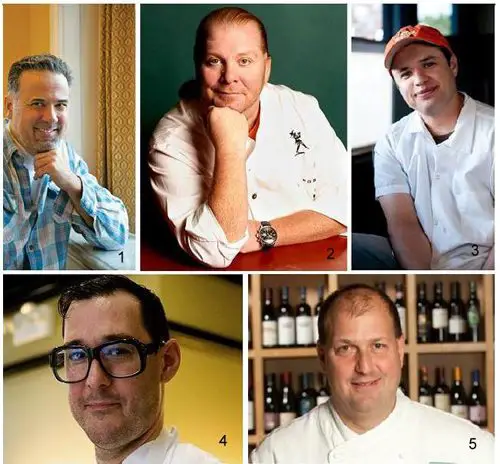 1. Andy Nusser – Casa Mono and Bar Jamon (NYC) 2. Mario Batali 3. Matt Molina – Osteria Mozza (LA) 4. Mark Ladner – Del Posto (NYC) 5. David Pasternack Esca (NYC)
(Photos: seriouseats.com; starchefs.com; 1800recycling.com; westchestermagazine.com)
Gordon Ramsay and his team

1. Angela Hartnett – York & Albany, Nonna's (London) 2. Gordon Ramsay 3. Josh Emett – Maze and maze Grill (Melbourne, Australia) The London (New York and Los Angeles) 4. Steve Allen – Gordon Ramsay at Claridge's (London) 5. Mark Askew – Gordon Ramsay at Royal Hospital Road & Petrus (London) 6. Clare Smyth – Gordon Ramsay at Royal Hospital Road (London) 7. Stuart Gillies – The Savoy Grill, Plane Food (London)
(Photos:dailymail.co.uk; bourgogne.pixnet.net; independent.co.uk; mindfood.com; crimsonedgeevents.com; hot-dinners.com)