Last Updated on November 14, 2022 by Share My Kitchen
Here's the thing, you came to shop and see a vast array of roaster ovens displayed from shelf to shelf. It comes in different sizes, shapes, highlight features, and price points. This multitude of choices can be quite overwhelming it's difficult to decide which is which.
Don't let the sea of options intimidate you, my dear. Allow us in ShareMyKitchen to guide you through the buying process.
In this article, we will tackle the different factors and important tips to consider when choosing a roaster oven. We will help you narrow down your choices so you'll know exactly which products are best suited for you and your needs.
What is a roaster oven?
A roaster oven is essentially a tabletop cooking appliance that is designed, as the name implies, for roasting meats and vegetables. The device comes with a roasting chamber equipped with heating elements to produce and distribute heat throughout the cooking surface. The temperature is variable usually within the range of  150°F up to 450°F.
Unlike conventional ovens, the roaster oven is more compact. The size makes this device more suitable for smaller kitchens or countertops. On a different note, its "cooking" capacity is targeted toward preparing dishes for larger crowds. Roaster ovens are often available in 14, 18, or 22-quarts capacities. This much content can easily feed 10 to 20 persons or even more.
Because of their size as well, the roaster ovens are more efficient in general. It essentially takes a lesser amount of energy to heat up and cook compared to using a conventional oven. Thus, consequently their operation cost is gentler on the budget too.
What is the difference between a roaster oven and a slow cooker?
Roaster ovens are surprisingly more versatile than you think. More than roasting, it can also be used to bake, steam, stew, and yes, slow cook your food too. Nevertheless, there are distinct differences between the two.
The slow cooker works by building the heat from the base up to the sides of the crock pot. The generated steam produces a vacuum seal in the lid. Thus, trapping the heat and generating a stable temperature level within the pot. Keeping a low and consistent temperature is the primary focus of slow cooking in crock pots.
The roaster oven works similarly the same as the slow cooker. The key factor here is the proper adjustment of the temperature settings. For a slow cooking mode, the temperature is best set to 200°F for low slow cooking. Or, 250°F for high slow cooking. By controlling the heat within these levels, you can absolutely make your roaster oven work just like a slow cooker.
Another big difference is capacity. A standard slow cooker size can usually accommodate up to 6 to 8 quarts. Unlike the roaster ovens which often have larger capacities of up to 22 quarts.
Do I need a roaster oven?
Well, this question is highly subjective. But, if you want a piece of equipment that can roast, stew, steam, and bake at the same time. Then, don't think twice about buying the roaster oven.
I mean, it is good to have a collection of different pots for different purposes. Nevertheless, when budget and space are your concerns, investing in a roaster oven seems a lot like a wiser and more practical choice for you. Instead of buying multiple pots, a single multi-function appliance can better save you money.
Moreover, the roaster oven consumes only minimal space on your countertop. Thus, it is the perfect choice for people living in tiny houses and RVs. It is also a very practical option for those practicing a minimalist lifestyle.
Which features should I look for in a roaster oven?
Size
How big or how small you want your roaster oven is the most basic question you need to ask yourself. The answer to this depends on the number of people you intend to feed. Of course, the bigger the crowd, the large the roasting pan you will need as well.
To make it easier for you to estimate, you can assume that one pound of cooked turkey can well serve one person. So, if you are to feed 18 persons, then it is safer to choose an 18-quart oven roaster.
Heating Element
The key to even cooking is having the right heating elements embedded in the oven. It should be powerful enough to cover the entire cooking surface. At the same time, it should be well-spaced so that heat is distributed more evenly.
Dome Lid
When choosing a roaster oven, make sure to look for a lid that has ridges and is tightly sealed along the edges. The dome lid prevents evaporation of moisture and re-circulates it back into the food instead. Thus, making your meat tender and juicy at the same time.
Temperature Range
The broader the temperature range, the better. Having more temperature settings allows more versatility in cooking options. A temperature range from 150°F to 450°F is the most ideal. The lower setting enables you to slow cook or simply just keep your food warm.
Removable Rack
The removable rack is a perfect feature for roasting birds like turkey. This enables you to securely place the meat without it being drenched in its own juice. A handle would also be very helpful for easy lifting and transfer.
How do you clean a roaster oven?
Before starting the clean-up, always make sure the oven has already cooled and the electric plugs are disconnected.
Detach all removable parts like the dome lid, roasting pan, racks, drip tray, skewers, etc.
Wash the removable parts with warm soapy water if possible. Set aside and let it dry.
Remove big chunks of food or other debris inside the oven.
Clean the inside of the oven using a damp cloth and dish soap. Be careful not to let water seep into the electrical parts of the oven to prevent damage.
Wipe off grease and other dirt from the exterior of the oven using a damp cloth and mild cleaner. Make sure to reach into the crevices.
Let the oven fully dry out before re-using.
Our Top Pick Roaster Ovens
Oster Roaster Oven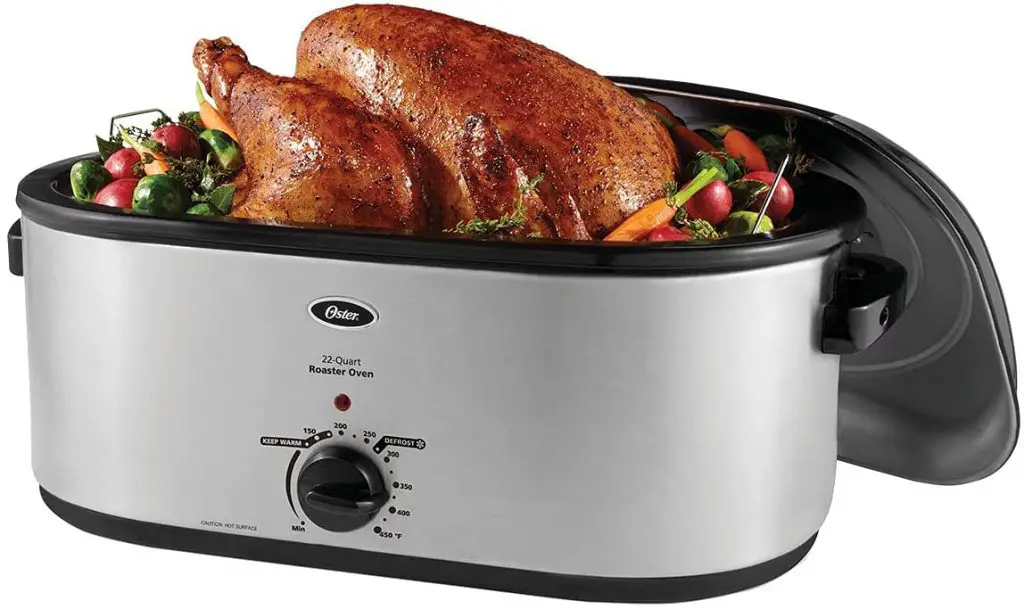 This Oster roaster oven is one of the best-selling multi-cooker on Amazon. It has a 22-quart capacity that can well fit up to a 26-pound turkey. Ideally, you should set a cooking time of 20 minutes per pound. But with this oven, it only took me about 3 to 4 hours to achieve a perfectly roasted turkey.
Say goodbye to hand basters 'coz the self-basting lid really works. It is specially designed to tightly enclose the pot to seal in the heat and continuously re-circulate the moisture. As a result, it made my turkey meat flavorful and moist.
The temperature range is set from 150°F up to 450°F. I love how the lower temperature control allows me to keep my food consistently warm even after I'm done cooking.
Pros
Easy to clean removable rack and roasting pan
Wide temperature range
Good value for money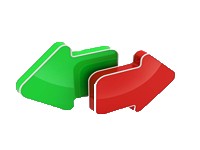 Cons
Food has the tendency to stick to the inner lining
NESCO MWR18-12 ROASTER OVEN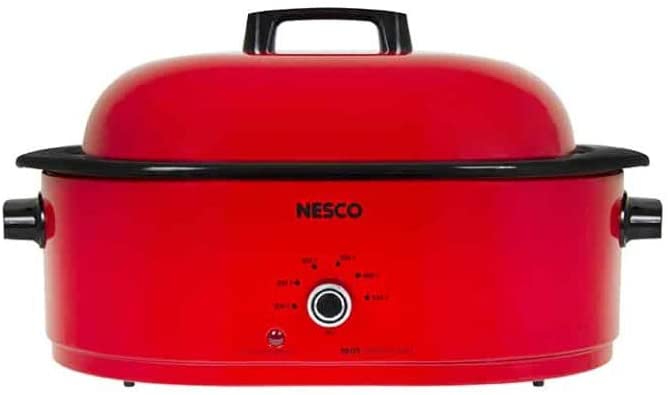 The Nesco MWR18 roaster oven features a porcelain enamel finish. This smooth coating makes the surface ultra-durable, scratch-resistant, and much easier to clean. Not to mention, the vibrant red color scheme makes this appliance look more retro. A pop of color that certainly invites me to make more happy and healthy meals.
This appliance is designed with Circle of Heat technology. It has a 1450-watt heating base which enables the device to produce powerful and even heating. Plus, the dome lid makes it all possible to maintain a consistent temperature and moisture control.
I really appreciate that this roaster oven is integrated with side handles. This makes it safer and more convenient to move around or transport from point A to B. However, note that this appliance is least likely suitable as a food warmer. With 200°F as the lowest temperature, this is more apt for slow cooking instead of warming.
Pros
Hardwearing enamel finish
With built-in side handles
Removable cookware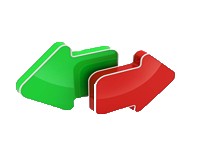 Cons
Lowest temperature setting at 200°F
HAMILTON BEACH TURKEY ROASTER OVEN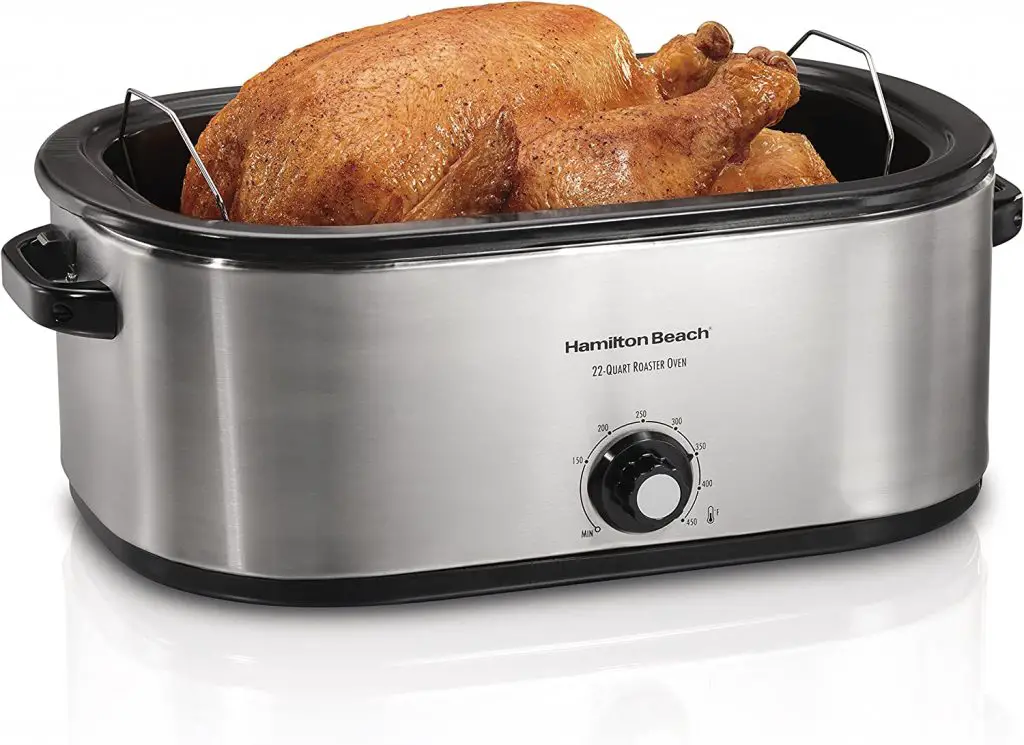 If you rather prefer simple and classy, then the Hamilton Beach roaster oven is perfect for your taste. It is designed with a sleek stainless steel exterior construction. No complicated buttons, just a straightforward temperature control knob.
On the interior, I love that the roasting pan is made with enamel-on-steel material. It is naturally non-stick so clean-ups are easy peasy. The lift-out rack with handles is also removable. This makes it super convenient to transfer large foods from the pot to the serving plate.
This multi-function appliance has temperature settings from 100°F to 450°F. So aside from roasting, you can also use it for slow cooking, stewing, baking, and food warming.
Pros
Easy to operate
Stainless steel exterior finish
Removable enamel-on-steel interior pan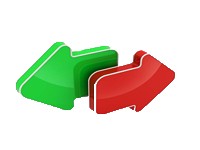 Cons
The body and lid can get hot to touch
NESCO 4816-14 PORCELAIN ROASTER OVEN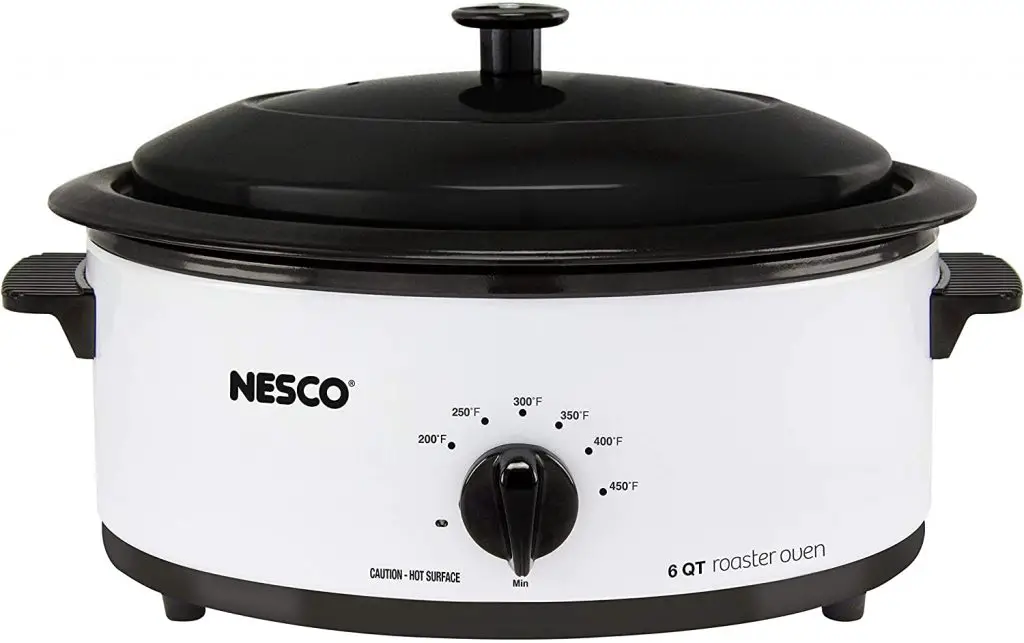 It's not likely every day that we're cooking a feast for 10 persons or more. Hence, if you want a smaller version of the usual roaster ovens, then this Nesco 4816-14 model is the absolute choice.
This small but mighty roaster oven has a capacity of only 6 quarts. Nevertheless, it can do pretty much what the larger and full-sized ovens can do. With such a capacity, it can well accommodate roasting, slow cooking, stewing, and baking for about 6 persons. Thus, making it more practical for daily use at home.
This appliance comes with a 750-watt heating base with a full range of temperature control from 200°F up to 450°F. Same with 18 or 22-quart Nesco models, it is also equipped with Circle of Heat technology to ensure even and consistent heating.
Pros
Durable enamel finish
Removable cookware
Perfect size for daily use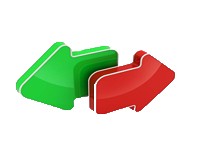 AROMA ROASTER OVEN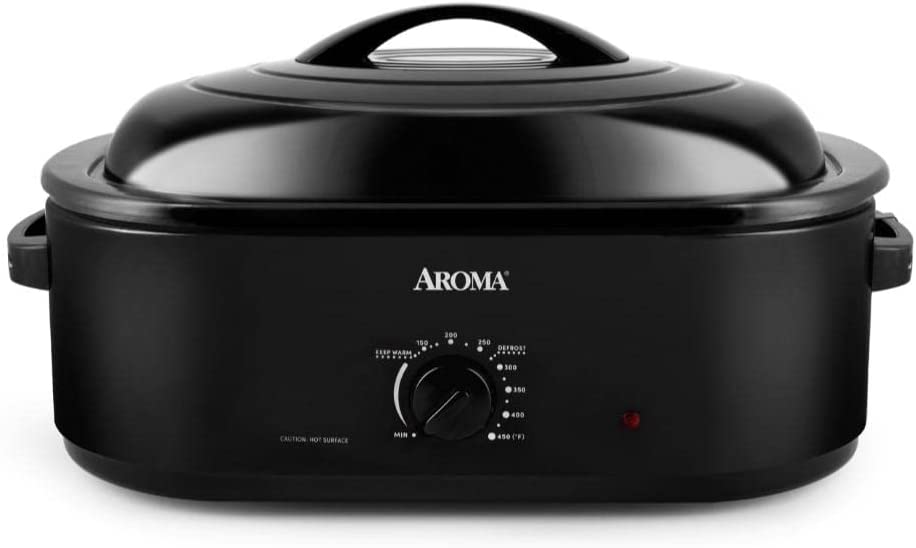 The Aroma roaster oven comes with a sleek black stainless steel material. It has an 18-quart capacity that can well fit up to a 24-pound bird. Both the steel rack and enamel-coated roasting pans are removable. Thus, making it much easier to clean.
I love how much food you can cook with this appliance. I tried roasting a 20-pound whole turkey and there's still plenty of room left for the vegetable side dish. This device also has adjustable temperature control from 150°F to 450°F. The keep-warm setting is perfect for maintaining the heat all throughout the event. So, the food stays fresh, juicy, and warm.
Pros
With Keep-Warm setting
Self-basting lid
Removable stainless steel rack and roasting pan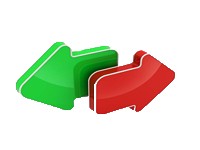 Cons
Side handles are not so sturdy
Takeaway & Recommendations:
The roaster oven is more than just a simple cooking appliance. Having the ability to deliver different functions all in one compact device makes it incredibly awesome. Despite its actual size difference from a conventional oven, it can still cook a dish for a large feast. This essential cookware is definitely a worthy piece of investment.
Nonetheless, make sure to follow this buying guide to ensure you will get only the best product for you. Remember, a high-quality oven like the Oster Roaster Oven will give nothing but a  satisfying performance and great meals. This product has successfully passed our standards along with thousands of other pleased customers on Amazon. So rest assured, you will never go wrong with the Oster roaster oven.